python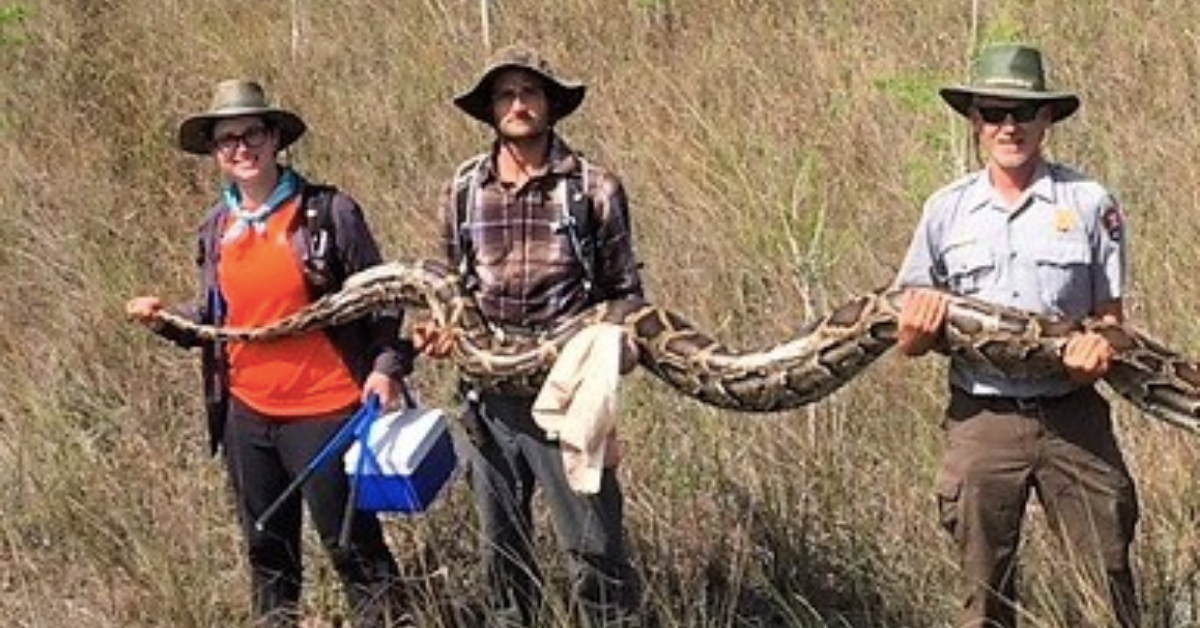 Big Cypress National Preserve/Facebook
Hissssstory in the making!
Researchers in the Florida Everglades captured a 17-foot-long Burmese python, the largest ever removed from the Big Cypress National Preserve, last week. The snake weighed an impressive 140 pounds.
The snake also contained 73 developing eggs, which for must be the stuff of nightmares for many of you.
As the preserve wrote on its Facebook page:

This female was over 17 feet long, weighed 140 pounds, and contained 73 developing eggs.

She is the largest python ever removed from Big Cypress National Preserve-- and she was caught because of research and a new approach to finding pythons.
Whoa:
Using male pythons with radio transmitters allows the team to track the male to locate breeding females. The team not only removes the invasive snakes, but collects data for research, develop new removal tools, and learn how the pythons are using the Preserve.

The team tracked one of the sentinel males with the transmitter and found this massive female nearby.
The Burmese python is an invasive species, FYI:
All of the python work at Big Cypress is focused on controlling this invasive species, which poses significant threats to native wildlife.

The Resource Management staff would like to thank all of the Preseve divisions that have supported the python program. Their support, along with the tireless efforts of our partners at the U.S. Geological Survey (USGS), have allowed us to locate and remove several breeding female pythons over the past few months. Thanks everyone!

Remember that the EDDMapS allows you to enter data where you see pythons in Big Cypress. Your information will be used in fighting this invasive species.
Wow, this thing is huge:

The Burmese python is native to Southeast Asia but as many as 100,000 pythons live in the Florida Everglades, likely the result of being abandoned by pet owners when they grew too large to handle safely. Authorities believe some pythons may have escaped from a breeding site destroyed during Hurricane Andrew in 1992.
Pythons that are captured in the Florida Everglades are euthanized.
As the preserve explained:
They are being humanely euthanized because they are having a huge, negative impact on native animals such as deer, wading birds, and even Florida panthers by taking away food from the endangered native Panther. Rescues are already over-crowded with unwanted pet snakes. It is not fun in any way to euthanize these creatures, but it is done to protect the many native species that do live in Big Cypress National Preserve.
Impressive find nonetheless.





Most pythons caught in the Everglades measure between six and 10 feet long. The state of Florida holds competitions encouraging hunters to remove as many of them as possible.
Keep reading...Show less