nina west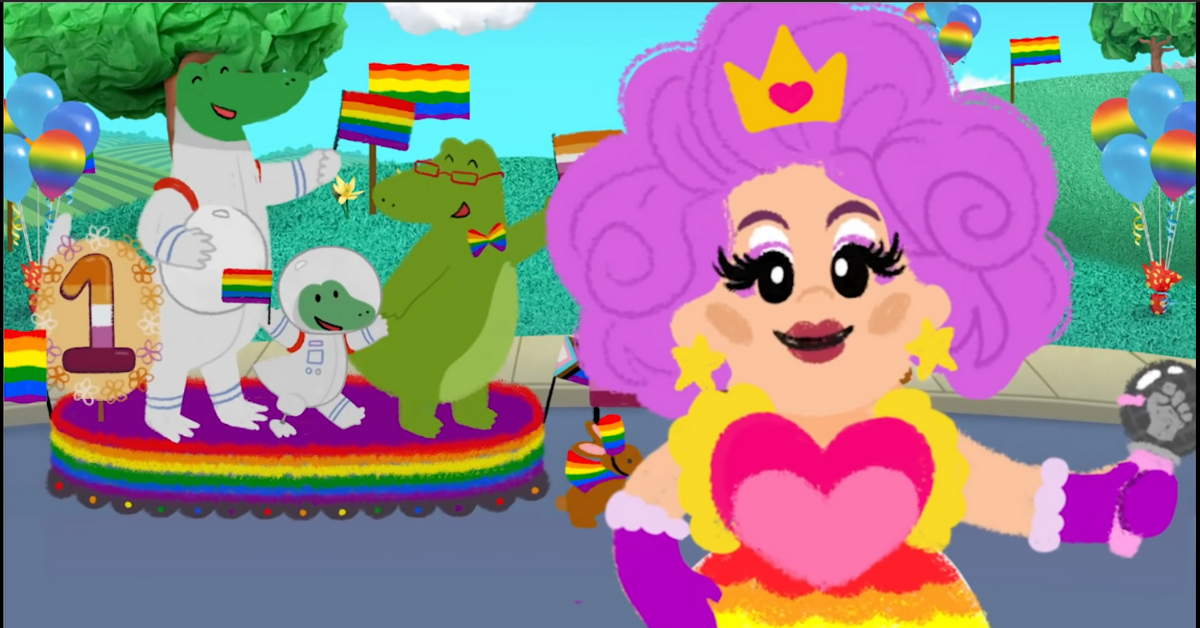 Blue's Clues & You!/YouTube
The popular Nickelodeon children's show Blues Clues decided to celebrate June as Pride Month by adding a new YouTube video featuring a cartoon pride parade led by a fun-loving drag queen.
The queen in the clip—voiced by RuPaul's Drag Race contestant, former Entertainer of the Year winner and Ohio icon Nina West—led viewers in a sing-along full of inclusive lyrics celebrating queer families, diverse gender and sexual identities, the disabled and the communal spirit of allyship.
Some lyrics are:
"This family has two mommies."
"They love each other so proudly and they all go marching in the big parade."

"All families are made differently and they love each other so proudly."
"Allies to the queer community can love their queer friends so proudly…"
"...Love is love is love, you see, and everyone should love proudly."
You can watch the full video here:
Yahoo! News spoke to Lindz Amer, who produces the Queer Kid Stuffvideo series.
Amer consulted with Nickelodeon to make sure the images and lyrical content conveyed the inclusive spirit everyone aimed for.

"I definitely felt a huge responsibility consulting with the team."
"It's the same responsibility I feel in all of the work that I do bringing LGBTQ representation to children's media."
"Queer folks are not a monolith and I can't possibly make every single queer person happy, especially considering the profound lack of LGBTQ [representation], especially in preschool content."
"All we can do is try our best and I think we did a pretty good job!"
Amer was happy to share the creative process was exactly what they'd hoped it would be.

"The team was an absolute dream to work with and it's for sure the queerest thing I've ever seen happen in the preschool space."
"My main goals were twofold: to try my best to bring specificity to the video, that's where the song's vocabulary came in using words like queer, trans, non-binary, ace, pan and bi."
"And second, to expand the definition of family as it applies to the queer community, so acknowledging chosen family was a big part of that."
While many people applauded Nickelodeon's choice to create more inclusive content for children, plenty of conservatives were clutching their pearls.
One person, posting on a tweet from the blog Not the Bee, was ready to pack it in.

"A team of adults really made this cartoon propaganda clip for preschoolers to watch, complete with a drag queen holding a microphone with a revolutionary fist logo on it, singing about the wonders of gay and nonbinary parents, trans families, and 'Ace, Bi and Pan grown ups.' "
"Just come take us now, Lord, please! 😩"
Many people, however, were thrilled to see such forward-thinking from Nickelodeon.
With plenty of days remaining in Pride Month, and the bar clearly set high by the minds behind Blue's Clues, who knows what we'll see in the weeks to come.

Meanwhile, you can see Nina West's 2008 Entertainer of the Year evening gown performance—inspiration for many copies—here:
Keep reading...Show less