Tag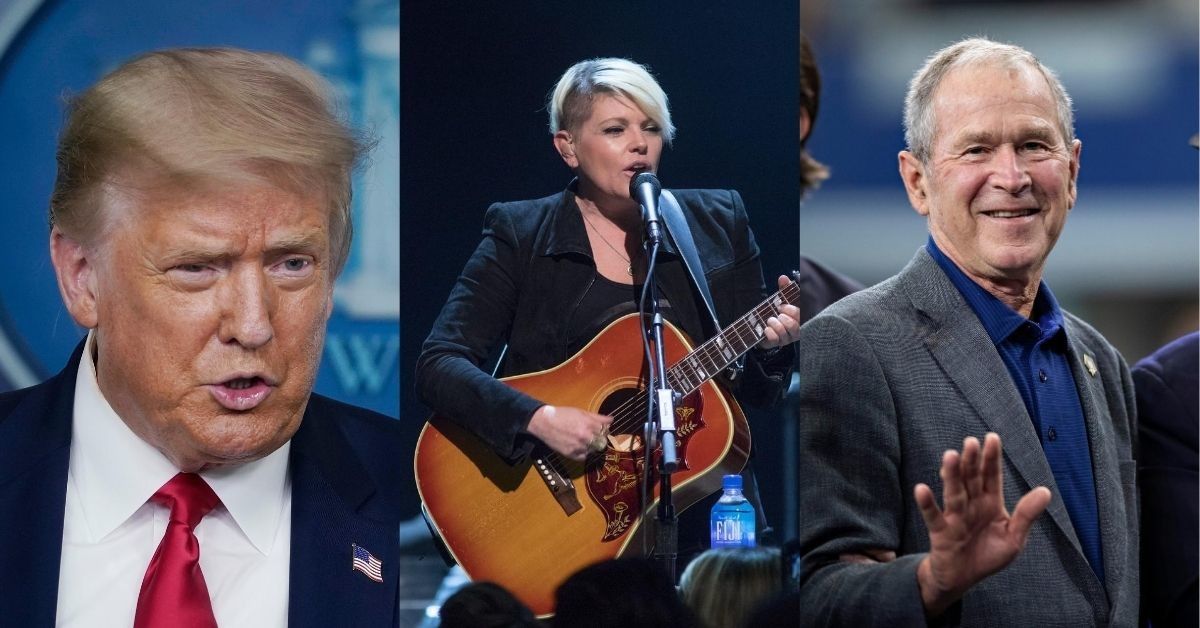 Drew Angerer/Getty Images; Rick Kern/WireImage/Getty Images; Wesley Hitt/Getty Images
The Chicks' have quite a history with George W. Bush—and an overwhelmingly negative one at that. But if a recent appearance on What What Happens Live is any indication, lead singer Natalie Maines would take W back over Trump any day.
When asked by the show's host Andy Cohen if Trump makes them rethink their distaste for former President Bush, Maines even went so far as to say that compared to how she feels about Trump, she'd "make out" with W.
Does Donald Trump Make The Chicks Rethink George W. Bush? | WWHL youtu.be
The joke came on the heels of a question about the backlash Ellen DeGeneres received for sitting beside Bush at a football game, and later calling him a "friend."

Maines quipped:
"You know I joke that today, I might actually make out with George Bush!"
Cohen followed up by asking Maines if the current President makes her rethink her feelings about Bush.
Maines responded:
"Yes. I mean I don't rethink that I didn't want to go to war and that 'weapons of mass destruction' were a lie, but, uh, yes. It would be a huge love fest if I saw George Bush right now, because of where we're at with this current President."
But of course, the trio's feelings about Bush haven't always been so circumspect.
Formerly known as The Dixie Chicks, Maines and bandmates Martie Maguire and Emily Strayer became infamous in 2003 during the run-up to the Iraq War. Maines commented that The Chicks were "ashamed" that President Bush was from their home state of Texas during a concert in London on March 10, 2003.
The United States invaded Iraq 10 days later.
The comments created a firestorm of controversy that resulted in The Chicks being all but blackballed from country radio, losing endorsements and routinely receiving death threats—experiences they explored in songs like "Not Ready To Make Nice" and a 2006 documentary called Dixie Chicks: Shut Up and Sing.
On social media, some people were right there with Maines on her new feelings for Bush and his presidency.
But most people were definitely not so "ready to make nice" as Maines seems to be—her comments angered many.
The Chicks were on Watch What Happens Live to promote their new album, Gaslighter, their first studio album since 2006's Taking the Long Way, which was written partly in response to the aftermath of Maines' 2003 comments.