Tag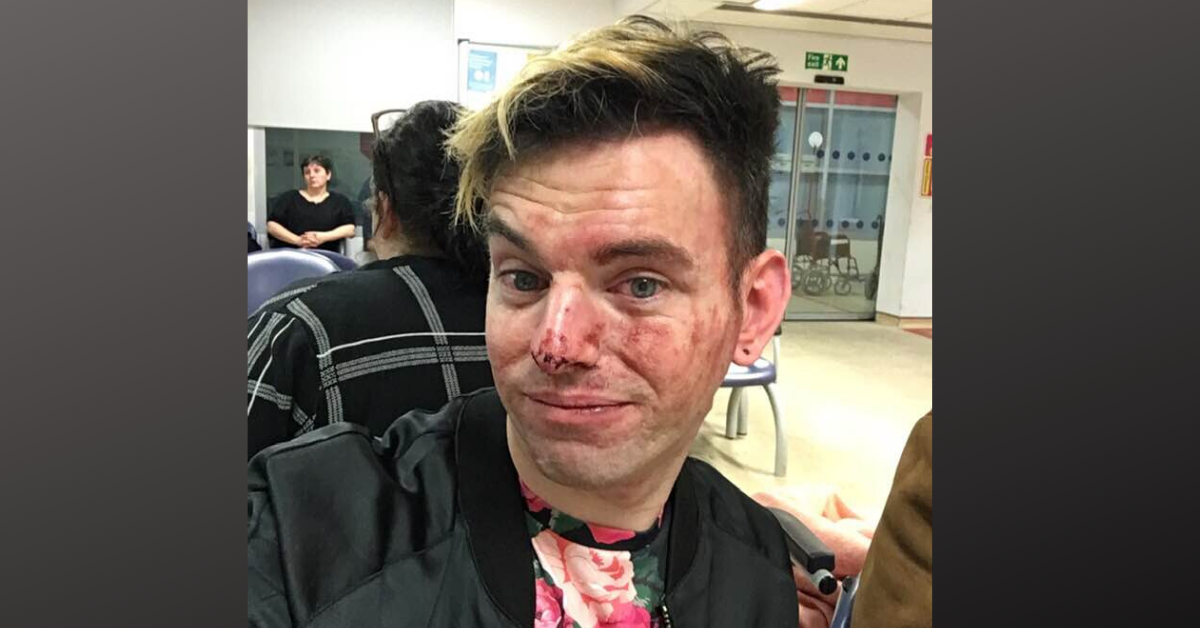 Lee David DuChard-esq/Facebook
An English man has landed in the hospital after standing up to two men who were hurling homophobic slurs at his friends.
Lee Brobson, a 30-year-old man from Chelmsford, Essex, UK, was walking to a bar with his gay friends, Dan and Clark, when a couple of homophobic passersby decided to engage them with various slurs and aggressive language.
"We spotted these two guys staring at us, following us down the road with their eyes," Brobson told PinkNews UK. "Clark decided to engage with them and said hello, to ask what they're staring at."
"I tired to calm them down and dismiss it," Brobson said, "but they grabbed my friend and pulled him back."
Yet another brutal homophobic attack on our community - when will @sajidjavid take some action to ensure our commun… https://t.co/5aWmI0gELM

— Linda Riley (@Linda Riley) 1580318987.0
@LindaRiley8 @sajidjavid It's horrible. Hope they catch the violent homophobes. ✊🏼

— jo vannicola (@jo vannicola) 1580319364.0
@LindaRiley8 @sajidjavid It's a sad indictment on society at the moment. My husband and I were attacked last year.… https://t.co/g5eC3s7hJT

— Ian 🏳️‍🌈♊️ (@Ian 🏳️‍🌈♊️) 1580324388.0
@LindaRiley8 @sajidjavid It's shocking that this took place and that they had to go through this but I wouldn't hav… https://t.co/NmguJDP3LU

— James Buchanan 🏳️‍🌈 (@James Buchanan 🏳️‍🌈) 1580329100.0
@PinkNews I'm sorry this happened to you all. How can people still behave this way

— Vikki M (@Vikki M) 1580301643.0
Brobson continued, saying the violence was totally unprompted.
"It's 2020, and we're just off doing out own thing. They weren't having any of it and that's when they punched me down. They were going in for blood...it was hurtful and disgusting."
Brobson was then used as the homophobes' personal punching bag, resulting in nine hours in the hospital.
I'm so sick of seeing LGBTQ+ ppl subjected to this abhorrent violence. I'm sick of our friends being beaten for sta… https://t.co/M7PXk1TGhp

— Dr Jennie Bujold🌹🏳️‍🌈 (@Dr Jennie Bujold🌹🏳️‍🌈) 1580169508.0
@JennieBujold Someone's sexuality is none of anyone else's business and if they don't like it they should keep it to themselves ffs! 🏳️‍🌈

— Abigail Barletta 🏳️‍🌈🦄🚺 (@Abigail Barletta 🏳️‍🌈🦄🚺) 1580215992.0
@JennieBujold bRiTaIn iS tHe mOsT tOlErAnT pLaCe iN tHe wOrLd tHoUgH 😥

— Dan Jones (@Dan Jones) 1580169683.0
@JennieBujold What is wrong with people ?

— YisWorldWeird #proEU 🇪🇺 (@YisWorldWeird #proEU 🇪🇺) 1580170219.0
@JennieBujold Well done young man for stepping in. I am so sad your friends were abused and you were assaulted by these mindless cretins. 💕

— Chris (@Chris) 1580233974.0
Brobson said his posting of his injuries on Facebook was to raise awareness that homophobia is hardly a thing of the past.
"I'm determined that something good will come from this even if they never get caught," he said.
"I hope it brings awareness to attacks of this nature and people can be educated in that what they did was wrong. Homophobia or hate crimes do not have a place in modern day society."
Homophobic attacks in the UK have more than doubled in the past five years, coinciding with the election of a Tory majority and the pro-Brexit vote.
Four teenagers have been charged in a homophobic attack on a London bus that sparked widespread outrage in the UK https://t.co/WPbHtH80Ro

— CNN (@CNN) 1564083007.0
Another #homophobic attack on a #lesbian in the UK. https://t.co/jNLTa4epe4

— Kristina Harrison (@Kristina Harrison) 1579258362.0
Homophobic attack victim told by UK police 'not to go out alone' next time https://t.co/wZbzeHr1tf

— Peter Fagerlind (@Peter Fagerlind) 1561069066.0
Last night there was homophobic attack in my city. Homophobia is surging in the UK. Most of these attacks are by yo… https://t.co/PCeypCJzXX

— Simon D. A. Clark (@Simon D. A. Clark) 1561286688.0
RuPaul's Drag Race stars @farrahrized and @SheaCoulee victims of homophobic attack in UK kebab shop… https://t.co/oYGSQYMmeQ

— GSN (@GSN) 1522814434.0
Hopefully Brobson's story will serve its purpose and raise awareness.
Keep reading... Show less