larry shelton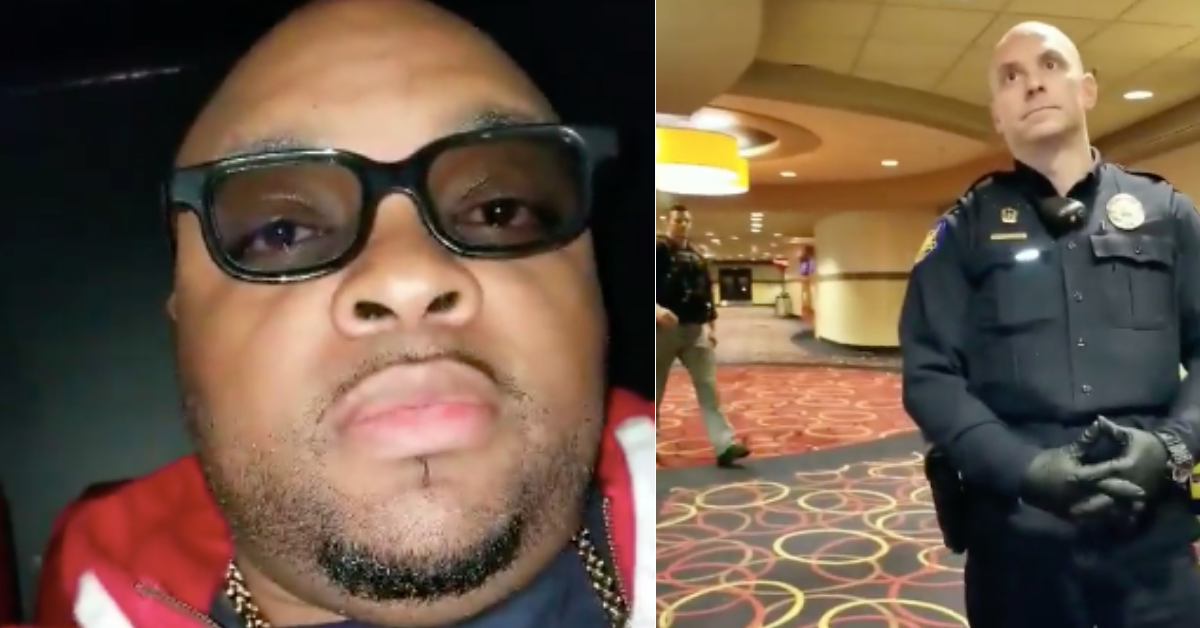 Larry Shelton/Facebook
Black Lives Matter: Arizona will stage a protest at an AMC theater in Phoenix after 40 year old Larry Shelton was removed from a showing of Captain Marvelafter being falsely accused of sneaking into the movie.
Shelton, a mortgage banker from Ahwatukee, Arizona got up to use the restroom and refill his beverage when a manager ran up to him and yelled at him for using the wrong entrance.
"I'm walking back to my seat with my cup when a manager runs up and said I entered the building through an exit door," Shelton told Yahoo Lifestyle.
"He was very nasty with me and told me to leave."
When he continued watching the film, he was then approached by security who told him he had to leave.
Shelton reportedly asked why and was not given an answer.
He was forced into the lobby by police and the manager, who said they were positive he'd snuck in.
Shelton caught the entire exchange on video.
"Sir, you walked in an exit door and my staff warned me they did not sell you a ticket…I am sure. Nobody scanned your ticket," said the manager.
When Shelton produced the ticket, the manager continued to make excuses.
"Oh yes, this is a ticket that does look like it was purchased…but you should have shown me the ticket…you walked in [from] the exit door."
No matter how many times Shelton repeated himself that he was going to the bathroom and to refill his drink, the manager insisted he hadn't.
"Do you know how embarrassing this is?" Shelton said.
He then left the theater.
When he turned around and said "And I want a refund," the manager responded with:
"You're not getting a refund. You violated our code of conduct by turning a flashlight on in the theater."
Black Lives Matter: Arizona announced via Facebook its intention to protest the AMC location.
The event linked to the protest states:
"Clearly, AMC staff had no reason to remove this man. He paid to see a movie. He was respectful. Mr. Shelton is a victim of petty racial profiling and of White AMC staffers using and wasting police resources to bully and intimidate a patron of color."
"We demand that AMC Theaters Fire the manager, staff, and security members involved. There must be a zero-tolerance policy for racially profiling customers and for wasting police resources on prejudice hunches."
"We further demand that AMC Theaters release their federal EEO-1 data so we can review their current level of corporate diversity. This is not the first serious allegation of racism against this company and we want to know about their diversity training and hiring practices."
"Black people spend millions of dollars with this industry and we expect to be as respected and valued as any other customers are when visiting a movie theater."
AMC corporate responded.
"AMC deeply regrets that this avoidable situation occurred."
"Based on our initial investigation, including interviews with the theatre staff and our outreach to the guest, this situation could have been handled differently to minimize frustration, and we've offered our sincere apologies to Mr. Shelton."
"Regarding what transpired, a member of the theatre team, acting on information about unauthorized access to the theatre through an exit door, approached a guest in the area, who was reentering an auditorium mid-movie."
"When the guest declined to show his ticket stub, the manager called for security, and when the guest again declined to show his ticket stub or leave the auditorium, the theatre called the police. Once police arrived, the guest produced his ticket."
"We understand that Mr. Shelton feels he was treated with bias," said the spokesperson.
"Equality is of the utmost importance to AMC, which is why unconscious bias training is required for all AMC management associates, and we will be reinforcing that training at this theatre."
AMC's solution?
Emailing Shelton a voucher for a free movie, soda and popcorn.
Keep reading...Show less