jenna gines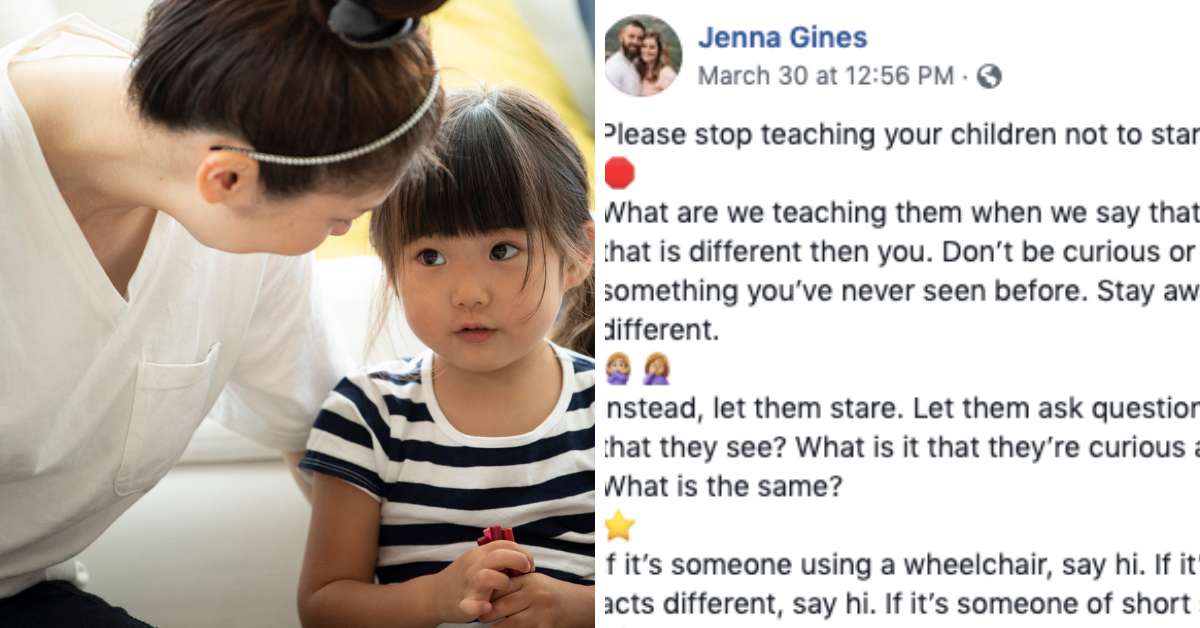 Getty Images // Jenna Gines/Facebook
Jenna Gines is a big believer in fostering a child's natural curiosity.
Unfortunately, she argued in an impassioned Facebook post, parents do a good job of stifling curiosity and creativity when they tell their children to refrain from staring.
In her post, Gines makes the case for why curiosity is a good thing––and how we should speak to children if they happen to be staring in the first place:

Please stop teaching your children not to stare!

What are we teaching them when we say that? Don't look at someone that is different then you. Don't be curious or want to learn about something you've never seen before. Stay away from things that are different.

Instead, let them stare. Let them ask questions, talk about it. What is it that they see? What is it that they're curious about? What is different? What is the same?

If it's someone using a wheelchair, say hi. If it's someone that looks or acts different, say hi. If it's someone of short stature, say hi.

Teach your child about differences. It's okay to be different. It's okay to notice it & to talk about it. It's even better to make a new friend. It's not okay to ignore, look away, or act like a person who is different isn't there.

Let's embrace different. Let's talk about differences & be the change we want to see in this world.
Gines' post quickly went viral and other parents chimed in and shared their own experience with this approach.
Guess what? It works.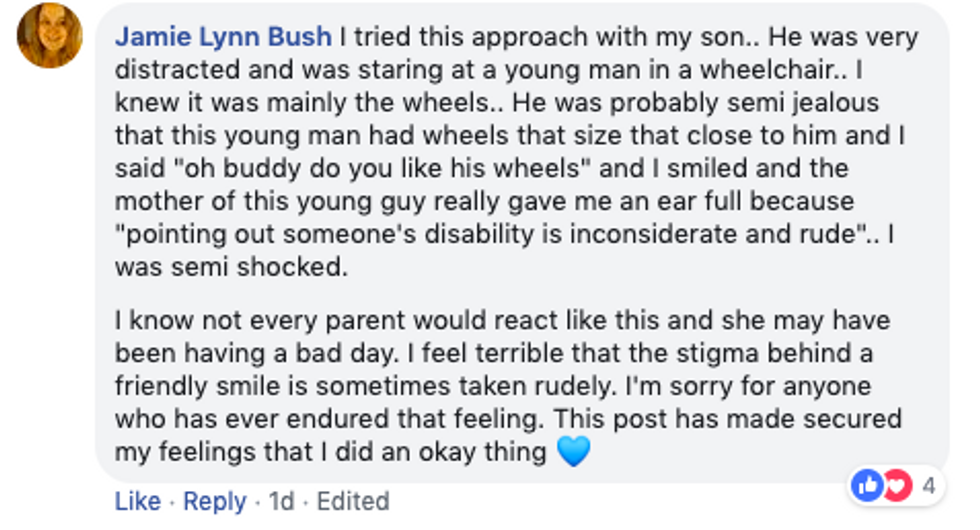 Facebook
Facebook
Facebook

Facebook

Facebook
Facebook
Facebook
Facebook
Everyone is unique––and children learn a lot about differences––not to mention actually accepting people for those differences––by actually interacting with the world around them.
Nice work, Jenna.
Keep reading...Show less