Tag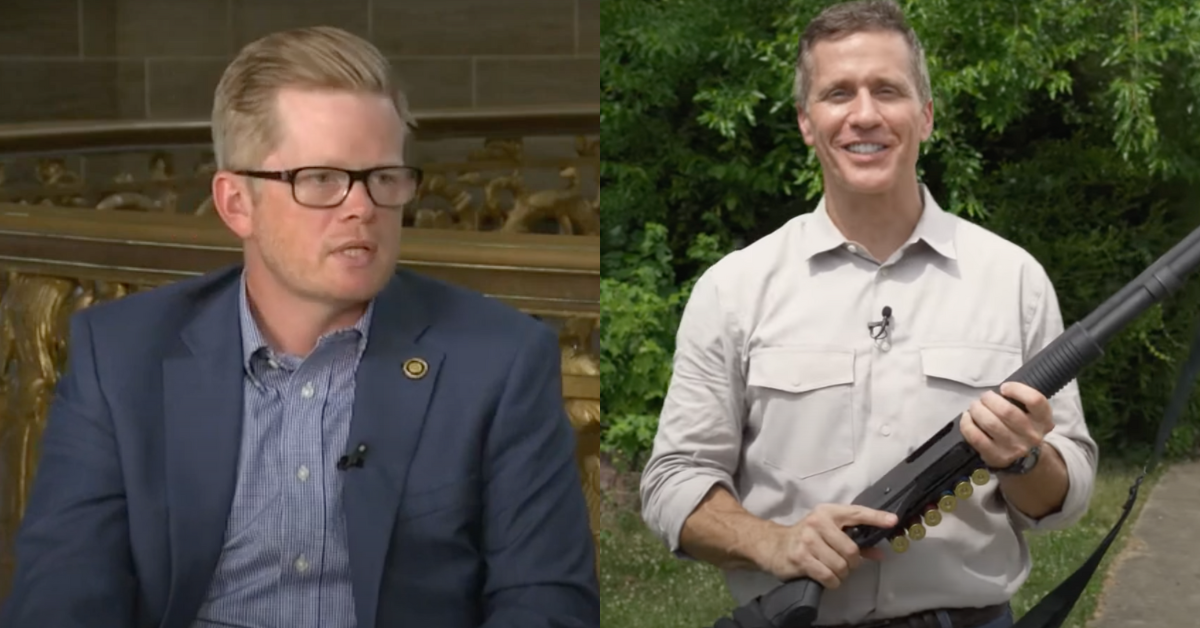 This Week in Missouri Politics/YouTube; Eric Greitens/YouTube
Caleb Rowden, the leader of the Missouri Republican Party, confirmed he contacted law enforcement after former Missouri Republican Governor Eric Greitens, now a Senate candidate, dropped a new campaign ad in which he offered "RINO Hunting Permits" to his contributors.
In the ad, Greitens introduces himself as a "Navy SEAL" and urged his followers to join the "MAGA crew," noting "there's no bagging limit, no tagging limit and it doesn't expire until we save our country."
The term RINO, or Republicans In Name Only, is a pejorative applied to officials elected as members of the Republican Party whose positions don't align with everything GOP leadership does. In recent years, the term has been applied to any Republican who criticizes or disagrees with former GOP President Donald Trump.
You can watch Greitens' ad below.
The ad disturbed Rowden, who shortly afterward issued a tweet announcing he contacted authorities.
Rowden announced the Missouri Republican Party has "been in contact with the Missouri Highway Patrol and hope former Gov Greitens finds the help he needs."
Rowden added anyone "with multiple accusations of abuse toward women and children should probably steer clear of this rhetoric," referring to Greitens' resignation from the governorship in June 2018 amid allegations of sexual assault and campaign finance impropriety.
Others have also criticized Greitens.
Greitens was charged with felony invasion of privacy in February 2018 after his former hairdresser accused him of sexual assault.
A bipartisan Special Investigative Committee in the Missouri state legislature found the woman "overall credible" and issued a report on the incident.
Greitens was also charged with campaign-related offenses, though those charges were later dropped after the Missouri Ethics Commission reported its campaign investigation did not find wrongdoing on Greitens's part individually, or that he knew of two reporting issues it found with his campaign.
In March 2022, he announced his Senate campaign to replace retiring incumbent Roy Blunt, who'd served in the Senate since 2010.