conspiracy theorists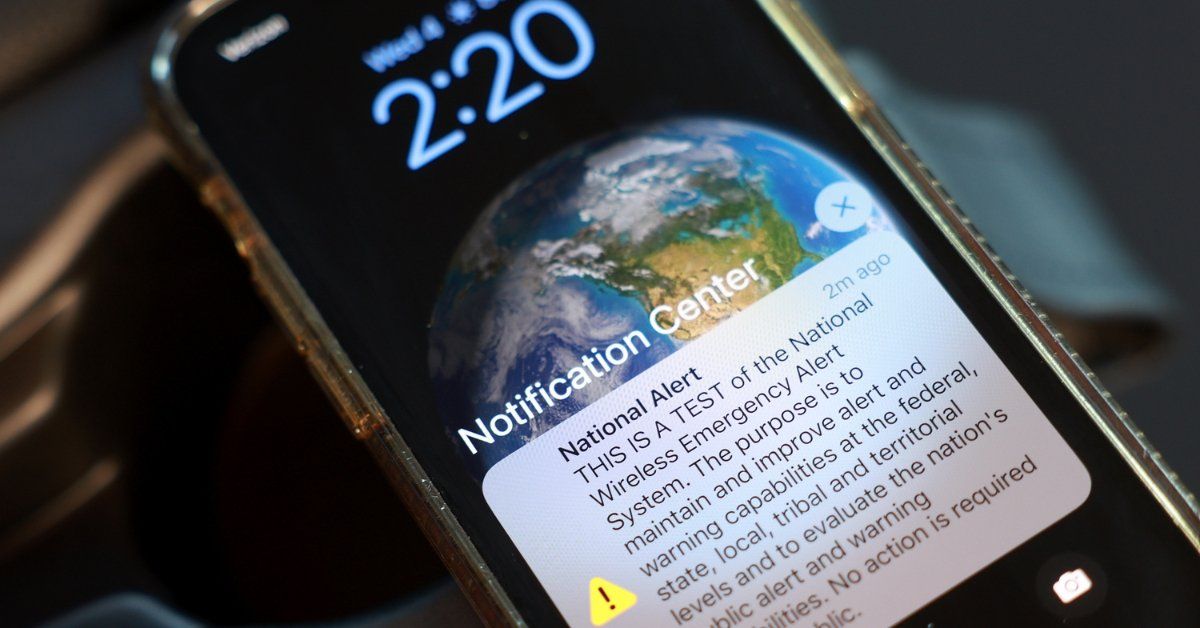 Joe Raedle/Getty Images
Conspiracy theories and misinformation circulated widely ahead of FEMA's national Wireless Emergency Alert System test, leading to unwarranted fears and bizarre explanations for the routine test.
The test, which took place on Wednesday, prompted baseless concerns and disinformation, often tied to conspiracy theories surrounding 5G networks, COVID-19 vaccines, and mistrust of the federal government.
Online platforms, including X, formerly Twitter, were flooded with misinformation about the test. Some posts urged individuals to wrap their phones in tinfoil or turn them off to avoid receiving the alert.
But perhaps the strangest conspiracy theory about the alert is one that claimed the alert would activate "nanoparticles" linked to the Marburg virus—a rare but severe hemorrhagic fever which affects both people and non-human primates—in vaccinated individuals or cause bizarre reactions, such as turning people into zombies.
That particular claim appears to have originated from statements attributed to anti-vaxxer Todd Callender, who said that a 5G broadcast would cause "liquid nanoparticles to swell" and trigger a "Marburg epidemic."
But Callender's conspiracy theories are far from the only ones that emerged in response to the emergency broadcast alert.
Clips of a sermon by Hawaii-based pastor J.D. Farag, who asserted that the "tests and exercises or drills, if you prefer, are always preceding of, or simultaneous with, an actual created crisis," quickly circulated on social media.
Farag, who has nearly 300,000 subscribers on his "End Times news and global events" YouTube page, claimed that crises are "simulated and created," adding:
"They create the crisis in order to control the reaction and activate the Final Solution just as they did with [the terror attacks of September 11, 2001] and subsequently what we call COVID-19."
"Did you already forget? That's being biblical, not being mean or snarky." ...
"All of these operations were exercises and drills that were simulated prior to that which is created. ... They can't wait for us to be out of the way because we're in the way right now."
"Did you know that? We're in the way of their evil plan and they hate us and they can't wait for us to leave so they can get on with it, but they can't get on with it until we're taken out of the way."
Similarly, Jason Shurka, a spirituality influencer with about 170,000 followers across YouTube and Instagram, claimed the emergency broadcast would send a high-frequency signal to devices "with the intention of activating graphene oxide and other nanoparticles that have been inserted into billions of human beings around the world through the obvious mediums."
Shurka later removed videos of his remarks from his social media channels. He urged his followers not to fear the emergency broadcast because "You may want to take a step to the left so you don't get shot."
Still more individuals interpreted the test as a positive development related to the QAnon conspiracy theory, with one influencer declaring that people's bodies "have been continuously assaulted by every poison, bioagent, medication, and criminal warfare device (millimeter, x-rays, and microwaves) conceivable, for your entire lives."
Many couldn't help but roll their eyes—and condemn the blatant misinformation.
FEMA addressed these false claims on its website, emphasizing that the alerts are not harmful:

"The national test and tones will be the same as those sent by more than 1,700 local, state, territorial and tribal authorities who use IPAWS to send alerts. FEMA is not aware of any adverse health effects caused by the audio signal."
Sadly, anti-vaccine conspiracy theories are nothing new and they've become all the more prominent amid an ongoing and widespread disinformation campaign that's capitalized on the COVID-19 pandemic.
Earlier this year, one social media user went viral after she posted a questionable video of her shaky legs, which she attributed to the Pfizer-BioNTech vaccine despite clearly pretending to show side-effects.
The woman in question, claimed she was once "a very healthy 45 year old who managed a surgery center" but she is "still having major issues" since receiving one dose of the Pfizer vaccine in January 2021—a claim that was immediately debunked by fact-checkers.
Republicans like Georgia Representative Marjorie Taylor Greene have also seized on anti-vaxxer conspiracy theories to stir up their base. Greene, perhaps the most prominent QAnon adherents in Congress, has likened vaccine mandates to segregation and suggested getting a vaccine is on par with the Holocaust.
Keep reading...Show less