Tag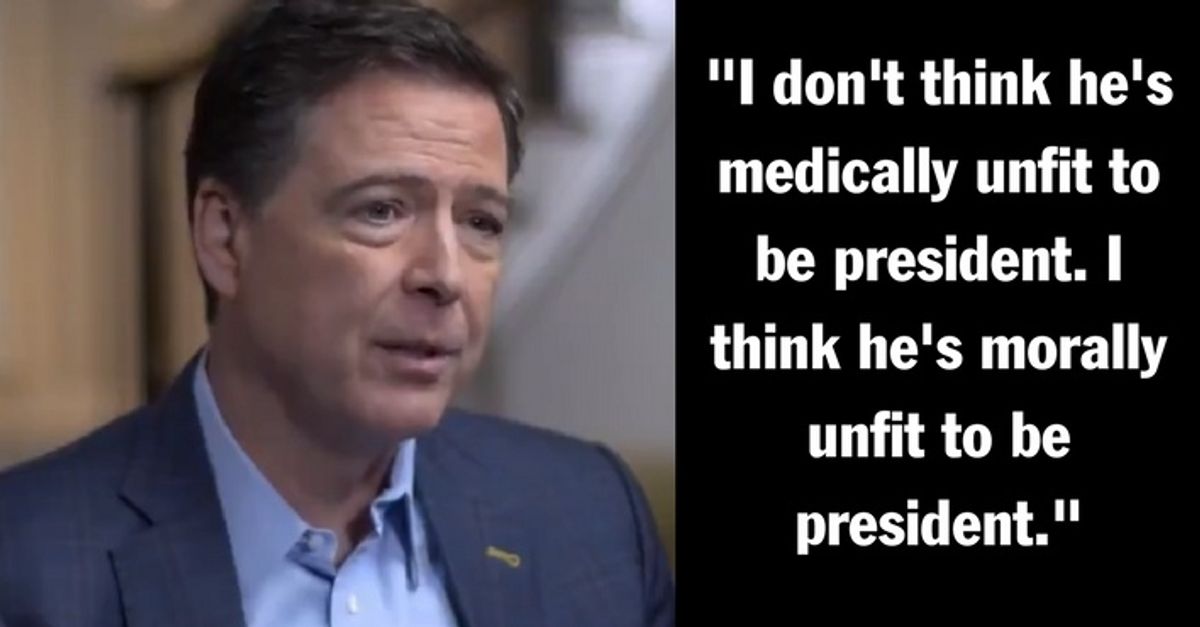 @ABC/Twitter
In an eye-opening Sunday night interview with ABC's George Stephanopoulos, Former FBI Director James Comey tore into President Donald Trump ahead of the release of his upcoming book, A Higher Loyalty: Truth, Lies, and Leadership.
ABC's World New Tonight aired a one-hour segment of Comey's five-hour-long interview with Stephanopoulos, in which Comey recalls, in vivid detail, his impressions of then President-Elect Trump and their bizarre encounters during the presidential transition following the election. Comey's most notable assertion was that Trump is "morally unfit" to hold the office of President of the United States.
Stephanopoulos: "Is Donald Trump unfit to be president?"

Comey: "Yes, but not in the way I often hear people talk about it...I don't think he's medically unfit to be president. I think he's morally unfit to be president," Comey replied, "A person who sees moral equivalence in Charlottesville, who talks about and treats women like they're pieces of meat, who lies constantly about matters big and small and insists the American people believe it, that person's not fit to be president of the United States, on moral grounds."
.@GStephanopoulos: "Is Donald Trump unfit to be president?" @Comey: "Yes, but not in the way I often hear people… https://t.co/VL6CXY1c8i

— ABC News (@ABC News) 1523845973.0
Comey also said the president "stains" everyone around him with his serial dishonesty and seemingly unending slew of scandals.

"The challenge of this president is that he will stain everyone around him," he told Stephanopoulos. "And the question is, how much stain is too much stain and how much stain eventually makes you unable to accomplish your goal of protecting the country and serving the country?"
Shortly after Comey was abruptly fired by Trump last spring, the president issued a threat via Twitter, threatening Comey with "tapes" of conversations between the two men in which Comey claimed Trump asked for personal loyalty. "I was dreading it," Comey said of working for the Trump administration. He added that he would have been "an unhappy F.B.I. director, but in a way proud of the organization and in my role in trying to protect it" had he not been fired via tweet.
Comey said that at the time, he hoped that there were indeed tapes of the conversations, because they would prove that his account of the president's demand were true. In his book, Comey likens Trump's management style to that of a "mob boss," many of whom Comey prosecuted during his time as U.S. Attorney in New York.
During that same meeting, Comey alleges that Trump "possibly" could have obstructed justice by requesting that Comey "can find a way to" let go the investigation into disgraced former National Security Advisor Michael Flynn.
"I mean, it's certainly some evidence of obstruction of justice. It would depend and ― and I'm just a witness in this case, not the investigator or prosecutor ― it would depend upon other things that reflected on his intent."
Prior to the conversation, Trump asked asked Attorney General Jeff Sessions and Vice President Mike Pence to leave the room, an action that made Comey extremely uncomfortable.
"If he didn't know he was doing something improper, why did he kick out the attorney general and the vice president of the United States and the leaders of the intelligence community? I mean, why am I alone? I'd be a crazy person to make it up."
Perhaps the most bizarre part of the interview focused on the now infamous Christopher Steele dossier, in which the British spy and intelligence informant alleged that there were video recordings of Trump asking Russian prostitutes to pee on each other in a Moscow hotel room. According to Comey, Trump became fixated on whether or not such recordings existed, and said he hoped they didn't on the off-chance First Lady Melania Trump would believe they did.
Comey said the pee tape conversation was more awkward than he was able to process at the time.
"I honestly never thought these words would come out of my mouth, but I don't know whether the ― the ― current president of the United States was with prostitutes peeing on each other in Moscow in 2013," Comey said. "It's possible, but I don't know."
Admittedly unsure if the pee tapes are in fact real, Comey said the mere rumor of their existence could indicate that the president is prone to blackmail by the Russian government.
"I think it's possible," he said. "I don't know. These are more words I never thought I'd utter about a president of the United States, but it's possible."
In the hours leading up to the interview, Trump slammed Comey in a series of tweets in which he calls Comey a "liar" and "not smart," as well as "the WORST FBI Director in history, by far!"
Comey tweeted a reply to Trump saying that one of the three presidents referenced in his book "serves as a counterpoint" to the "values at the heart of ethical leadership."
"My book is about ethical leadership & draws on stories from my life & lessons I learned from others. 3 presidents are in my book: 2 help illustrate the values at the heart of ethical leadership; 1 serves as a counterpoint. I hope folks read the whole thing and find it useful."
My book is about ethical leadership & draws on stories from my life & lessons I learned from others. 3 presidents a… https://t.co/8DdlljfVHk

— James Comey (@James Comey) 1523812700.0
Keep reading...Show less