Tag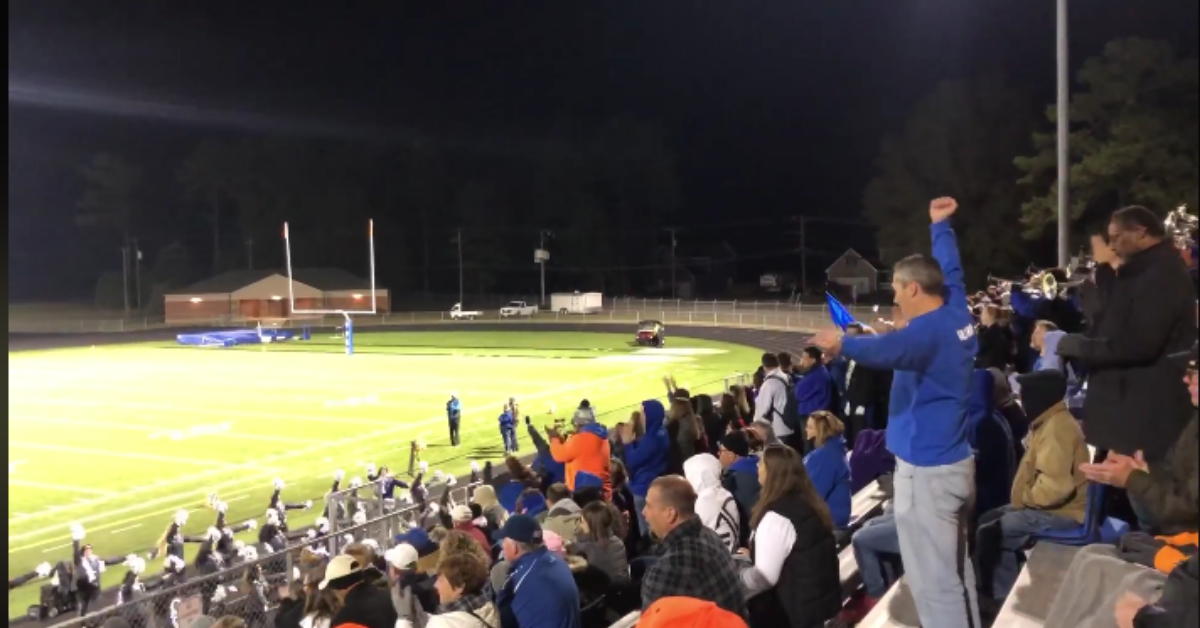 Scott Willard / Facebook
Get ready, parents! One dad is setting the bar pretty high for the rest of us this week.
That dad, of course, is "Cheer Dad," who has gone positively viral after imitating his daughter's opening cheer at their football game last weekend.
Rolland Holland of Yorktown, Virginia, and dedicated supporter of the York Falcons, was caught on video performing the cheerleading squad's routine from the stands. Holland matched the team's beat, including hollers, thigh taps, arm holds, and even a high kick.
Fellow proud dad, Scott Willard, caught the whole routine on video, beginning with Holland's opening cheers of support as the squad appeared and assembled on the track surrounding the football field.
Willard then proceeded to share the video and his pride for his fellow dad on Facebook.
You can see the video here:
In the caption, Willard wrote:

"This guy right here needs to go viral. By far CHEER DAD OF THE YEAR!!!!!! This dude rocks!!!! GO YORK FALCONS!!!! #cheerdad #countryneededthis #tabbstrong"

And viral "Cheer Dad" has certainly gone. Since last Friday, the original video on Facebook has been viewed more than 4 million times, and has been shared approximately 53-thousand times, with 14-thousand comments and counting.
The internet is absolutely loving this man in all his dad-glory, showing up for his daughter's games, knowing her routines, and proudly showing off his moves. Talk about self-security!
@ScottWillard14 @universeiscool5 I love how no one is sitting too close to him. They know to leave him room for his kicks.

— NotThatKaren (@NotThatKaren) 1573133160.0
@ScottWillard14 This dad is everything! I love him and his awesome support 🙌🙌❤️

— Vicki Judd (@Vicki Judd) 1573060939.0
LET'S GO DAD: Any parent who thinks they are their kid's ultimate cheerleader really needs to meet "cheer dad."… https://t.co/EXZVal8s1H

— ABC News (@ABC News) 1573187400.0
In the following days, Willard also commented on his video:

"I now see a movie called 'Cheer Dads' starring Will Ferrell."
(Someone, get in touch with a comedy writer in Hollywood, and get Will Ferrell on the bill. With movies like Daddy's Home, Kicking & Screaming, and Semi-Pro, Ferrell clearly already has the experience under his belt to play the dad and sports fanatic.)
The cheers for Cheer Dad have continued throughout the week, with more shares and comments on Facebook and Twitter, and countless calls for news coverage.
In all the viral hustle, another video, presumably from the same game, appeared on Twitter.
In this video, much like the first, we can see Cheer Dad in all his glory, following the squad's opening cheer. From this perspective, however, we can see even better just how in-sync with the squad he is, as well as the cheerleaders' performance itself. Not to mention the fact that seeing Cheer Dad bobbing up and down in the crowd is pretty adorable.
You can view it here:
#cheerdad makes me wish every night was a Friday! https://t.co/JIZv6Es3ZK

— Ryan Weaver (@Ryan Weaver) 1572890264.0
@RyanBWeaver The winner of the Internet today!

— Steve Delfin (@Steve Delfin) 1573223645.0
@RyanBWeaver The best dad around , Awesome !!!

— Sonia Martos Anway (@Sonia Martos Anway) 1573230031.0
@RyanBWeaver I wouldn't do it, but I'm a chicken shit. Go Dad! This is big love! #biglove

— L-Rod (@L-Rod) 1573232127.0
Congrats to Cheer Dad for breaking the internet with kindness and love this week.
Congrats, too, to the York Falcons for winning the viral Cheer Dad game, 35-28. We like to think all that positive Cheer Dad energy had something to do with it.
The Bring It On: 6-Movie Cheer Pack is available here.
Keep reading...Show less