boris johnson dandruff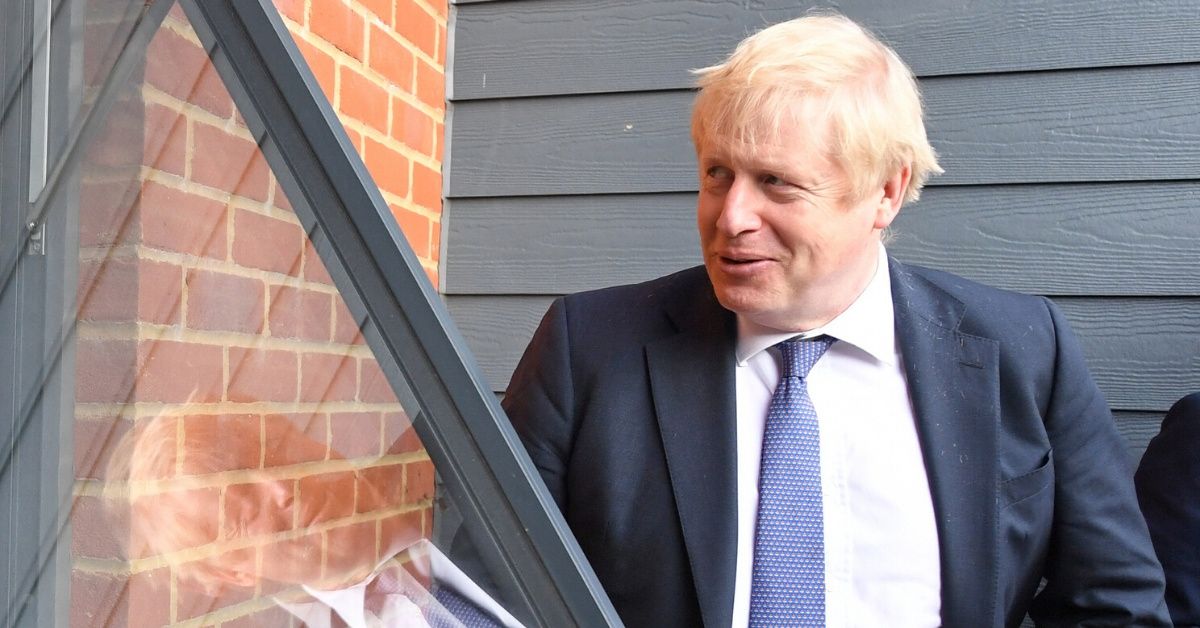 Prime Minister Boris Johnson during a visit to a veterans' center near Salisbury (Stefan Rousseau/PA)
UK Prime Minister Boris Johnson has been given tips on looking smart while visiting veterans on the campaign trail.
After chatting with Paul O'Rourke through the window of his room at a veterans' campus in Wiltshire, England, the Prime Minister started to walk away – only to be told: "You've got dandruff."
Johnson laughed off the comment as he brushed his jacket, replying: "I've got to watch out for that, thank you."
O'Rourke, who served in the Royal Irish Rangers, said afterwards: "Someone had to say something."
The 56-year-old said he had previously lived in a tent before moving to other accommodation and then arriving at the Entrain Space veterans' campus in Wilton, near Salisbury.
Johnson also spoke with RAF veteran James Gammer, 46, and his 18-year-old daughter, Daisy.
Gammer said he had just moved in to the accommodation, having at one stage lived in his car.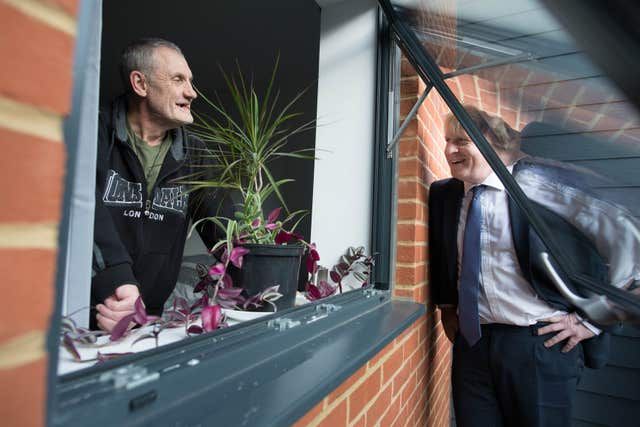 Prime Minister Boris Johnson speaks to Paul O'Rourke during a visit to a veterans' center near Salisbury (Stefan Rousseau/PA)
Johnson later visited the Salisbury Christmas Market, arriving to cheers, although there was some heckling among the messages of support during his walkabout.
He stopped at a Turkish Delight stall, selling a tub to a customer while standing in front of a sign which read: "Simply nuts and olives."
He told the stallholders: "My ancestors come from Turkey."
One stall tried to tempt the PM with a slate house sign, to which he replied: "Not just now."
Shouts aimed at Johnson included "Vote Labour," "Get Brexit done," and "Tell me how many children you've got" – to which he did not reply.
Earlier, the PM issued a stinging criticism of Labour leader Jeremy Corbyn's security record by accusing him of siding with "our enemies" as world leaders arrived in the UK for a two-day NATO summit.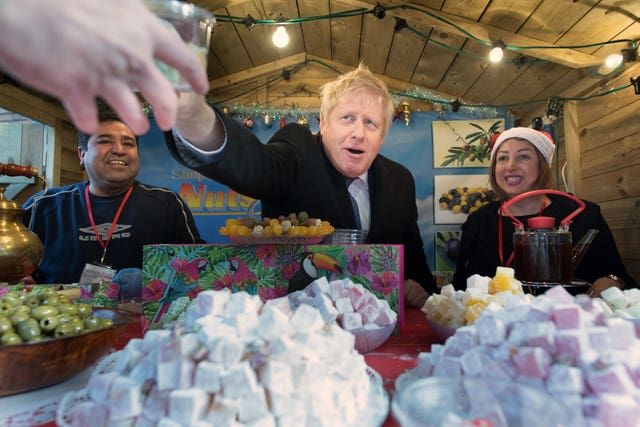 Prime Minister Boris Johnson at a Turkish Delight stall in Salisbury Christmas Market (Stefan Rousseau/PA)
Johnson issued an appeal for NATO unity amid increasing strains within the Western alliance over the conflict in Syria.
He said the alliance is in "good health" before he was pressed for his message to President Donald Trump.
The PM told broadcasters: "My message to the president, to all presidents – President Trump, President Macron, President Erdogan, Chancellor Merkel, all our friends – is look, this is a great alliance, it has had fantastic success for 70 years, it has delivered peace and prosperity."
He urged them to "tackle the threats" as one, noting: "Safety in numbers."
Asked if he had got a Christmas present for Trump, the PM said he was sure "someone has thought of something suitable" but would not offer a suggestion.
Keep reading...Show less