Tag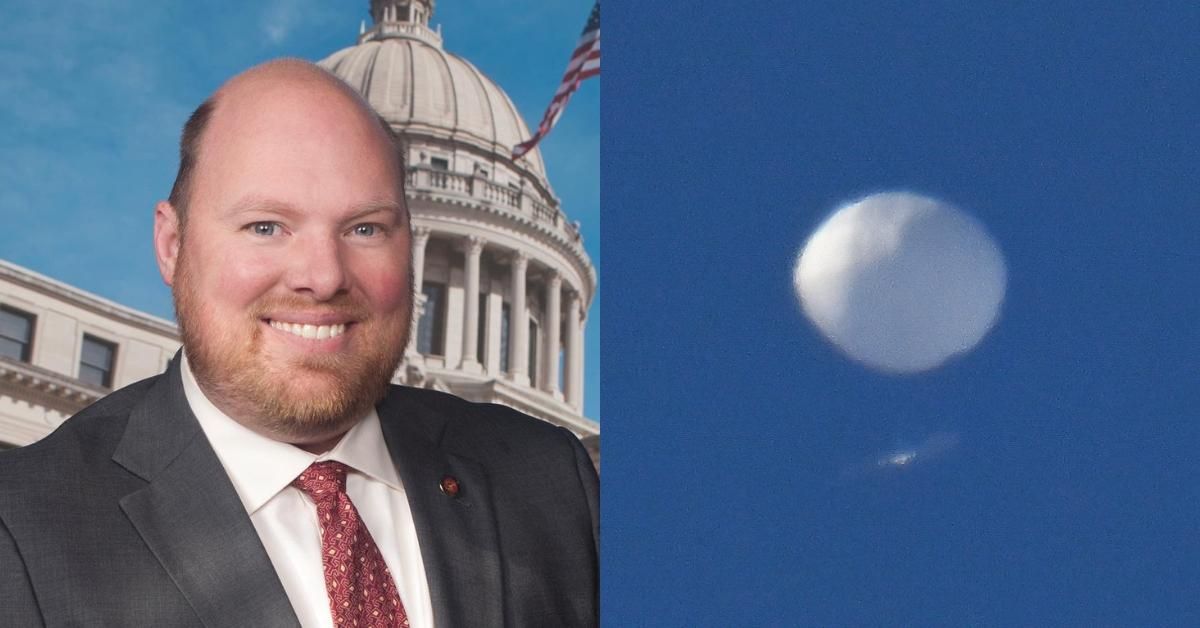 Senator Joel R. Carter, Jr./Facebook; Peter Zay/Anadolu Agency via Getty Images
Joel R. Carter Jr.—a Mississippi Repulican state Senator who represents the state's 49th district—sparked backlash online after he shared a meme referring to the Chinese spy balloon as a "weather barroon" in a mockery of Chinese accents.
The meme in question, which Carter Jr. captioned "Biden administration currently" included a picture of the balloon superimposed with the phrases "weather barroon" and "Totary NOT For Spying."
You can see it below.

\u201cBiden Administration currently.\u201d

— Senator Joel R. Carter, Jr. (@Senator Joel R. Carter, Jr.) 1675525849
Nearly 6,000 residents of Harrison County, Mississippi, the district Carter Jr. represents, are Asian, making his racist meme even more tasteless than might appear on the surface.
The meme attracted the attention of Bill Chandler, executive director of the Mississippi Immigrant Rights Alliance, who said Carter Jr. should be "embarrassed" for tweeting the "racist" meme but acknowledged Carter Jr.'s decision to tweet it "is typical of the mentality of many white people here in the state."
When contacted by a reporter with local news station WLOX, Carter initially said he'd been advised not to answer before doing an about-face and calling the meme a "joke" that "was blown way out of proportion."

Carter Jr. also declined to take down the meme, saying it is "a sad day when we can't be lighthearted."
The backlash has been swift, however, particularly in light of Carter's unrepentant response.
\u201cIs EVERY republican politician a racist, vile, idiot excuse for a human being? As far as I can tell, that would be "YES"\nNotably, I do not consider Adam Kinzinger or Liz Cheney to be part of that party in its current ideation.\nhttps://t.co/C6Vm5ANB8h\u201d

— Donna Medlock (@Donna Medlock) 1675748136
Might as well have been your big white hood that was floating up there.
— Dave Lu 呂曉龍 (@davelu) February 5, 2023
I get it, it's funny because it's so pathetically racist
— Kevin M. Kruse (@KevinMKruse) February 5, 2023
Does the "R." in your name stand for "Racist"?
— Katie S. Phang (@KatiePhang) February 5, 2023
\u201cRepublicans love their racism\nhttps://t.co/NUFZSXLOQB\u201d

— Taciturn49 - \ud83c\uddf5\ud83c\uddf7 \u270a (@Taciturn49 - \ud83c\uddf5\ud83c\uddf7 \u270a) 1675729801
\u201cJust disgusting, offensive, & infantile. This Mississippi state senator should give a public apology, or resign his seat.\nArticle title: "Mississippi lawmaker sparks outrage for racist meme on suspected Chinese spy balloon" https://t.co/4OMA8YZ666 via @Yahoo\u201d

— Leone Jose Bicchieri (@Leone Jose Bicchieri) 1675717350
\u201cWhy are so many GOP politicians racist,bigoted or so immature? https://t.co/CWeDPfHpzA\u201d

— Jimmy Malone,liberal @malonespeaking everywhere (@Jimmy Malone,liberal @malonespeaking everywhere) 1675717696
The Chinese spy balloon set off a diplomatic crisis over the last week and the Chinese government said it "regrets" its weather surveillance "airship" accidentally flew over United States' airspace after the Pentagon said a purported spy balloon flew over Montana.

Republicans called for it to immediately be shot down, but the Pentagon advised President Joe Biden to wait until there would be no danger to people or property.
Ultimately, the decision to shoot it down received bipartisan praise even as China characterized the move as an unnecessary provocation and said it reserves the right to retaliate.