arizona governor
Chip Somodevilla/Staff/Getty Images
After a recent Arizona Supreme Court ruling that determined that businesses can choose not to do business with anyone based on religious freedom, there were many calls for Arizona's anti-descrimination laws to be expanded to specifically include LGBTQ+ people.
But Republican Governor Doug Ducey refuses to entertain that change in language because there are already "a lot of laws".
Governor Ducey told the press:

"I think we've got a lot of laws. I've been more in the business of wanting to repeal laws and regulations."
Ducey also showed support for the ruling regarding religious freedom based discrimination that brought about public requests for clear-cut protections for LGBTQ+ individuals.
"The court was able to find a place where they could respect the First Amendment and religious freedom. And we'll continue to be a state, because it was so narrowly decided, that doesn't accept discrimination in these forums."
The unfortunate reality, though, is that the ruling likely won't be applied narrowly. LGBTQ+ people are often discriminated against by those claiming religious freedom and as it currently stands they don't have much recourse.
Here is a relevant section of the Arizona Supreme Court's ruling:
"The rights of free speech and free exercise, so precious to this nation since its founding, are not limited to soft murmurings behind the doors of a person's home or church, or private conversations with like-minded friends and family. These guarantees protect the right of every American to express their beliefs in public. This includes the right to create and sell words, paintings, and art that express a person's sincere religious beliefs."
"The City of Phoenix cannot apply its Human Relations Ordinance to force Joanna Duka and Breanna Koski, owners of Brush & Nib Studios, to create custom wedding invitations celebrating same-sex wedding ceremonies in violation of their sincerely held religious beliefs. Duka, Koski, and Brush & Nib have the right to refuse to express such messages under article 2, section 6 of the Arizona Constitution, as well as Arizona's Free Exercise of Religion Act."
As the ruling applies specifically to Brish & Nib, it is technically quite narrow. It does set an uncomfortable precedent, however.
With the way the ruling is written, it does not apply to any other businesses, but it does make it seem like other businesses who bring the issue before the court might be given similarly favorable rulings. This is by no means guaranteed, but it is certainly possible.
Despite this, Governor Ducey doesn't think that specific legal protections for the LGBTQ+ community are necessary.
Many folks on Twitter vehemently disagreed with Ducey, and the Arizona Supreme Court's ruling.

Some have stated that if the Arizona Supreme Court had not increased from 5 to 7 justices in 2016 this case would have been decided differently. When the court expanded, two more conservative justices were appointed, skewing the court in favor of Brush & Nib.

Arizona State Director of the Human Rights Campaign said of the situation:
"Governor Ducey's Supreme Court [has] issued a license to discriminate against Arizona's LGBTQ community in an alarming decision that puts the state's people, reputation, and economy at risk."
"For years, Arizona's economic councils, lawmakers, and leaders from every community, including faith and business leaders, worked together to build an Arizona that is open to everyone and attracts investments from across the country."
"Not only does this decision affect countless LGBTQ Arizonans, it sends a message about inclusivity to businesses and institutions seeking to invest in states that welcome all people."
Unga also reminded folks:
"LGBTQ Arizonans pay taxes, own businesses, serve in our military and contribute to our economy, and they deserve a government that stands with them."
Governor Ducey told Tuscon.com that he is "against discrimination in all its forms." If that were true, wouldn't it make sense to specify that in state law?
Discrimination is wrong and if the current Arizona administration truly wants to prevent it then laws making discrimination against specific marginalized, targeted communities illegal just seem like common sense.
Show your support for equality with this shirt available here.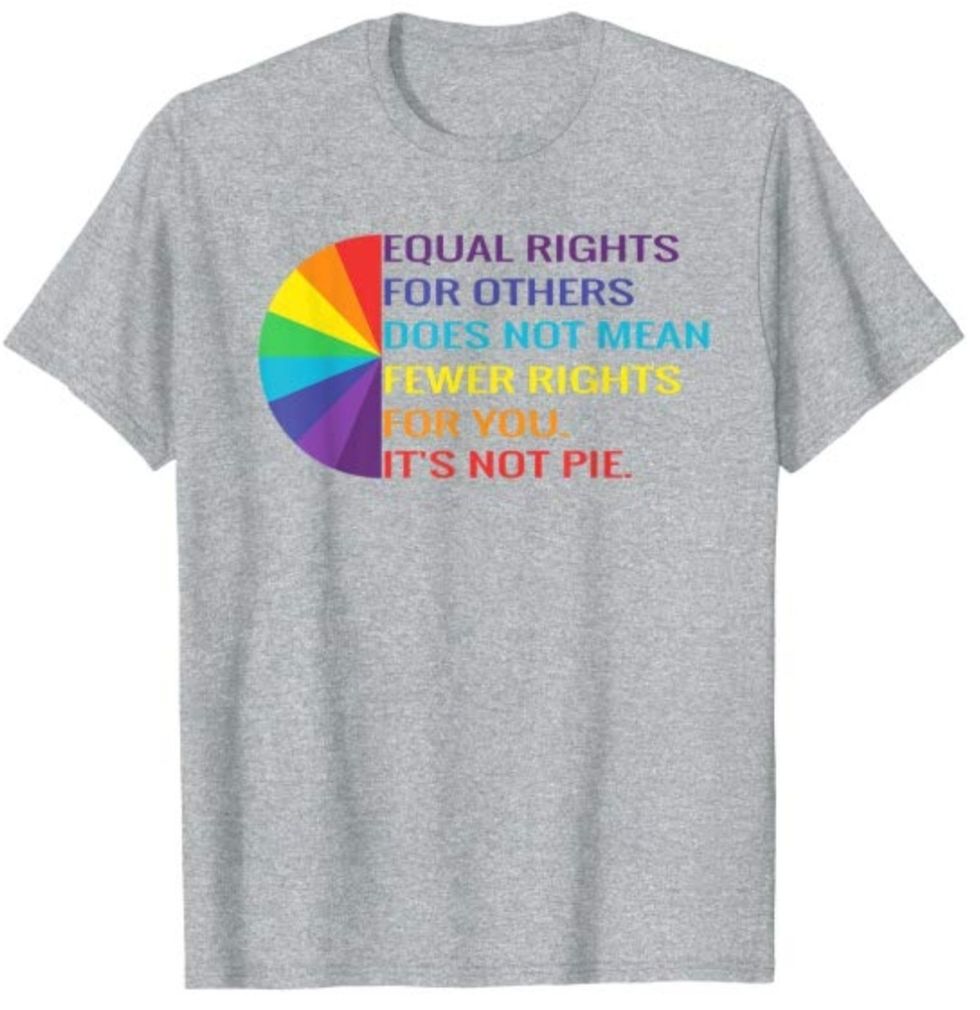 Amazon
*****

Listen to the first season of George Takei's podcast, 'Oh Myyy Pod!' where we explore the racially charged videos that have taken the internet by storm.
Be sure to subscribe here and never miss an episode.
Keep reading...Show less