Tag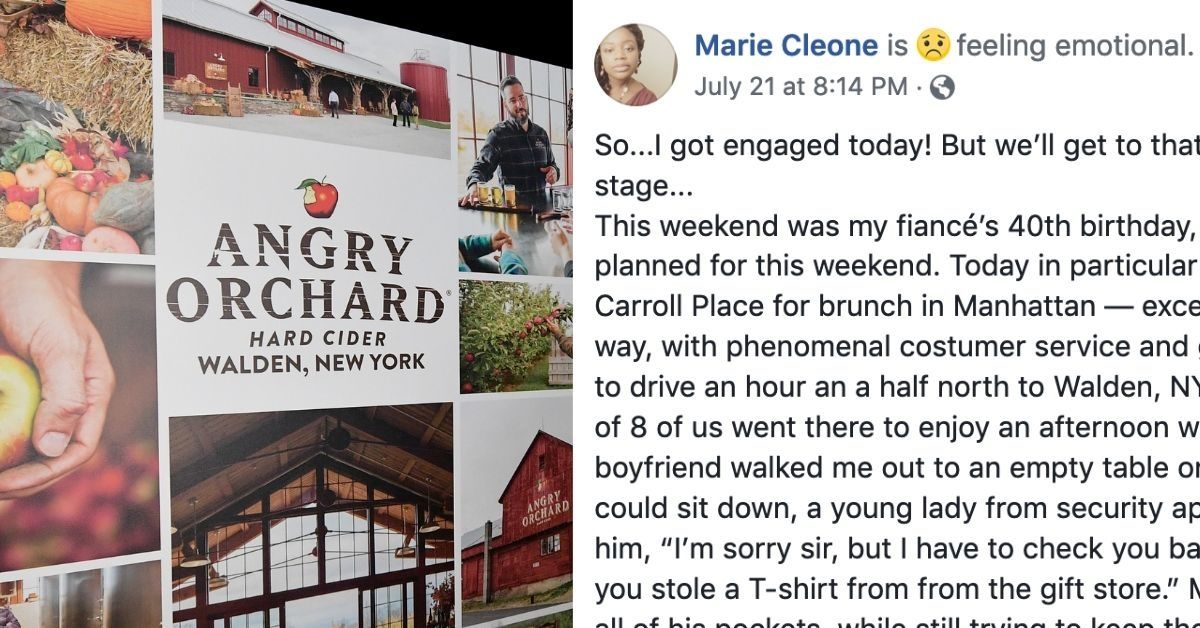 A black couple is citing racial profiling when the boyfriend was proposing to his girlfriend at a hard cider company in Walden, New York.
On Sunday, security staff from Apple Orchard Farm was alerted to the theft of a T-shirt from its gift shop.
But the attempt to recover the allegedly stolen item quickly escalated into what may as well have been a drug bust.

Cathy-Marie Hamlet, 32, and her six friends drove to the Upstate New York establishment to celebrate her fiancé's 40th birthday.
Her partner was planning to pop the question, but the jovial occasion was interrupted by Angry Orchard security.
Before the proposal went south, things started out with much promise.
In a lengthy Facebook post, Hamlet, who is a New York City doctor, recounted the momentous occasion that was marred by the racially-motivated accusation.

"So...I got engaged today! But we'll get to that part later. Let me set the stage..."
"This weekend was my fiancé's 40th birthday, and we had multiple events planned for this weekend. Today in particular though, we started out at Carroll Place for brunch in Manhattan — excellent establishment, by the way, with phenomenal customer service and great food. We then decided to drive an hour an a half north to Walden, NY to Angry Orchard."
The photo Hamlet posted to accompany her post was that of the security staff that happily waved off the Black patrons from the establishment.

The security guard demanded the boyfriend empty his pockets as he was preparing himself to pop the question.

"A group of 8 of us went there to enjoy an afternoon with some hard cider. My boyfriend walked me out to an empty table on the lawn, and before we could sit down, a young lady from security approached us and said to him, 'I'm sorry sir, but I have to check your back pocket. I was told that you stole a T-shirt from the gift store'."
"My boyfriend then emptied all of his pockets, while still trying to keep the ring box hidden from my sight. She then walked away, and my boyfriend and I sat down at the table and he began his proposal speech."
A second interruption occurred, this time, during the proposal.

"MID PROPOSAL, the same young lady from security walks back towards [us] and says to me, 'I'm sorry, I need to check your bag. I was told that he gave it to you, and you put it in your bag'."
"Mind you, my bag isn't even large enough to fit a T-shirt. I emptied my entire bag in front of her, and since this was the SECOND time she had walked over, I said, 'I know you're just doing your job, but I can't help but wonder if this is because we're Black. We're the only Black people here at your establishment.'"
"Of course, she said that that wasn't the case."
@Miss_MedSchool @AngryOrchard @AngryOrchard why is tour staff racially profiling and harassing patrons on what shou… https://t.co/tD8rAGeUOK

— Amanda (@Amanda) 1563823463.0
Once more from the top, please.
"She departs again, and shortly after my boyfriend pops the question! I say yes, of course. People started cheering. And then the other 6 of our friends walked over to us to hug and congratulate us."
The mood quickly soured a third time when suddenly, all members in the party were asked to comply with security.

"Then surprise, surprise...the same young lady from security walks over to the group of us and says, 'I'm sorry, I didn't realize you all were a part of the same party. I have to check all of your purses and pockets.' So at this point, the rest of security walks over and there's 6 of them approaching us."
The staff believed the claims of one security member who allegedly saw the theft in action.
It was one person's word over those of the innocent couple.

"Of course my friends told them none of us stole a T-shirt from their establishment, at which point they started getting aggressive and saying that not only them but also patrons saw my boyfriend steal the shirt and/or transfer it to me to put in my bag!!"
"Another woman in security yelled to one of the male security, 'Call the police! I saw you steal it.' I asked them, 'Do you have security cameras here?' And they said yes."
@Miss_MedSchool @AngryOrchard @AngryOrchard, your racist profiling ruined this lovely doctor's engagement day over… https://t.co/NxfeUG3KE5

— Jaimienne of Ravenstark (@Jaimienne of Ravenstark) 1563824541.0
Although the interaction never turned physical, the name of the establishment certainly lived up to its name when their staff pushed their aggressive accusation to a heightened level.

"So I said, 'Well then you need to go and roll back your tape and see that nobody here stole anything from you guys.' Security started taking our pictures, recording video and took a picture of my license plate number. We as a group decided to leave rather than be attacked by the multiple security guards of Angry Orchard."
It was a proposal to remember, but for all the wrong reasons.
"I have never been so humiliated in my life, myself and some of my friends left Angry Orchard in tears. On what was supposed to be one of the best days of my life, I was chased out of Angry Orchard by security who followed us all the way to the parking lot."
"I'm sorry, and not to sound pretentious, but as a doctor, I have no reason to steal a $28 T-shirt when I could afford to buy ALL of the T-shirts in their gift shop. I implore Angry Orchard to ROLL BACK THEIR SECURITY FOOTAGE on July 21st, 2019 because they owe all 8 of us an apology."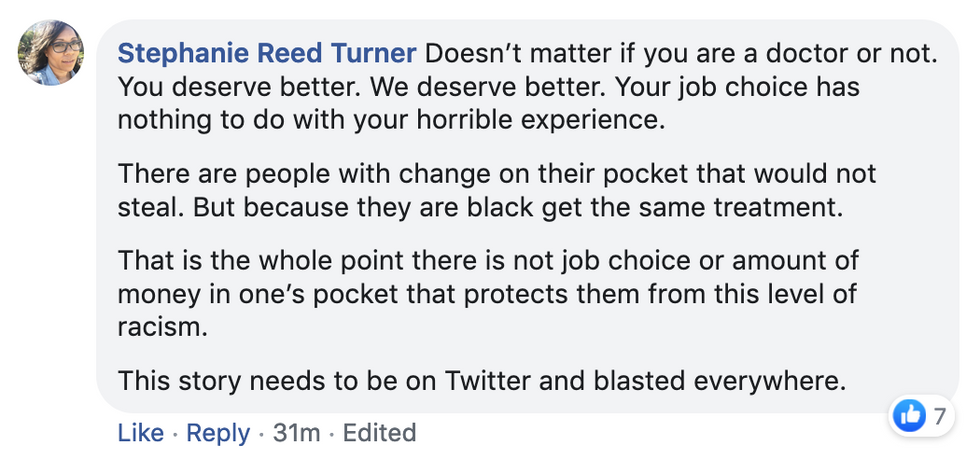 Marie Cleone/Facebook
Hamlet had a suggestion for the establishment.

"Angry Orchard if you don't want Black People buying your product or frequenting your establishment, then maybe put a sign on the door so that we know we are not welcome. I love hard cider, but Angry Orchard will never touch these lips again."
Those disgusted with Angry Orchard's mishandling of the incident offered better hard cider alternatives.
@Miss_MedSchool @AngryOrchard I hear @AceCider makes a delicious cider. @harpoonbrewery just launched City Roots Ha… https://t.co/OMuR0luu3z

— TheAngryMensch (@TheAngryMensch) 1563828701.0
@AngryMensch @Miss_MedSchool @AngryOrchard @AceCider @harpoonbrewery Hopefully with less racism. I want to try it, if so.

— Michelle Robinson (@Michelle Robinson) 1563837533.0
@AngryMensch @Miss_MedSchool @AngryOrchard @AceCider @harpoonbrewery Thank you! I hope to try it. I love cider. It… https://t.co/pQp9tRYePF

— Michelle Robinson (@Michelle Robinson) 1563842132.0
People didn't forget the important part of the story and congratulated the couple on their engagement, even though it had been ruined.

Marie Cleone/Facebook

Marie Cleone/Facebook

Marie Cleone/Facebook
@Miss_MedSchool @AngryOrchard Congratulations on your engagement, and best wishes for the wedding! I'm so sorry the… https://t.co/miqJrgdrPE

— 🌹 Witch, Hunting 💀 (@🌹 Witch, Hunting 💀) 1563826170.0
@Miss_MedSchool @AngryOrchard First, Congratulations! Second, your poor fiance, who probably had planned this for a… https://t.co/HnpxSbBcm5

— KC Murphy 🍑 (@KC Murphy 🍑) 1563824458.0
On Monday, Hamlet told NBC News:

"I feel confused and conflicted over what to do now and how to move forward, that one of the happiest moments of my life could be partially overshadowed like this. It's sad that in 2019 we still need to have these conversations."

In response to all the negative comments, Angry Orchard wrote PEOPLE the following statement:
"We reached out and spoke directly with the guest involved to express our apology and offer to make it right. Our security team approached a group of guests based on what they thought was credible information at the time."
"We believe that we mishandled the situation and we're now working on additional training for our team to prevent something like this from happening in the future."
"We're deeply sorry. The situation didn't reflect our values of respect and creating a welcoming environment for our guests."
Their response did not go down smoothly on Twitter.

@Miss_MedSchool @AngryOrchard Response from @AngryOrchard ... No explanation why their security didn't check the ta… https://t.co/AazCQUrnpK

— Ellen McInnes (@Ellen McInnes) 1563833575.0
@EllieM163 @Miss_MedSchool @AngryOrchard Because protecting their white staff takes priority over the comfort of th… https://t.co/1yT8ibefR3

— Glanavon (@Glanavon) 1563833828.0
@EllieM163 @Miss_MedSchool @AngryOrchard WAY inadequate response #angryorchard 😕🙁😞

— Mrs B (@Mrs B) 1563882815.0
For anyone already on the fence about Angry Orchard's products, their fate was sealed after this incident.

@EllieM163 @Miss_MedSchool @AngryOrchard And nothing said about racial inclusion or their abhorrence at the idea th… https://t.co/0JtxxNjNX5

— Ursula (@Ursula) 1563855941.0
Angry Orchard failed to produce security footage or inventory records to prove anything was stolen that day by anyone in the group. And despite having complied with requests to empty their pockets and purse, the one supposed witness from security claimed the alleged missing shirt was in the purse another security member had just searched.
While their motives for aggressively targeting the couple and their friends are known only by the security personnel, it wasn't a good look for Angry Orchard.
And the memory of a beautiful proposal is something they can never give back to this couple.

To teach teens about the complexities and consequences of racial profiling and disparate justice, the award winning book All American Boys, available here, tells the story of "two teens—one black, one white—grappling with the repercussions of a single violent act that leaves their school, their community, and, ultimately, the country bitterly divided by racial tension."
Keep reading...Show less