angelica ross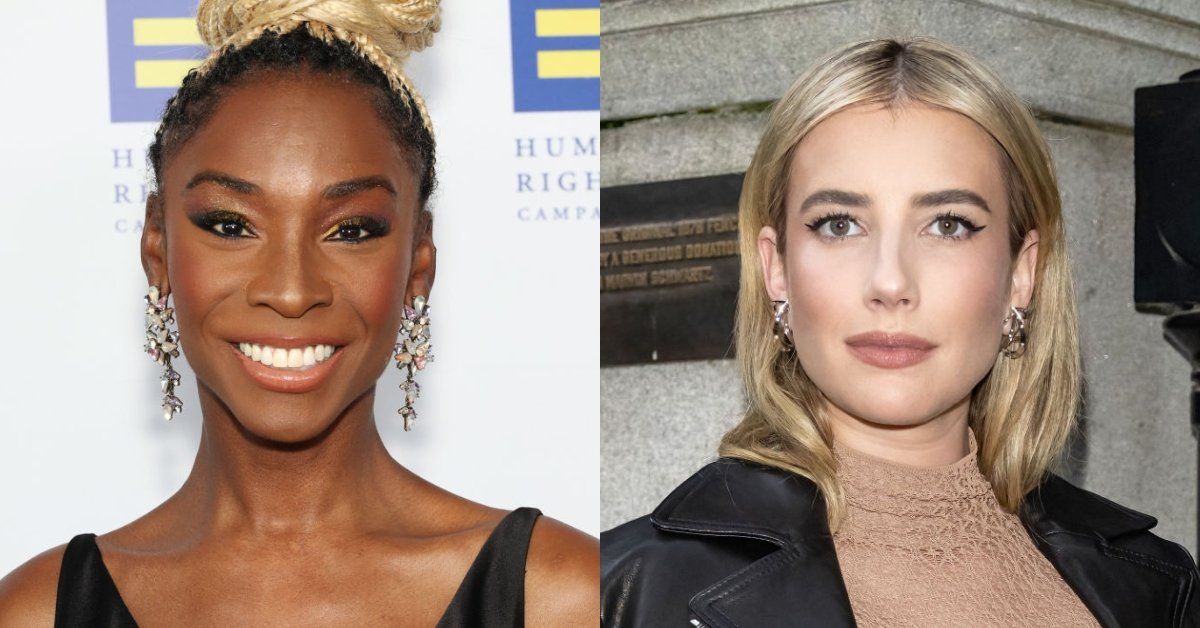 Monica Schipper/WireImage/Getty Images; Gilbert Carrasquillo/GC Images
Just ahead of the season premiere of American Horror Story: Delicate, the popular anthology series found itself the subject of controversy when one of its past stars revealed some shocking behind-the-scenes drama.
Angelica Ross, an alumna of American Horror Story: 1984 and the wildly acclaimed Pose, another Ryan Murphy production, said that her experience working on 1984 was not a particularly happy one, largely owing to the presence of Julia Roberts' niece.
Ross shared some shocking anecdotes in an Instagram Live video, subsequently shared on an AHS fan account on X (formerly known as Twitter).
Warning: adult language
Ross claimed that she and all her co-stars in 1984 were constantly "irritated" during filming.
While she did not name Roberts outright, she made it clear that this irritation stemmed from the behavior of "Miss E.R."
Ross disclosed that the first thing she witnessed on the 1984 set was Roberts "yelling at the director" and "basically trying to make him cry".
"She was just trying to make it very clear that she was number one on the call sheet, and she was the one in charge."
In addition, Ross claimed that the rest of the cast "wanted to fight [Roberts] all the time" owing to the fact that Roberts was "playing psychological games on set," with one unnamed cast member reportedly saying to Ross, "can you believed that b*tch," after a discussion they had with Roberts regarding salaries.
"They're like 'she had the nerve to ask us what we were all making for this show'."
"And mind you, I was not in the circle when this conversation was happening, and they were telling me that she was smoking her cigarette outside the trailer and is like 'okay, what's everybody getting paid?'"
"I don't think nobody was really answering the question or whatever, and what the actor told me, I guess allegedly right, what the actor told me was like 'well as long as you're not getting paid more than $100 an episode', and then kinda like walked away."
However, Ross later revealed that things got much more personal between her and Roberts, claiming she was deliberately misgendered by Roberts in front of director John J. Gray.
Warning: adult language

Ross claimed that Roberts accused her of "being mean" to Gray, and when Gray tried to ease the tension, Roberts chose to escalate it by taking an offensive personal jab at the transgender actress.
"John is like 'okay ladies, that's enough, let's get back to work', and [Roberts] then looks at me and she goes 'don't you mean LADY?'"
"And I'm standing there, looking at her dead a** in the damn thing, and I'm like trying to process the f*ck she just said."
"And I'm standing there, and she walked away, my blood is boiling, boiling, because I'm like 'If I say something, it's gonna be me."
Ross shared that she felt she couldn't speak up and report Roberts' behavior at the time, as she had heard that when another cast member tried to call her out, it was they, not Roberts, who found themselves in trouble.
Even so, Ross made it clear that she and Roberts never exchanged words following the incident when the cameras weren't rolling.
"I didn't speak to that b*tch the entire time after that."
"So we had scenes together, and I never spoke to her."
"She said to me, she could feel the energy coming off of me, she was like 'are you ok? You haven't been talking', and I was like 'hmmm' cause b*tch don't blame me, you've been playing mind games with everybody on this set, and everybody's been waiting for the moment that you would get me."
In a later post, Ross said that Roberts went on to mock her voice following an exchange they had with co-star Cody Fern.
However, things seemed to take a turn for the better, as Ross returned to X on Wednesday to share that Roberts had reached out to her and apologized for her past behavior.
While Ross didn't go into detail as to what Roberts said, she revealed in her post that her former co-star had indeed called her, offering an apology for her on-set behavior, which Ross appeared to accept.
"Thank you @RobertsEmma for calling and apologizing, recognizing your behavior was not that of an ally."
"I will leave the door open to follow up on your desire to do better and support social justice causes with your platform."
However, Ross's fans were a bit more divided on whether or not they accepted Roberts' apology.
Some acknowledged that admitting when you're wrong takes bravery, and applauded Roberts for doing so, particularly as she apologized directly to Ross, and not in a public manner:
Others wondered if Roberts apologized only because Ross went public with her behavior, or felt that Roberts should have been more public with her apology.

While things seem to be settling between Ross and Roberts, things between her and American Horror Story and Pose creator Ryan Murphy might not be quite so stable.
In a separate post on X, Ross shared an email exchange between her and Murphy, claiming he "ghosted" her after inviting her to be in the cast of a potential all-Black season of American Horror Story that never materialized, seemingly causing Ross to miss out on a lucrative deal with Marvel.
Keep reading...Show less