You don't even think about it. It's a beautiful, crisp Spring day. Birds are singing, couples are out for a walk in the park, you sit to feed the pigeons, and you notice those darn whipper-snappers taking selfies to post to their FaceChats or SnapGrams and they need to learn to get off your lawn!
You get old.
Suddenly, you can't stand a certain thing or two. Reddit user, r/MrPugMuffin, asked about your breaking point as an "old" person when they said:
What was your, "I'm too old for this sh*t" moment?





Your Vocabulary Starts To Shift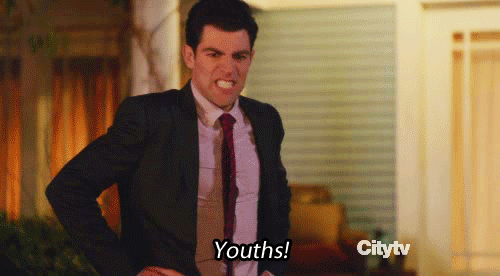 Giphy
I just realized how old I was when I heard teenagers being rambunctious out back of the store I work at and instead of just calling them a--holes I called them Punks.
Your Body Won't Take A Bump As Easily
I was playing Mission Impossible (basically "The Floor is Lava") with my kids and rolled my ankle. I remember being a kid and ending up with bumps, bruises, and sprains on a daily basis. I would always go out and play the next day. I'm still a pretty active guy but that rolled ankle took me out of commission for a couple of weeks.
I completed a baseball game with a broken toe as a kid but walking from my bedroom to the bathroom with a sprained ankle was almost unbearable as an adult.
Your Crowd Surfing Skills Are Non-Existent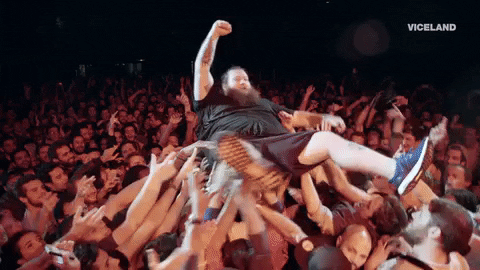 Giphy
I'm 45. I went to a punk show a while back and got caught up in the excitement and spent half the show in the pit and crowd surfing. I spent the next week in enough pain to remind me I'm too old for this sh*t.
Your Priorities Start To Shift
Realized I could stay up all night playing video games, or I could get 8 hours of sleep.
Slept like a baby...and I let all that space station stay in danger.
You're Trading Different Kinds Of Bottles
If you want real fun. Try being mid 20s and some of your slightly older friends are married having kids and your younger friends are still in college/uni.
2 years ago we were getting drunk partying till 2 in the morning ... now I'm at your kids 1st bday party .... what the hell
Your Skating Skills Aren't What They Used To Be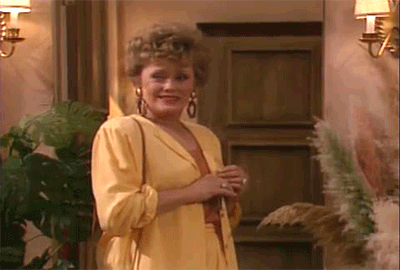 Giphy
My husband said the same thing. He said he watched quite a few videos and thought to himself "Man, I used to do all these cool tricks." So he grabbed his old skateboard and busted a-- on our driveway.
He said he felt defeated walked back into the house and said that he can't do that or else he would seriously hurt himself and he can't miss work. lol poor guy.
Your Yard Is The Most Valuable Thing
Dealing with the a--hole neighbor teenager. I've had to yell at him and his friends to stop riding their bikes through my yard.
... Maybe I'm exactly old enough for this sh*t. Lemme go find a cloud to yell at.
You're Not Hip To The Jive
New guy at work asks us where the club is in town. Told him where the golf club is.
Asked me if it was LIT. Everyone erupts in laughter when I replied "Yeah there's lights in there "
Your Roommates Need To Wake Up Earlier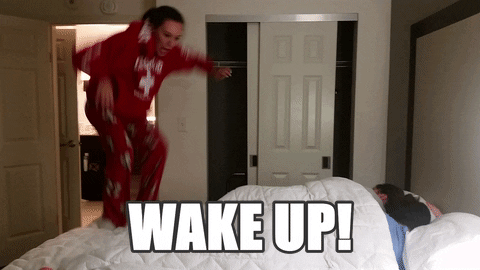 Giphy
Two weeks ago when my unemployed housemate yelled at me for waking him up, at 11:00am by putting my shoes on to go to work.
I moved out last week and now I live alone! $100 extra is totally worth it to never deal with him again
Your Ability To Stand Fades Away
I went to a show last night and realized there was no bar stools around the edge so I had to stand the whole time.
God dammit I miss sitting.
You Hurt Yourself Sleeping
45 years old. I fell asleep on my recliner with my left leg bent at a weird angle. Woke up couple of hours later and couldn't walk on my leg for 2 days.
Your Bedtime Creeps Up On You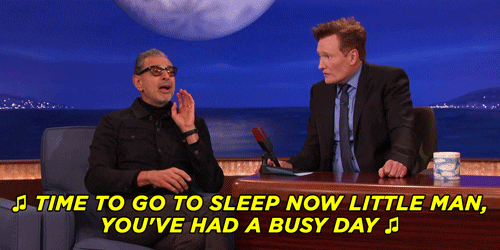 Giphy
I finished a gig (I'm a guitarist and singer), packed down, loaded up the car with the musical gear that seems to get heavier by the day, went home and went to bed. It was 8pm.
Your Love For Trampolines Turns To Hate
Ever been bounced off a trampoline at 30 years+ ? I hurt for two weeks.
Your Video Game Tastes Never Change
When someone complains about a game's graphics, and you remember when Pong was for rich kids.
Your Drinking Preferences Change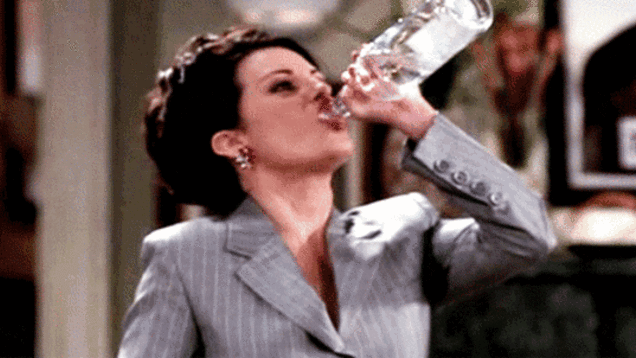 Giphy
Drinking to get drunk: I have finally reached a point especially working many years now consistently with only stints of annual leave I have learnt to enjoy the f-ck out of weekends...
...the last time I had a bender and was hungover from Sunday until Tuesday morning and it was then I realized I am too old for this sh*t and I enjoy my weekends too much to do this crap.
Your Tolerance For Screaming Girls Lessens
Having fourteen-year-old girls screaming in my ear at a My Chemical Romance concert. After about ten minutes of non-stop screaming, I noped out of the front row and chilled at the bar with a drink for the rest of the show.
Your Shopping Season Involves Hiding
I'm 33 but around 30 years old, I realized I'm too old to actually go to stores during sale season. All those people fighting over stuff, standing in lines for the trial room and then to get to cash counters is too much. Online shopping for me now almost exclusively.
And also connecting flights - I'd rather pay more for a direct flight than one with a stop mid-way, unless there's absolutely no direct flight.
You're Stuck In The Middle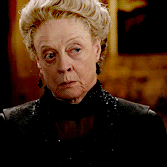 Giphy
When I'm 24 at my cousin's 15th birthday party. All his friends are there and I'm too old to converse with them but since I'm the oldest cousin I'm almost forced to talk with the parents.
So it was both "I'm too old for this" and "I'm too young for this".
Your Existential Crises Grow Everyday
Having my millionth existential crisis about what I'm doing with my life and if I'll ever find love or even just a short relationship or even just get laid every now and then.
Your Too Old For This "Too Old For This" People
This. This post... reading "I'm too old for this sh*t" moments written by people younger than me. NOW I feel old. Awesome.
Your Kids Are An Anchor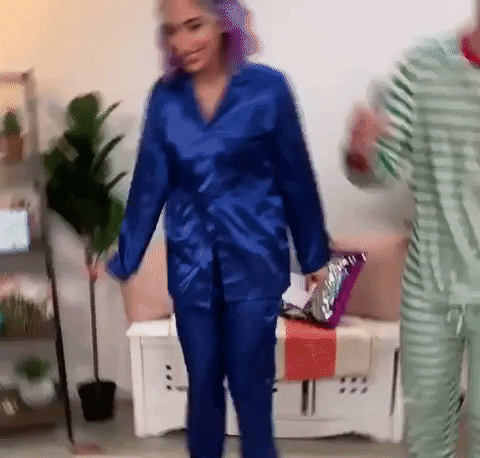 Giphy
So, to set the scene, my son was at his grandmothers house, my stepson was spending the weekend with his dad. It was about 8:30pm on a Friday and I was listening to a podcast and busying myself cleaning the entryway to the house. I look over at my wife, who was quietly reading a book on the couch and I thought about how lucky I was to be married to ---
"HEY, ITS FRIDAY NIGHT AND WE DONT HAVE ANY KIDS, WHAT THE F--K ARE WE DOING RIGHT NOW?!?"
She jumps up and gets ready, I go change my shirt and out on some shoes and we were out on the town! We decided to go to our old hangout, a small bar on the other side of town that we haven't been able to frequent for a while due to kids/work/school. After a beer or two, we looked around at the sad sacks of sh_t that were all STILL at this sh_tty dive bar and rethought our grand night out. We were home, in our pajamas, roaring fire and a bottle of wine into Marley And Me before 11pm.
You're Too Old For This Sh*t...
Went to a club with a younger colleague.
Two hour line outside in the freezing cold. At the entrance I get a flashlight in my face and accusations of using drugs.
Thought I was listening to the dj who was headlining. Felt a bit tired. Commented on how the set was pretty nice. "What do you mean, he doesn't come on until 4 am?"
Went to the outdoor bar section. A hipster guy is either having an epileptic seizure or overdosing on E (I assume the latter) his two friends flee the scene and leave me and my buddy to take care of their friend.
In the commotion two guys with backpacks are climbing over the fence into the bar in order to avoid the entrance fee of 10 bucks.
Go home before the dj comes on.
Wake up at 9 am. At 10 I get a text message from my colleague saying he can't find me and that the Uber taking us to the after party was outside. So I need to hurry. Informed him that I hadn't been with him the last 8 hours to which he replied "oh".
Very much a "I'm way too old for this sh*t" moment (I'm 38, my colleague is 29)
H/T: Reddit
Keep reading... Show less