wyatt kauffman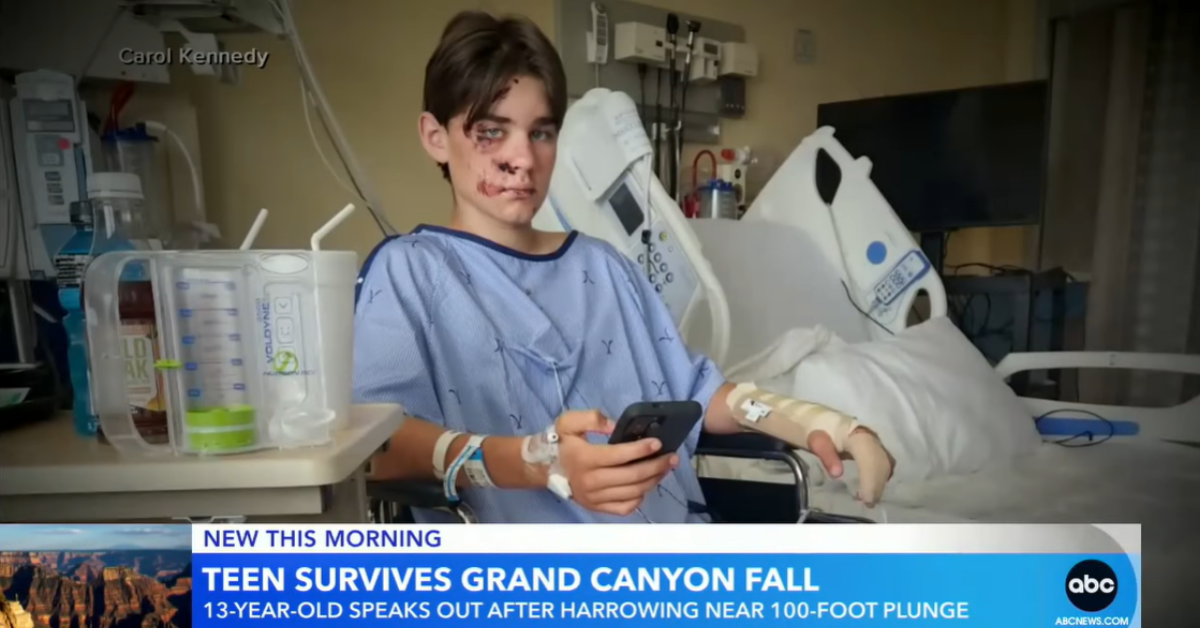 Good Morning America/YouTube
People are now joking about asking 13-year-old Wyatt Kauffman from North Dakota for his choice of Power Ball numbers after he survived a 100-foot fall into the Grand Canyon.
While on a trip with his mom and enjoying summer vacation, the pair decided to visit, hike, and climb the Grand Canyon, particularly Bright Angel Point on the North Rim, where falls have occurred in the past.
Kauffman climbed all the way to the top of the Point to take pictures, saying the view was "flat," giving him the perfect view of the entire canyon.
While up there, the teenager noticed other people trying to take pictures of the Point he had climbed. He attempted to move out of the way to clear their shot, which meant holding onto the rocks with one hand—a grip that was precarious, at best.
Kauffman described what he remembered of the incident:
"I was up on the ledge and was moving out of the way so other people could take a picture."
"I squatted down and was holding onto a rock. I only had one hand on it."
"It wasn't that good of a grip. It was kind of pushing me back. I lost my grip and started to fall back. I cannot remember anything past that point."
The teenager fell 100 feet into the Grand Canyon and sustained multiple injuries, including a ruptured spleen, a collapsed lung, nine broken vertebrae, a concussion, a broken hand, and a dislocated finger, as well as cuts and bruises.
Because of the wind, a helicopter rescue proved to be impossible, so a rescue team was sent in to climb down and lift Kauffman back up in a carrier basket. He was taken by ambulance and then flown to a nearby hospital for treatment.
Despite all of that, Kauffman put on a brave face and described himself as "a little beat and bruised" and also "thankful."
Kauffman's father expressed similar thoughts when he later found out about the accident.
"We're extremely grateful for the work of everyone. Two hours is an eternity in a situation like that."
"We're just lucky we're bringing our kid home in a car in the front seat instead of in a box."
You can watch more coverage of the incident, and similar incidents, here:
Teen details survival story after falling nearly 100 feet into Grand Canyon l GMAwww.youtube.com
People who were following Kauffman's story were grateful that he was alive.
The Kauffman family checked out of the hospital and were looking forward to a quiet drive home.

Kauffman's father reported that Wyatt was released from the hospital on Saturday and was expected to be back home in Casselton, North Dakota, the following Tuesday after a quiet, "boring" ride home.
Keep reading...Show less