Tag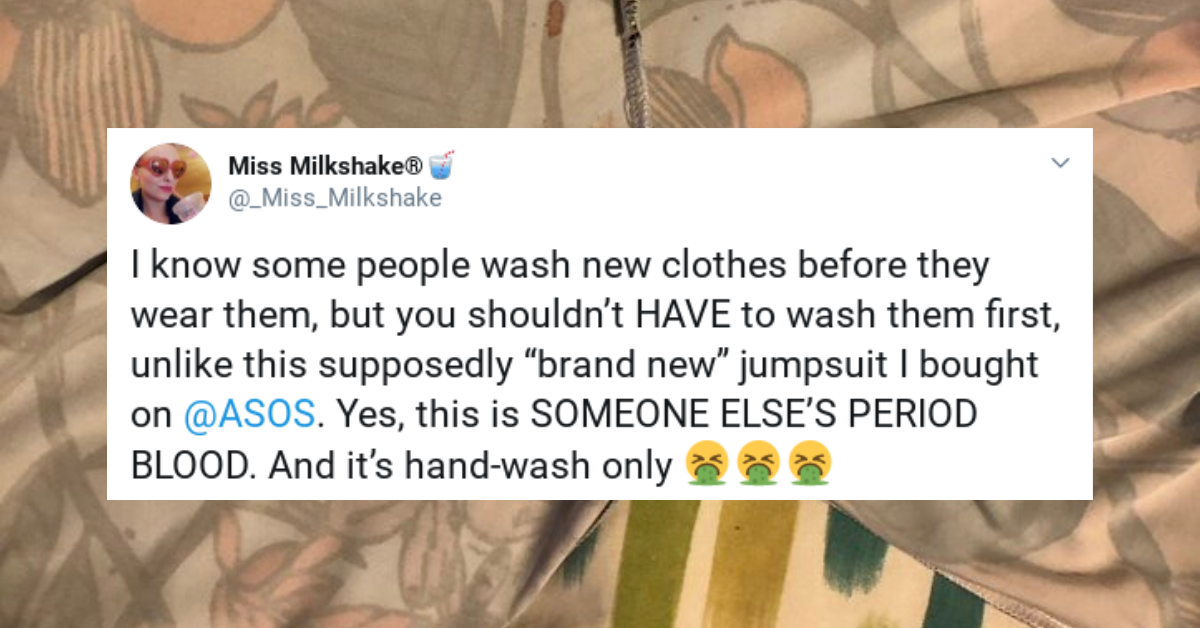 @_Miss_Milkshake / Twitter
Though online shopping and to-your-door delivery services are very much a part of the now, there are still mishaps.
Sometimes the things we order are in the wrong size, or they look nothing like their product images online, or quite disgustingly, they're used after we've intentionally ordered something new.
Last week in the UK, 36-year-old Roxy Williams, who identifies as "Miss Milkshake" on Twitter, shared her grim experience with the brand name, ASOS, which is an online British cosmetic and fashion retailer.
Williams explained how she had ordered a "brand new" jumpsuit from the retailer. But while planning to wear the jumpsuit for the day, she was horrified to discover what turned out to be a very intimately used garment.
I know some people wash new clothes before they wear them, but you shouldn't HAVE to wash them first, unlike this s… https://t.co/qQ33VGBLo3

— Miss Milkshake®🥤 (@Miss Milkshake®🥤) 1580201139.0
Williams tagged ASOS in her tweet in an effort to draw their attention to the mishap.
At the time, only a spammy bot account replied, asking for contact information.
Obviously, her 3,000 followers were thoroughly grossed out.
@_Miss_Milkshake @ASOS @ASOS_HeretoHelp @ASOS_Menswear @ASOSMarketplace @ASOS_Us @ASOS_Au https://t.co/GwIX3MfMS3

— Danny (@Danny) 1580201216.0
@_Miss_Milkshake @ASOS @ASOS_HeretoHelp @ASOS_Menswear @ASOSMarketplace @ASOS_Us @ASOS_Au WTF what?!?🤮😳

— Thank you, next💋 (@Thank you, next💋) 1580465578.0
One follower even shared how she had gone through a similar experience with ASOS when she ordered jeans.
@_Miss_Milkshake @ASOS @ASOS_HeretoHelp @ASOS_Menswear @ASOSMarketplace @ASOS_Us @ASOS_Au I complained to @ASOS las… https://t.co/H38USby5JI

— Hannah🦄 (@Hannah🦄) 1580386982.0
Williams later added more details about the incident, which involved her wearing the garment before discovering it was used.

Williams said:
"I didn't expect to have to check it for bodily fluids first, so I put it on Tuesday morning, with the intention of wearing it to work that day... It's backless, so I took it off to put another layer on underneath. It was only when it laid inside-out that I saw the bloodstains."
"For a second I thought I must've started my period early (I hadn't!) but on closer inspection, it was very obviously someone else's dried period blood. [Finding those stains made me feel] physically sick."
Williams stated ASOS reached out to her in a private Twitter message, working to resolve the problem. But when it came to keeping in touch and receiving follow-ups from the brand about her refund, Williams said the experience was a nightmare.
Williams followed up, stating:
"I have since had an actual call back from someone called Vikki in their customer care team promising me a full refund, a discount on another order and they will cover the costs to have it cleaned... But it was like trying to get blood out of a stone to get any real response from ASOS, pun very much intended…!"
It's disheartening when a brand, which appears to be fairly popular in the UK, distributes less-than-exemplary products and then fails to provide a service that corrects the problem for someone who could be a loyal customer.
If Williams does decide to order from ASOS again, she'll definitely be checking her items before using them herself. If there are any mishaps, we're sure she'll share the details.
Keep reading...Show less