Tag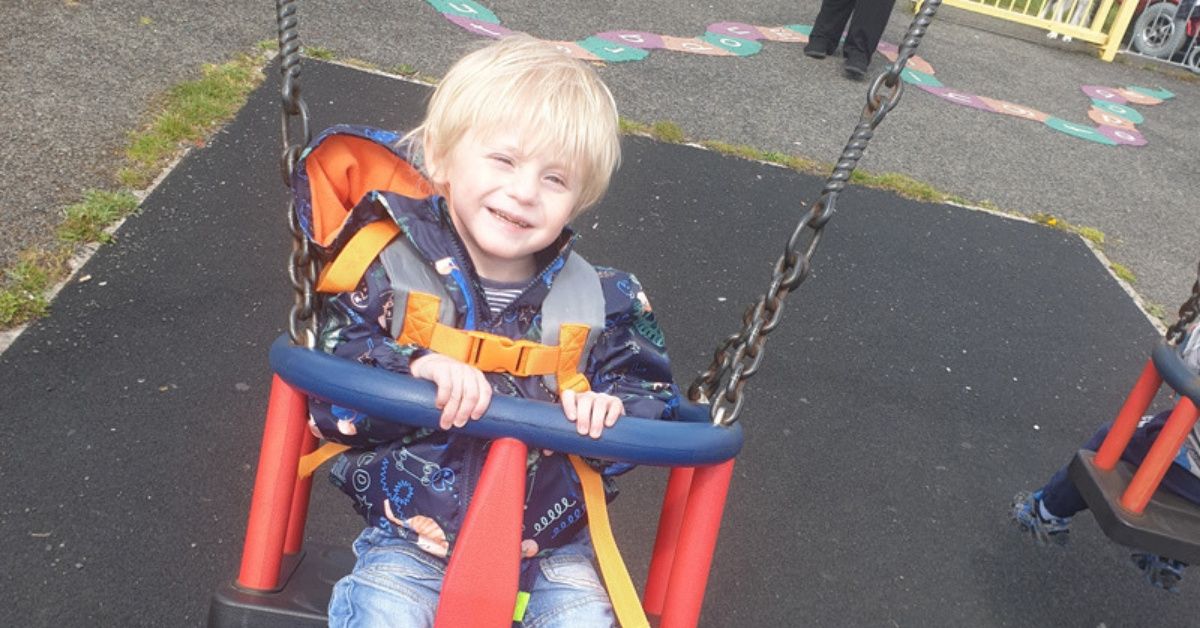 Tyler Wyllie. PA REAL LIFE/COLLECT
The overjoyed parents of a miracle boy, born weighing just 1lb 1oz and given a "zero percent chance" of staying alive, have told with pride how he is starting school in September – also revealing that he may be the only child with his rare form of primordial dwarfism to have survived.
Able to fit in his trainee paramedic dad Rickie Wyllie's palm when he was born at 31 weeks, Tyler Wyllie, four, of Corby, Northamptonshire, who is now 2ft 6in tall and weighs 21lbs, weighed the same as a loaf of bread.
But, despite being diagnosed with a rare form of primordial dwarfism, the exact type of which is unknown, he has done so well that his mom, Tina Sims, 30, who was advised to terminate her pregnancy at 20 weeks, said he will be starting mainstream school in September.
Tina, who is his full-time caretaker, explained: "If you'd told us when he was born that he would get to this point, we wouldn't have believed you.
"We know life won't be easy for him, but we're so proud of Tyler. There's nothing he can't do, he just has to do things differently.
"He's a very determined little boy. We're sure he will go on to live a normal and happy life and achieve anything he wants to achieve. Even if people say he can't do something because of his condition, I don't think that will ever stop him."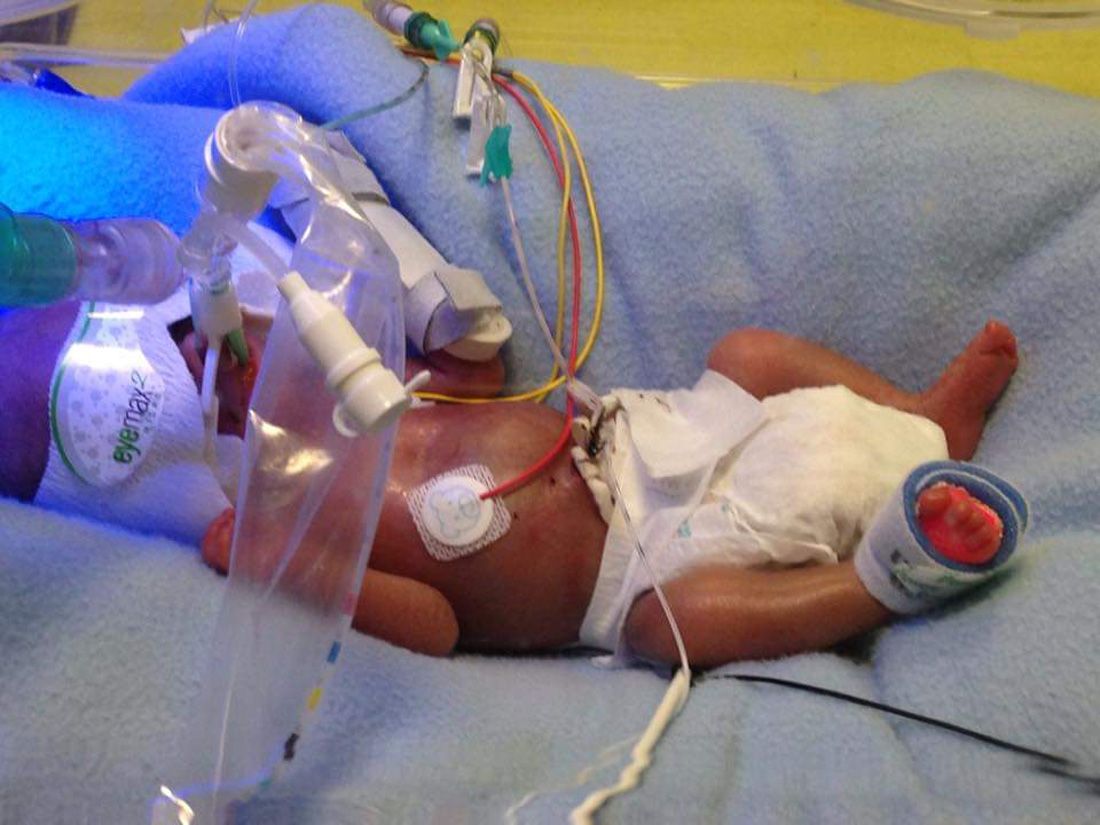 Tyler Wyllie. PA REAL LIFE/COLLECT
Tina, who has two more children, Ethan, two, and Caitlyn, one, with Rickie, 35, recalled how doctors first detected that Tyler's growth was behind and that he had a calcified spot on his liver and bowel, suggesting he might have a genetic condition, at her 20 week scan.
On the morning of her second growth scan at 23 weeks, she woke with heavy bleeding and was rushed into hospital, with doctors convinced her waters had broken and that she was going into labor.
She recalled: "Tyler was diagnosed with intrauterine growth restriction (IUGR) – a condition where a baby's growth slows or stops during pregnancy – and weighing only 350g at that point we were told there was no chance of survival and that he would be stillborn."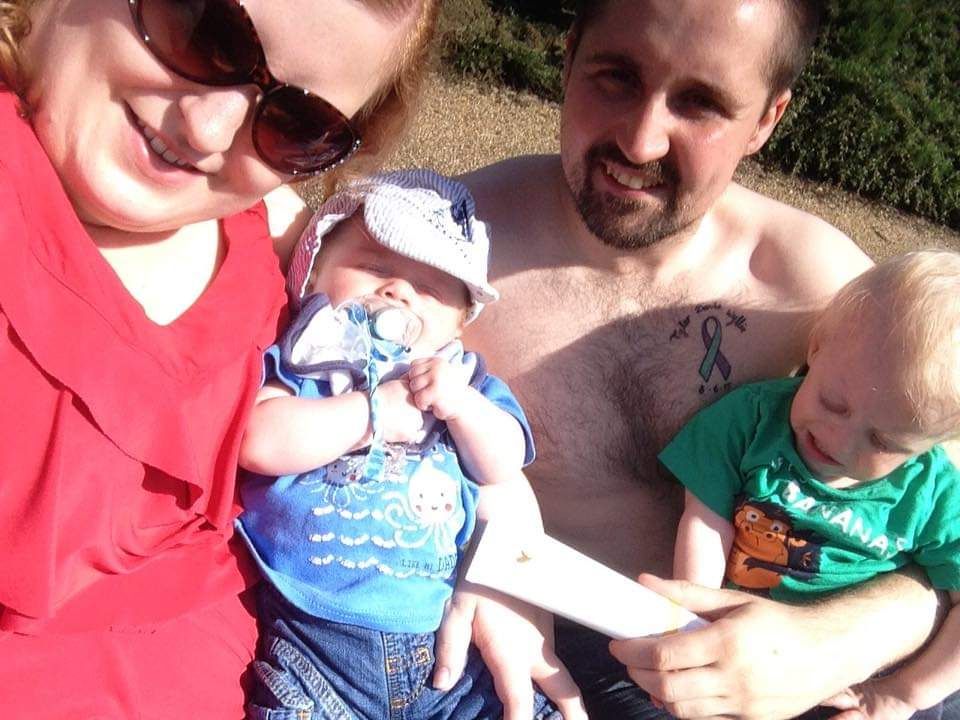 Ethan and Tyler with mom Tina and dad Rickie. PA REAL LIFE/COLLECT
Tina continued: "It was really distressing. I was crying a lot, but to me he still had a heartbeat and was still alive. I was desperate for them to be able to do something."
While further investigations found that Tina's waters had not broken but were, for some reason, reducing to dangerously low levels, she waited for labor to begin – only it did not happen.
"Nobody seemed to know what was going on. I was kept in hospital for three weeks waiting for Tyler to be born, but as more time passed, the more I thought he had a chance," she said.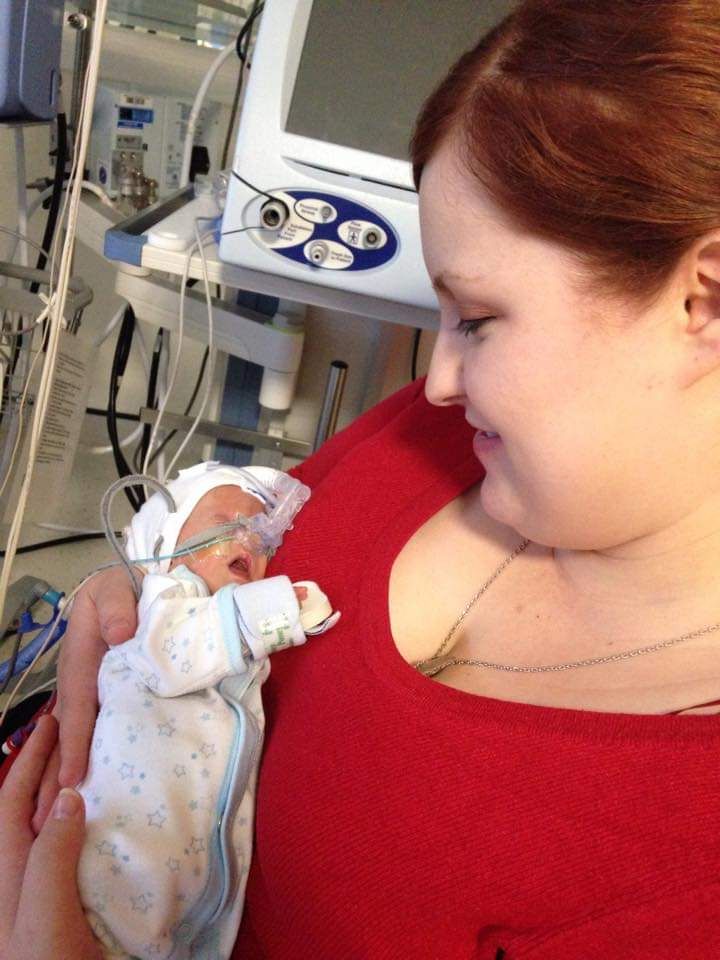 Tyler Wyllie with mom Tina Sims. PA REAL LIFE/COLLECT
"I was eventually discharged, but was back and forth to the hospital for scans after that, which showed that he was growing, but at an extremely slow rate," Tina explained.
Doctors thought Tyler may have had Triploid Syndrome, where a baby has an extra set of chromosomes and which usually results in early miscarriage.
Tina had a chorionic villus sample (CVS), where a sample of cells from the placenta is taken and tested for genetic and chromosomal conditions, but the results were inconclusive.
She explained: "From 20 weeks I was told he could have various things and that he would not survive, or that he'd have cerebral palsy, or be severely disabled. Doctors were advising me to terminate and I was given leaflets on arranging a funeral.
"I was gobsmacked, because he still had a heartbeat and was alive, but it felt like people were giving up on him."
With further scans showing Tyler was at risk because of toxins building up in his blood and heart rate tests showing his heart would stop for varying lengths of time, Tina was desperate for him to be delivered by c-section, but it was deemed too risky for mother and baby.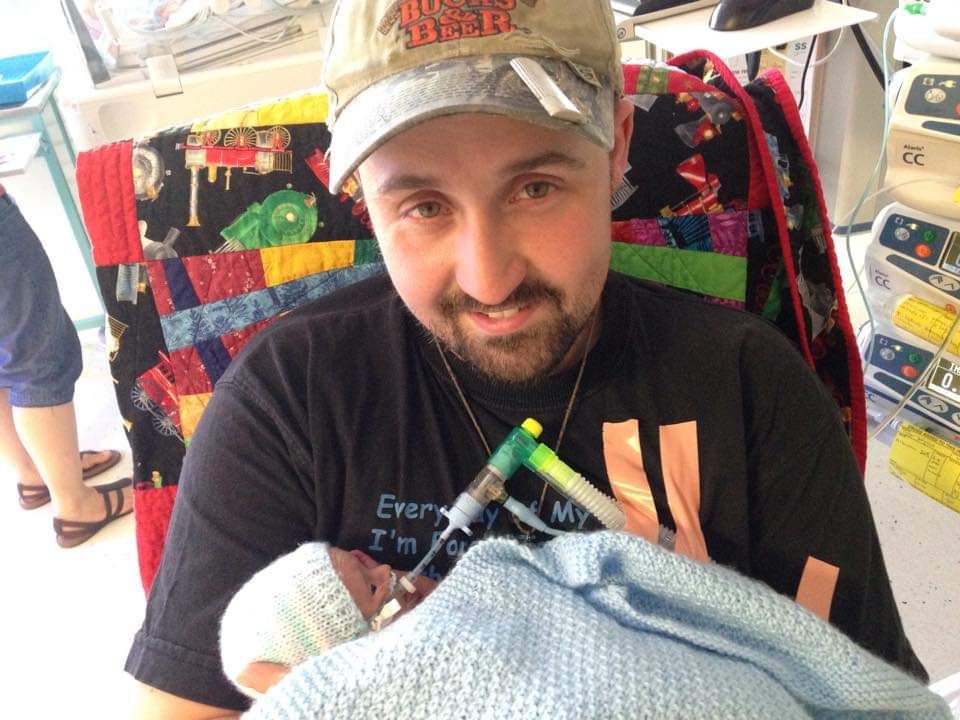 Dad Rickie Wyllie with Tyler shortly after he was born. PA REAL LIFE/COLLECT
"I was distraught. Even if he had no chance of survival, I wanted to know we'd all tried," she said.
Seeking a second opinion at London's King's College Hospital, she was told Tyler's chances of survival were still less than five percent, but she was given the go ahead for him to be delivered by caesarean section and a bed was found for them at Birmingham Women's Hospital.
Tina said: "They told me there was a strong chance they wouldn't be able to successfully resuscitate him, but they would do their best to keep him alive. I cried tears of joy, because I thought he had a fighting chance."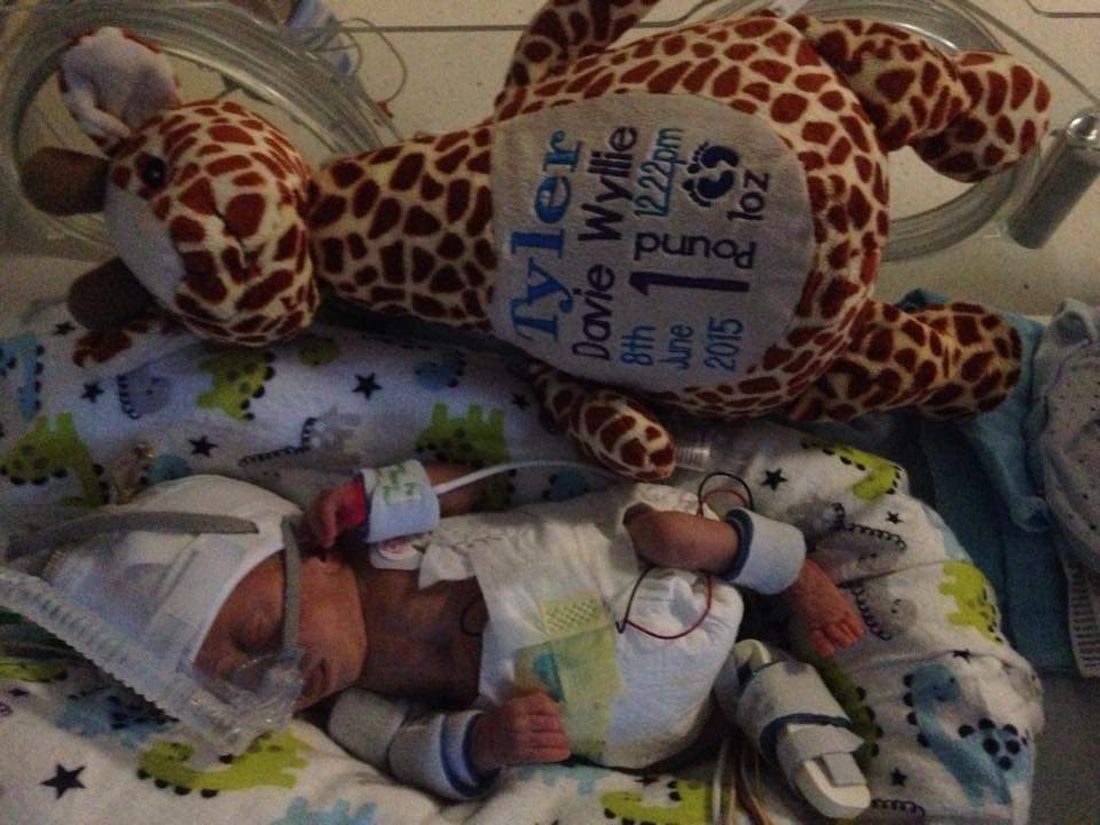 Tyler Wyllie. PA REAL LIFE/COLLECT
Tyler was delivered by c-section on Monday June 8, 2015 at 12:21pm, weighing exactly 500g (1lb 1oz) at 31 weeks and 5 days.
Recalling her delight, Tina said: "I heard this tiny squeak. It was a cry, but more of a squeak, so we knew he was breathing.
"He was so small. His skin was very thin, it was translucent. He looked very strange and his eyes were fused shut. When he did open them a couple of weeks later, they were all black."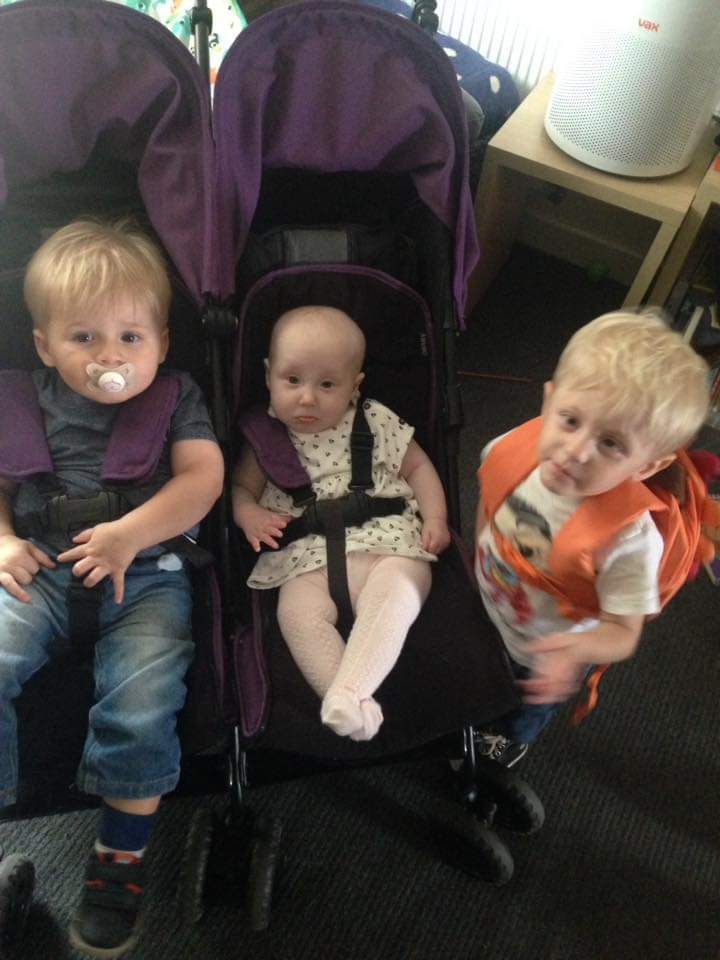 Ethan, Caitlyn and Tyler. PA REAL LIFE/COLLECT
Tina recalled: "He was the size of a baby at 22 weeks, even though he was 31 weeks.
"The doctors were worried about whether they'd physically be able to put a breathing tube in, but they managed it and he was put straight on a life-support machine.
"I was in floods of tears. Rickie was able to go to him and take a photo. That was the first time I saw him – a picture on my phone. I couldn't hold him, but I felt an instant bond."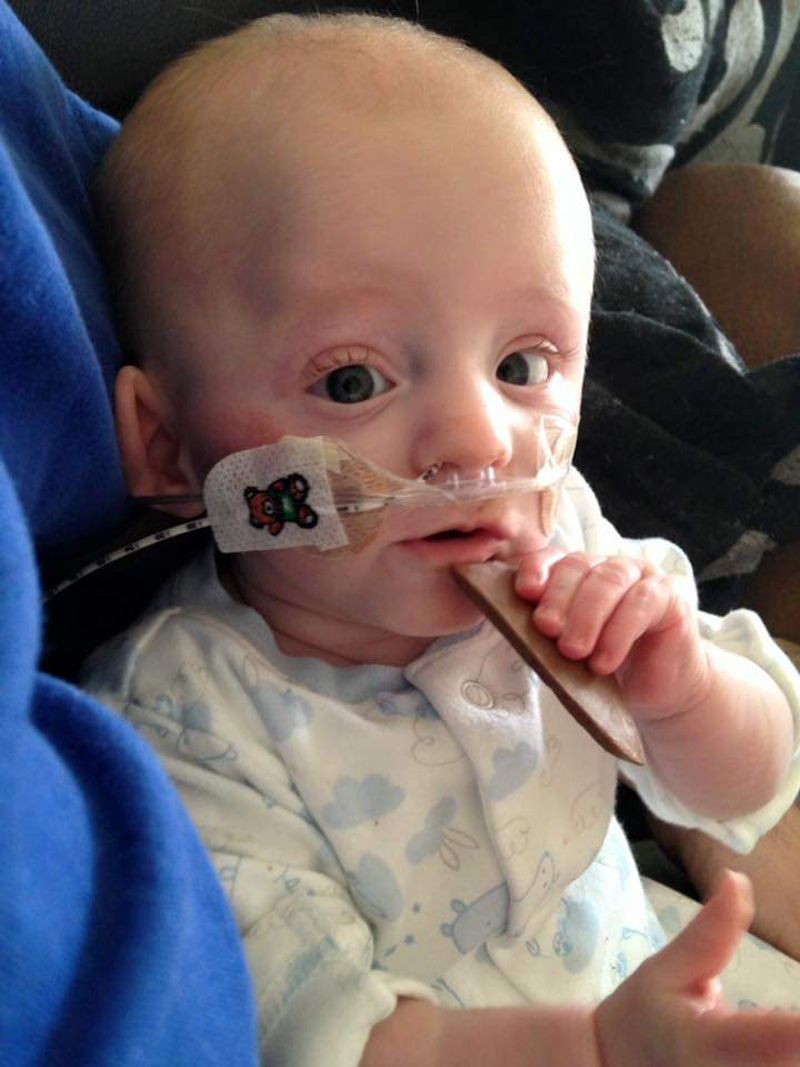 Tyler Wyllie shortly after he was born. PA REAL LIFE/COLLECT
She continued: "They told me he was a feisty little thing and had amazed everybody.
"He could fit in Rickie's palm. The consultants explained to us what a long journey it was going to be. Nobody thought he would survive."
Tyler was transferred to Leicester Royal Infirmary, closer to the family home, and at eight days old he was given a life-saving operation on his bowel, to fit an ileostomy bag, because he could not go to the toilet.
The couple were warned he might be not make it through surgery but, miraculously, he survived.
Sadly, though, the operation was unsuccessful, because his bowel was kinked, and at three weeks old he had his second major operation to try and fit it again.
Tina recalled: "The first time I held him was at two weeks, but we had to be so careful. Four members of staff had to carry him and place him on my chest, because of all the tubes and because his heart rate would shoot up when he was moved."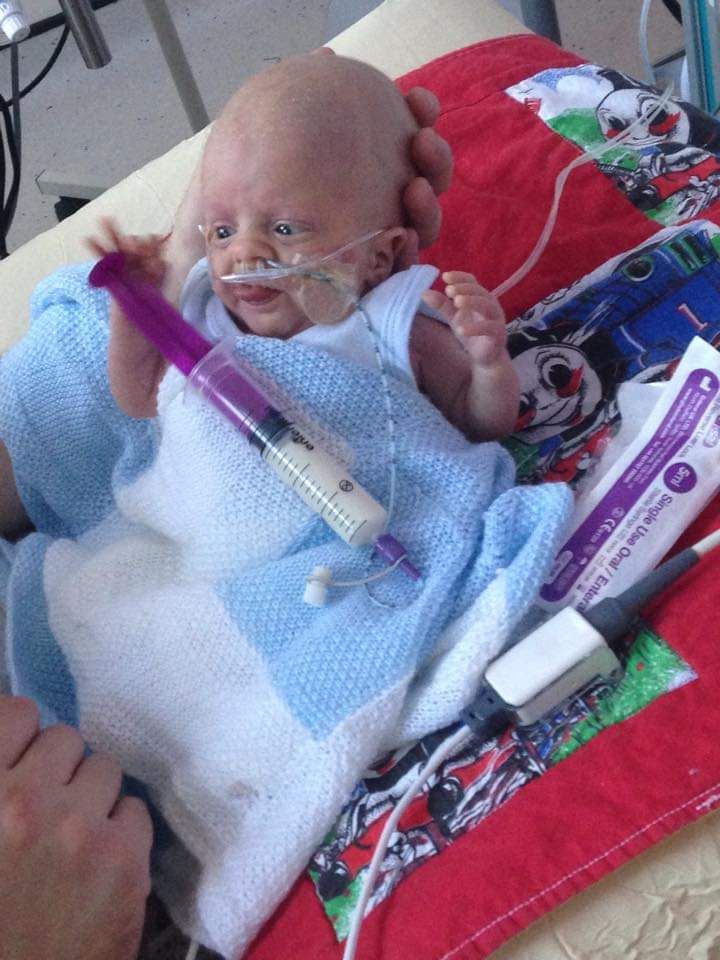 Tyler Wyllie. PA REAL LIFE/COLLECT
"He was so delicate. It was amazing to be able to hold him and we got our first family photo," Tina continued.
"Rickie had to wait a bit longer because of the second bowel operation, so got to hold him at four weeks."
In total, tiny Tyler spent six and a half months at the hospital, two months of which he was on a ventilator and being tube fed.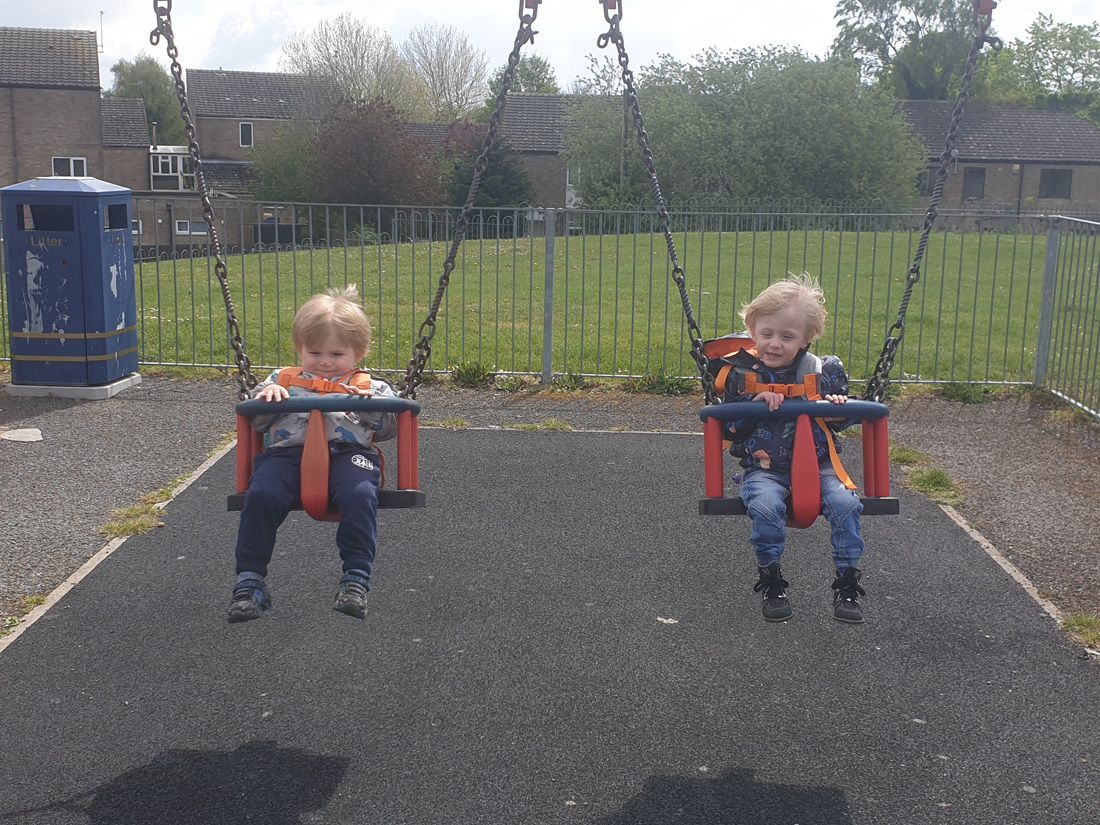 Ethan Wyllie and Tyler Wyllie. PA REAL LIFE/COLLECT
During that time he had 35 blood transfusions, suffered bouts of sepsis – a rare and sometimes deadly reaction to an infection – and pneumonia, also having severe intrauterine growth restriction, chronic lung disease, thyroid hormone deficiency, gastric issues, a bowed femur, making one leg shorter than the other, a lazy eye, global development delay and failure to thrive.
Also, after being home for a week, he developed viral bronchitis, so had to go back into hospital, spending another three weeks on a ventilator.
Tyler was on oxygen, administered through a nasal cannula for 18 months and had an operation to reverse his stoma when he was a year old.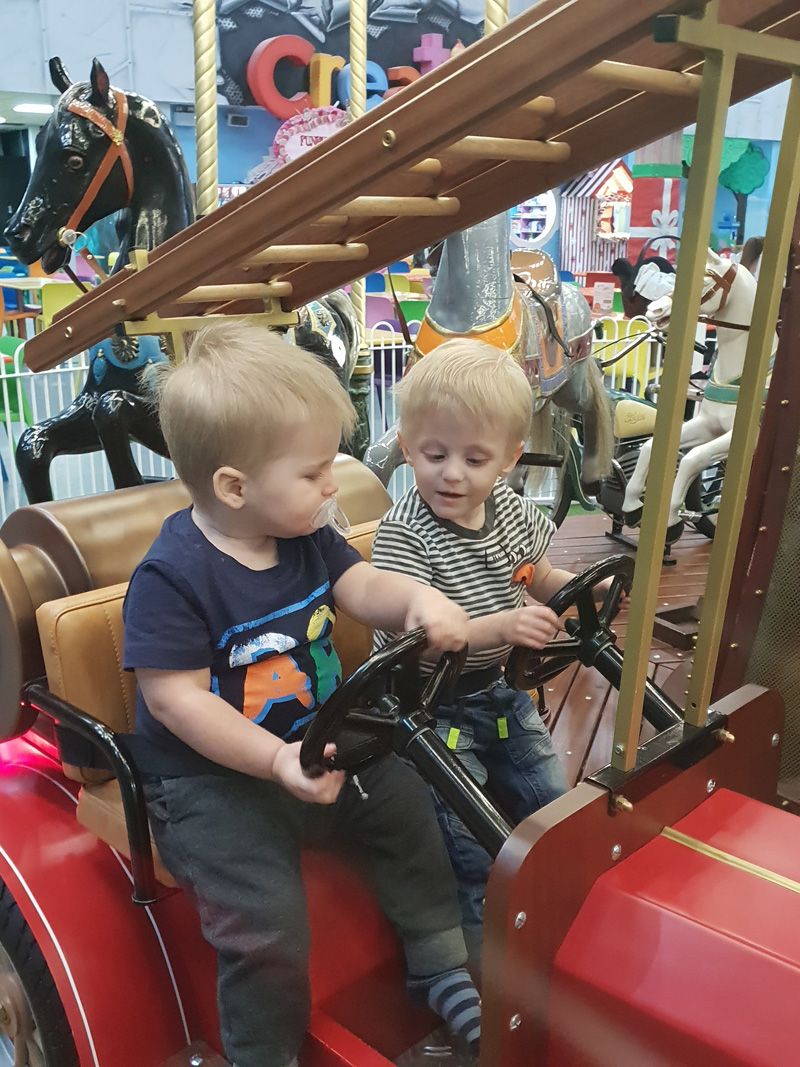 Tyler Wyllie with brother Ethan Wyllie. PA REAL LIFE/COLLECT
At the age of three he was given a diagnosis of primordial dwarfism and has recently been referred to Great Ormond Street Hospital in London, where he has regular MRI scans, due to the risk of a brain aneurysm or stroke because of his condition.
According to the charity for microcephalic primordial dwarfism, Walking With Giants, this is a group of disorders in which growth is proportional, but extremely delayed. Problems begin in the womb, resulting in some of the smallest people in the world.
It is not a specific diagnosis, but rather a class of disorders, with different conditions grouped under it.
And because Tyler has a rare, unknown type of primordial dwarfism, Tina said he could be the only person to survive with his particular strain, according to doctors, which means he grows in proportion, but is a lot smaller than his peers.
Tina explained: "He baffles medical professionals, because he is a true miracle.
"A geneticist told us he could be the only one in the world to have survived with this type of dwarfism. We still do not have an official diagnosis for the type he has."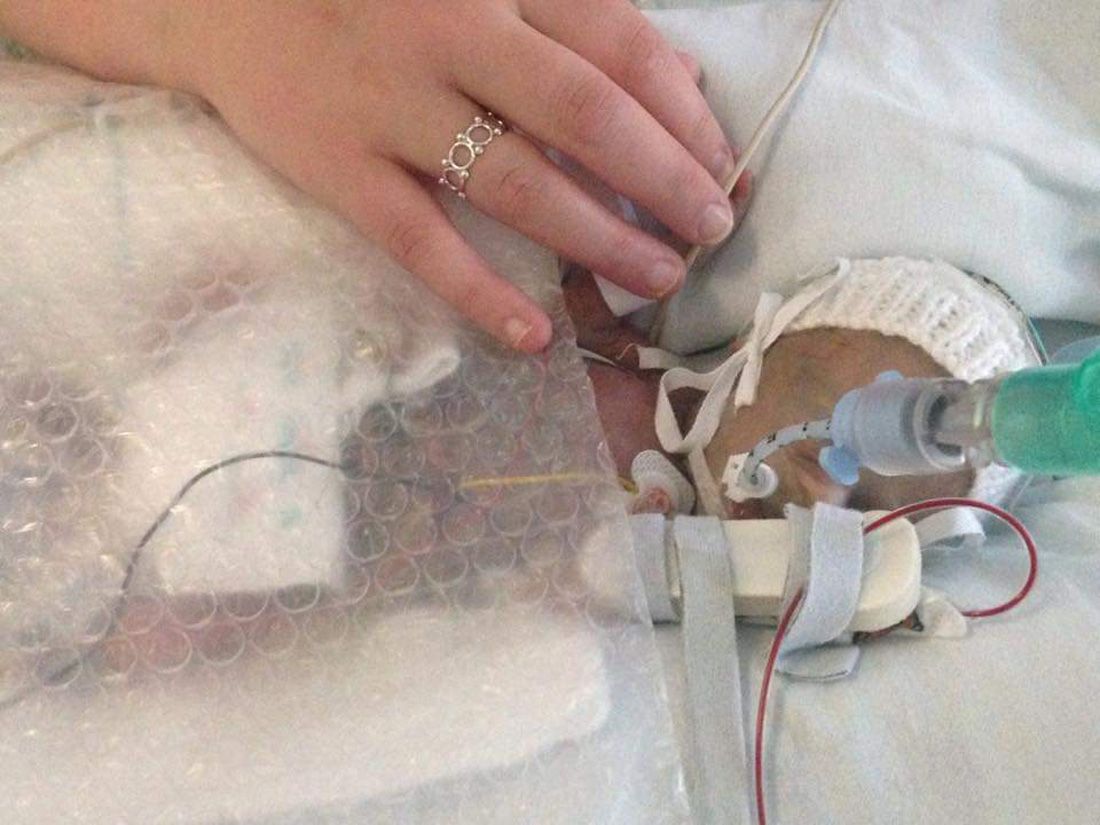 Tyler Wyllie. PA REAL LIFE/COLLECT
She added: "He is part of the government's 100,000 genome project, which sequences DNA codes to try and improve diagnosis.
"Because they are born so small and because of the extra complications associated with premature babies, so many like Tyler don't make it."
But the plucky lad, who is smaller than his two-year-old brother and close in size and strength to his one-year-old sister, still faces major challenges every day.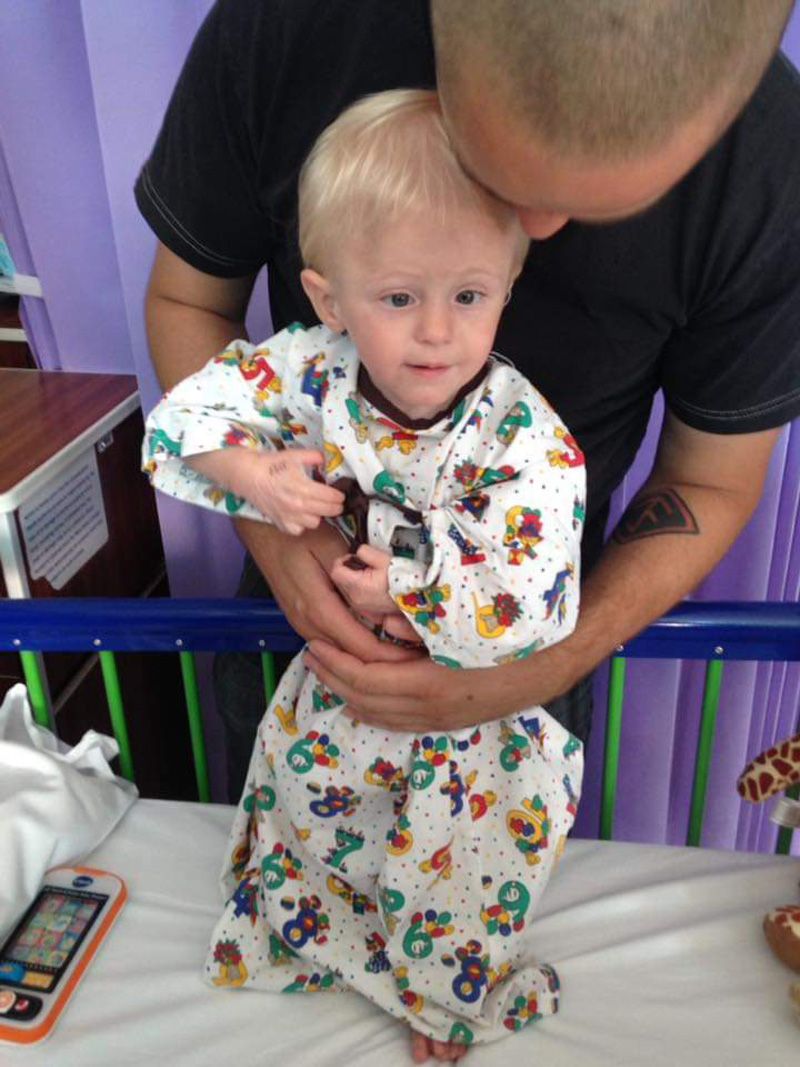 Tyler Wyllie. PA REAL LIFE/COLLECT
While he can eat and drink, Tyler has a gastrostomy – a tube inserted into his stomach – to help him get extra nutrients.
He also has global developmental delay, meaning it takes longer for him to reach certain milestones.
He started to walk at two years old, he communicates using the sign language Makaton and only recently starting to put sentences together, so will have additional support at school.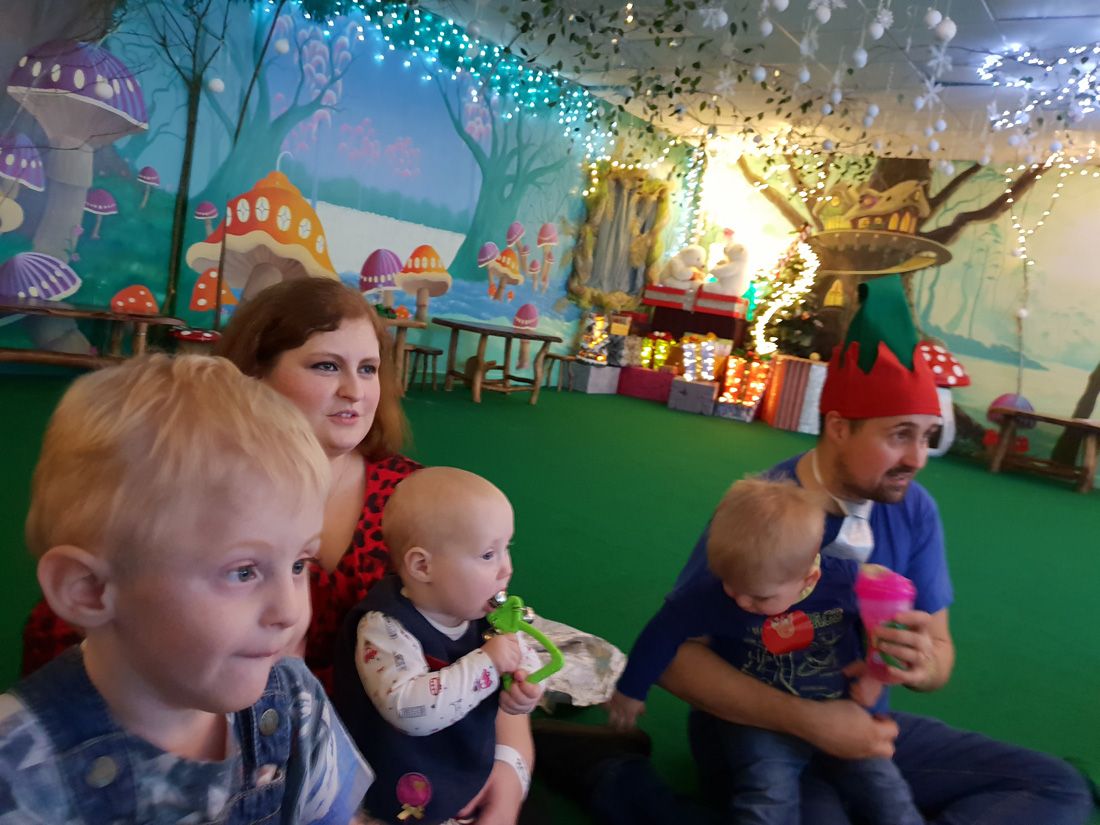 Ethan, Caitlyn and Tyler with mom Tina and dad Rickie. PA REAL LIFE/COLLECT
He also has some issues with balance, caused by having one leg longer than the other, meaning he has to use a buggy because his legs get tired.
Now his parents are fundraising via a JustGiving page for a wheelchair, so he can go on school trips with his friends.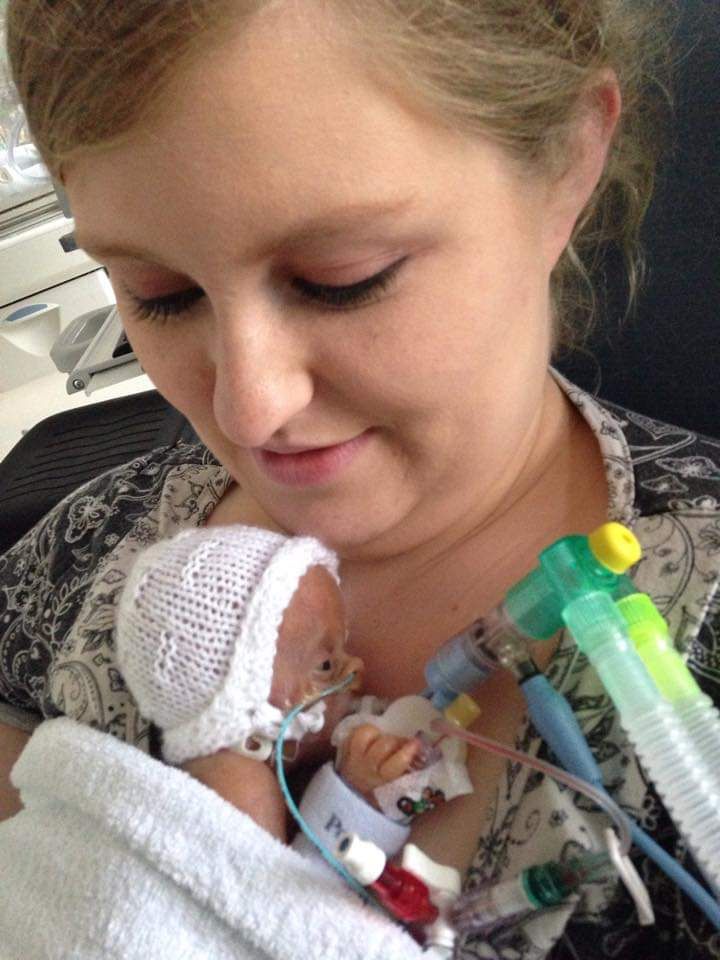 Mom Tina Sims with Tyler shortly after he was born. PA REAL LIFE/COLLECT
Tina said: "People think Tyler's a lot younger than he is, which does upset him. He hates to be thought of as a baby and hates his buggy for that reason.
"Having a wheelchair will help him socially, because he'll be able to join in with the other children and not feel isolated.
"We live in hope that he will be able to catch up. He's got that fight and I hope he has it for the rest of his life.
"Hopefully, people will accept him, although we do worry about his teenage years. That's such a difficult time for children, without having his condition to contend with on top," she said.
"But Tyler's the life and soul and likes to be in the middle of things. He's got a really caring nature and loves looking out for his siblings.
"He loves being on the phone and is very tech savvy. He loves numbers, too, so I think that will be his forte at school."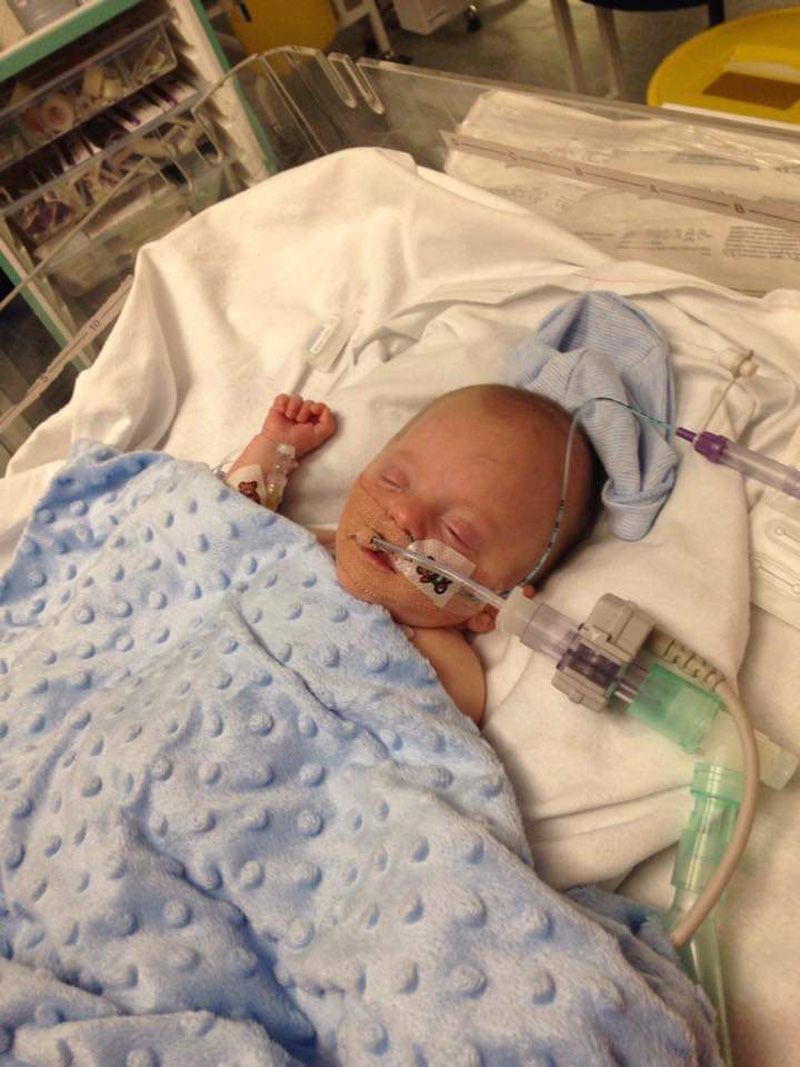 Tyler Wyllie. PA REAL LIFE/COLLECT
Tina added: "It's hard to believe now that I was once advised not to proceed with my pregnancy, when Tyler is such a lovely happy boy."
To donate click here and to follow Tyler's journey visit www.facebook.com/TinyTylersJourney
Keep reading...Show less