Tag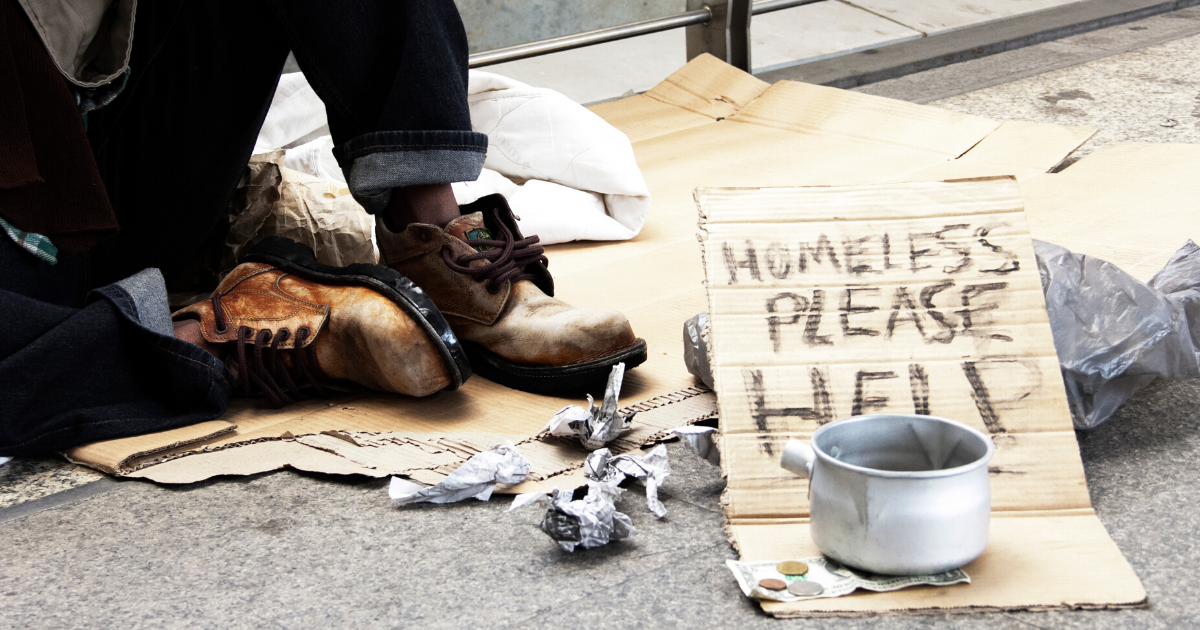 Punnarong Lotulit / EyeEm / Getty Images
How you treat someone who is down on their luck says a lot about your character.
For two police officers in Mobile, Alabama, they're learning this the hard way after cracking an incredibly distasteful joke about homeless people, and then facing public backlash for it.
The holiday season is a wonderful time of year, but even during this festive time, people are still prone to distasteful behaviors. Take two officers from the Mobile Police Department for example.
For Christmas, they provided Police Chief Lawrence Battiste with a special quilt. The immense problem with what should have been a lovely gift in any other situation, was that this blanket was made of cardboard. More specifically, it was made of all the signs the two officers had taken from homeless people they dismissed from their resting places on the city sidewalks.
In what they clearly thought was good fun, the two officers posted a picture of themselves holding up the horrifying quilt on the Mobile Police Department's Facebook page for the entire public to see.
In the caption of the photo, they wrote:
"Wanna wish everybody in 4th precinct a Merry Christmas, especially our captain. Hope you enjoy our homeless quilt!"
"Sincerely, Panhandler patrol"
You can see a photo of the original post here, which has since been taken down from the Facebook page: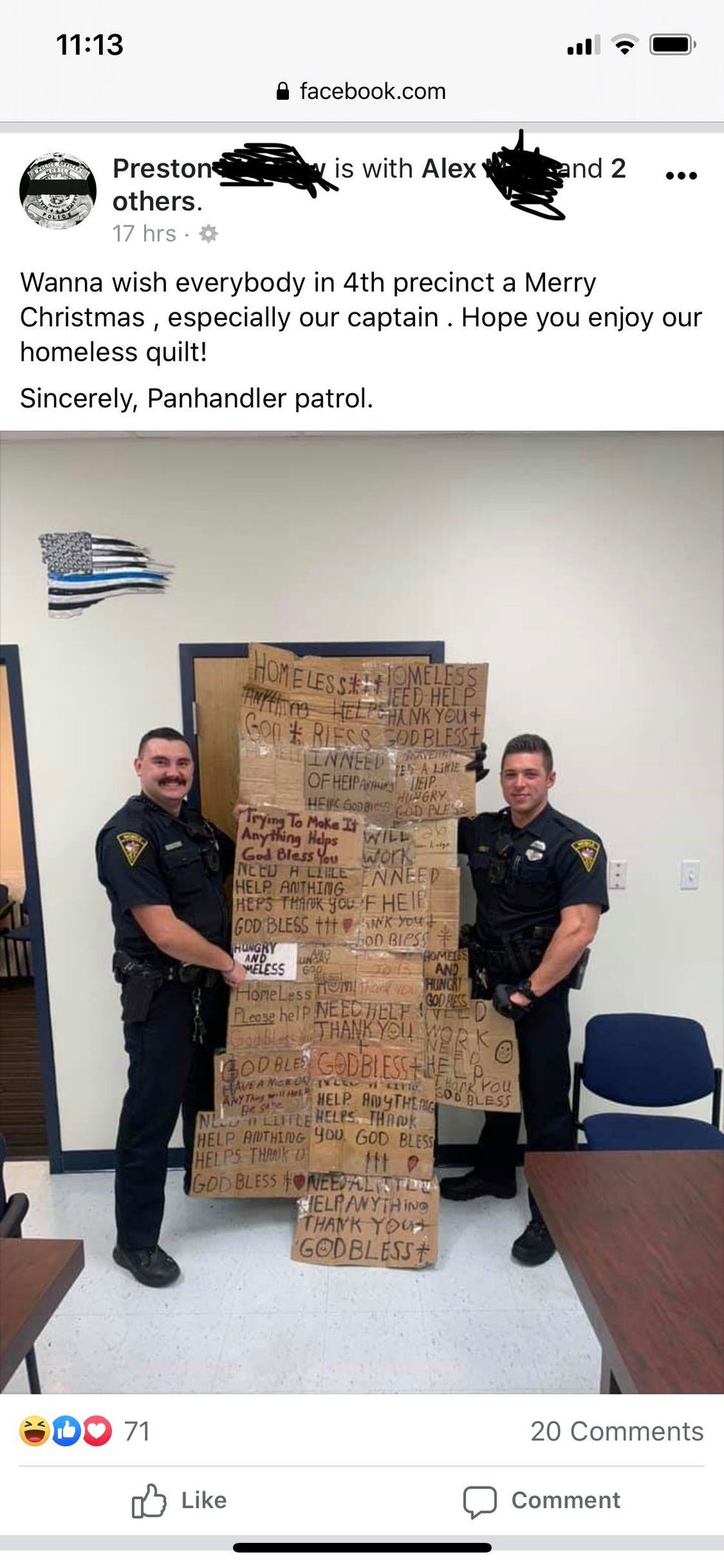 Mobile Police Department / Facebook
The post wasn't taken down quickly enough, however.
Someone took a screenshot of the post, and countless people on Facebook have used it in response to all of the Mobile Police Department's posts since then. Whether they were promoting Toys 4 Tots or looking forward to a meet-and-greet at Chick-fil-A, there were countless community members on Facebook, ready to comment that there was nothing the police department could do to cover this shame up, always accompanied with a screenshot of the photo.
Here are just a few examples of the Facebook comments: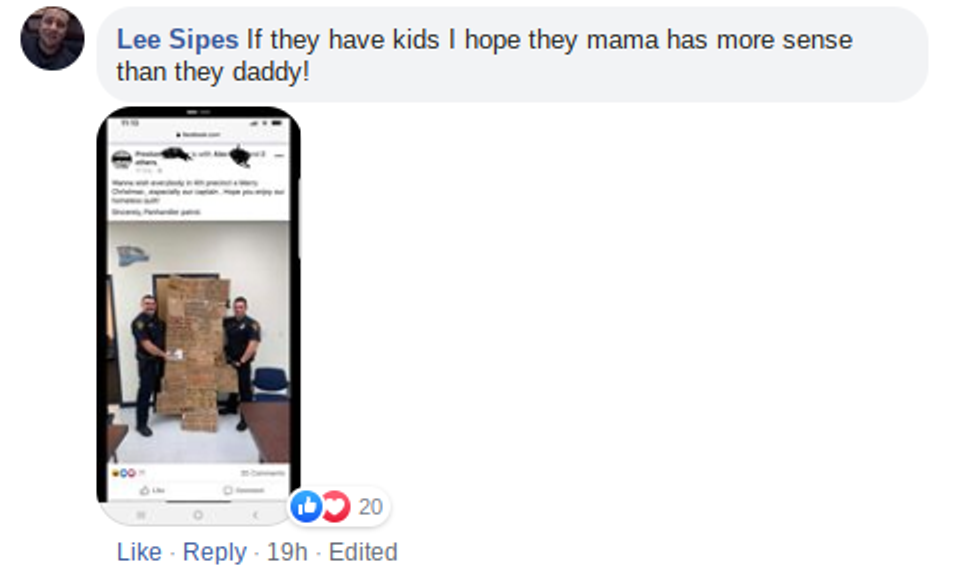 Mobile Police Department / Facebook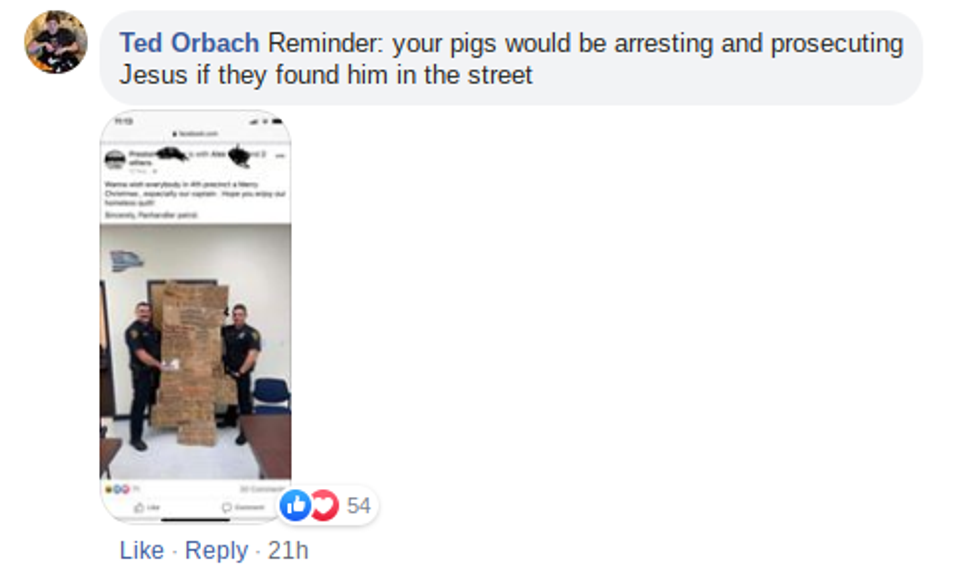 Mobile Police Department / Facebook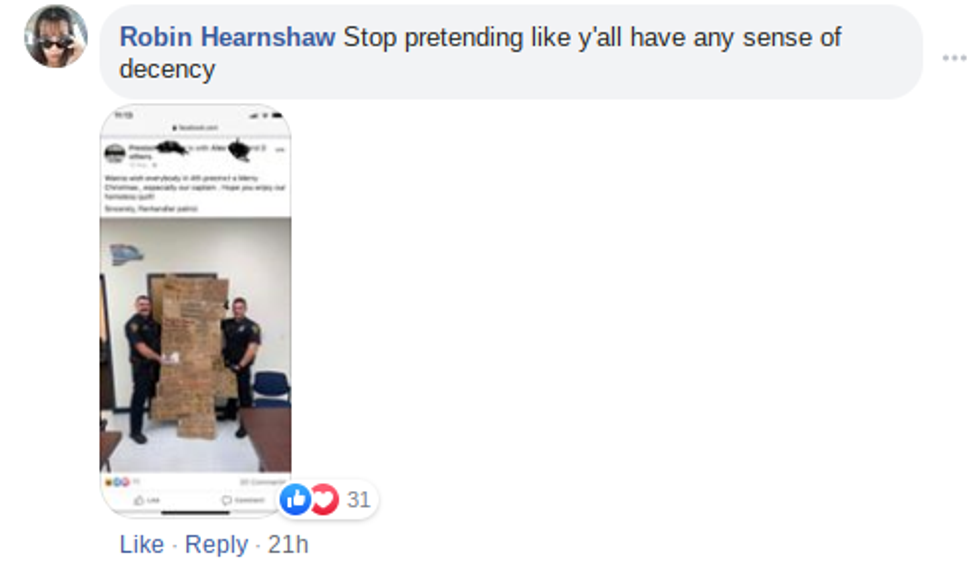 Mobile Police Department / Facebook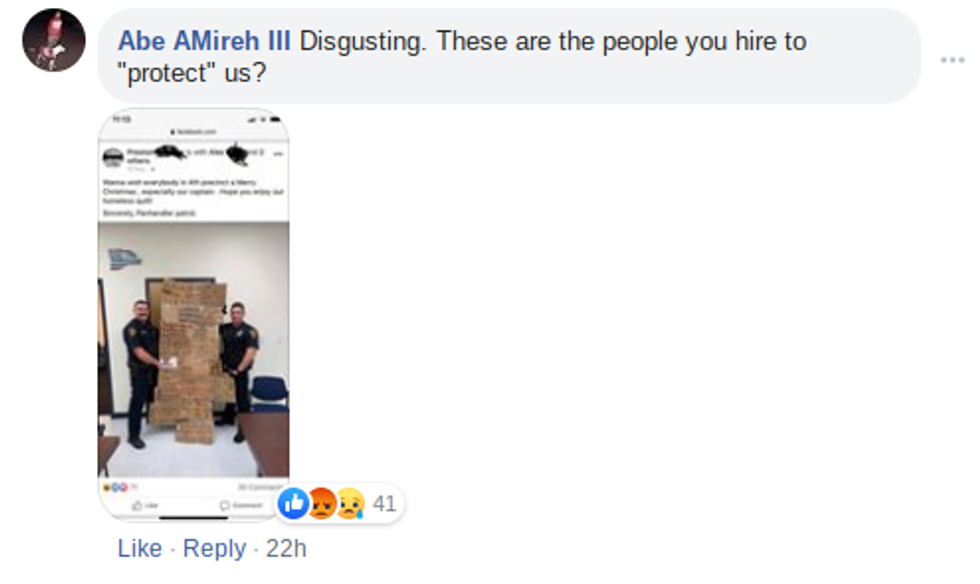 Mobile Police Department / Facebook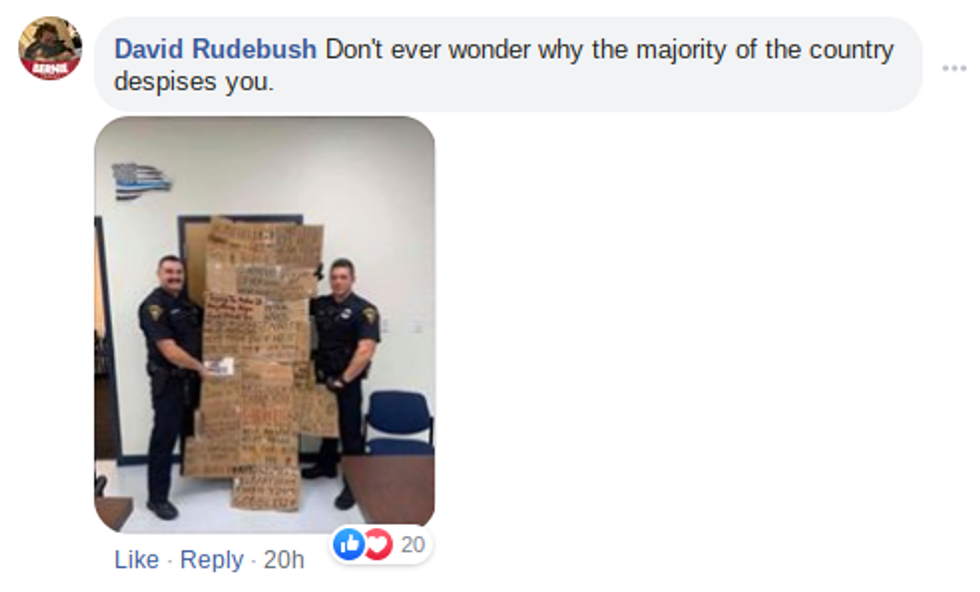 Mobile Police Department / Facebook
The photo was also shared to Reddit, where it was met with similar scorn.
"And they just stand there and smile not really considering what they actually 'accomplished'."
- Lch207560
"They accomplished stopping a victimless crime, and stealing another person's property in the process, well done pigs."
- SomeTypaGuy
"They persecute the weakest of our population. look how proud our "heroes" are"
- txroller
"Of all the s--- we see cops do, this picture strikes me as one of the most disgusting things I've seen."
- flipshod
Not to mention Twitter, where the photo was posted and shared more than one-thousand times since December 26.
Victimizing the poor and homeless looks so fun! So glad we were able make a gag out of their suffering for Christma… https://t.co/UcJUNgbhWl

— Chicano Marine 🇲🇽🇺🇸🧩 (@Chicano Marine 🇲🇽🇺🇸🧩) 1577787047.0
@kingsrush @JaneSepmeier @SalHernandez Taking what the homeless use for shelter to pose with? Their hearts shrunk 3 sizes that day!

— Hathaway (@Hathaway) 1577791065.0
@kingsrush @SalHernandez Very sad!

— Craig Birchmore (@Craig Birchmore) 1577792095.0
@kingsrush @SalHernandez What in the AF is WRONG with people?!?!

— Lynnielynn (@Lynnielynn) 1577799442.0
Lawrence Battiste, the Police Chief at Mobile Police Department, has since released a statement, attempting to make amends with the public.

Battiste wrote:
"OUR SINCEREST APOLOGY FOR HOMELESS QUILT POST:" "
"As a police department entrusted with serving and protecting our community, we offer our sincerest apology for the insensitive gesture of a Facebook post by two of our officers where they are holding up a homeless 'quilt' made of panhandling signs."
"Although we do not condone panhandling and must enforce the city ordinances that limit panhandling, it is never our intent or desire as a police department to make light of those who find themselves in a homeless state."
"Rather, our position has always been to partner with community service providers to help us help those faced with homelessness with hope to improve their quality of life."
"– Mobile Chief of Police Lawrence Battiste"
There's also an administrative investigation in effect, to dig deeper into the two officers' behavior and who they may have impacted when collecting the signs, on social, professional and public levels.
Charlette Solis, a spokesperson for the department, said:
"The two officers' behavior of taping the signs was definitely immature and insensitive and in now way indicative of the department as a whole and not something that is approved of and practiced."
However, scorned reactions continue to pour in after the Police Chief's apology, many agreeing that a lot of work would need to be done to come back from this.
Here are some of the comments since the apology was released:

Mobile Police Department / Facebook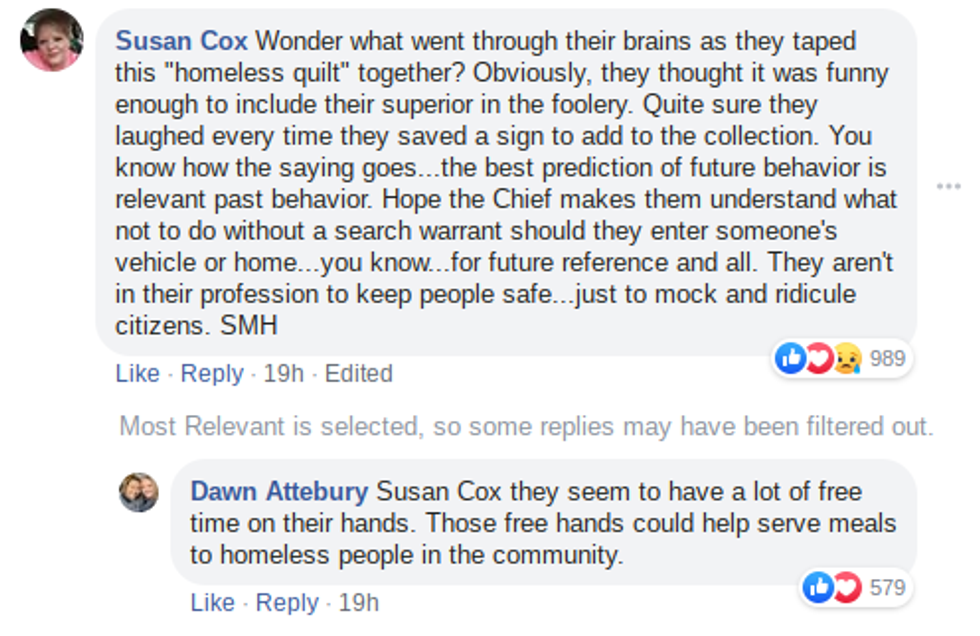 Mobile Police Department / Facebook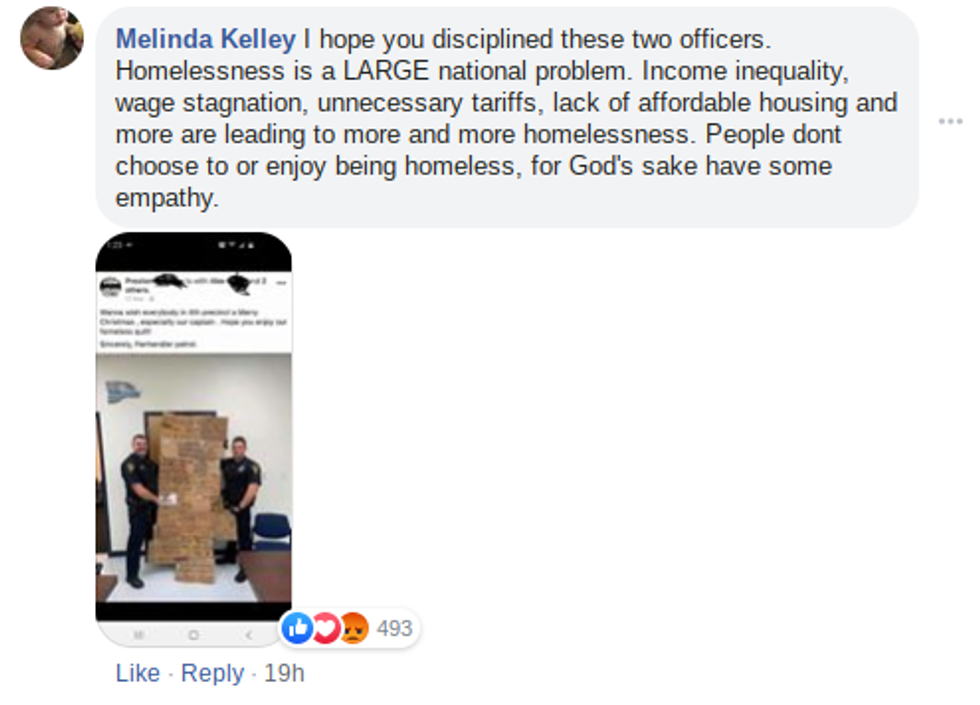 Mobile Police Department / Facebook
This is one of those incidents that can pull the holiday cheer right out of the season.

Hopefully, the Mobile Police Department will consider the demeanor they really want to portray in their department, and think of a way to really right the wrongs the community is feeling right now.
Keep reading...Show less