laura mcintyre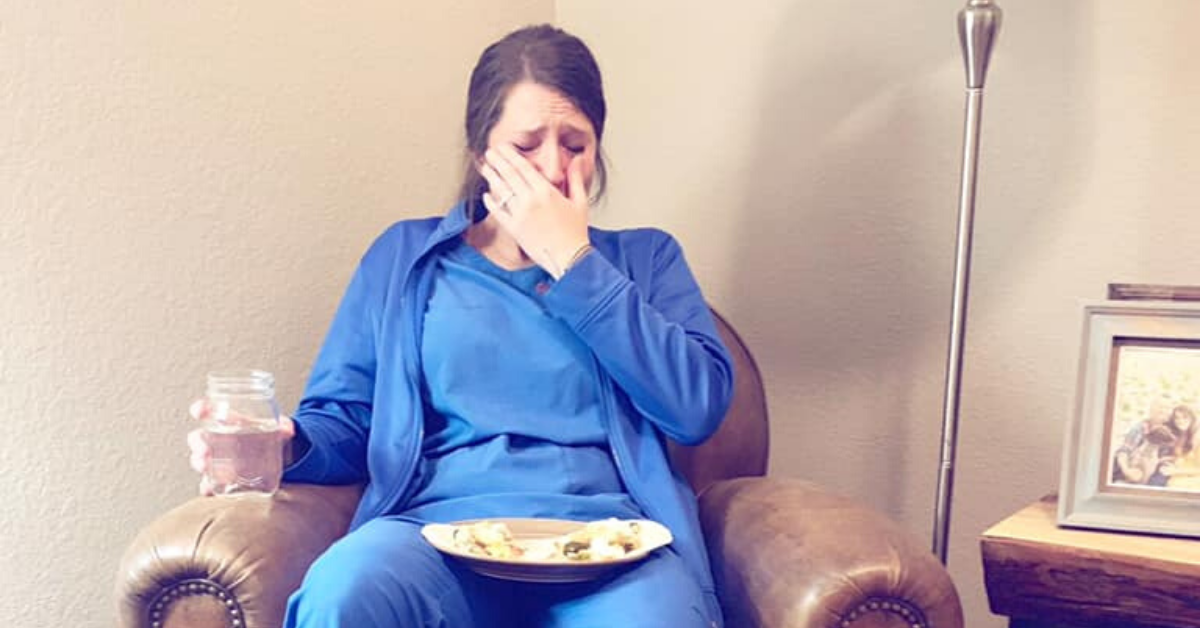 Laura McIntyre / Facebook
Nurses are often one of the most undervalued professionals we have. Doctors tend to get the spotlight when it comes to healing.
But in the past week, many are placing nurses and all they do in the limelight–all thanks to Laura McIntyre celebrating her twin sister Caty's dedication.
After four consecutive shifts, McIntyre decided to share a picture she'd taken of her sister after Caty had completed four consecutive shifts–approximately 53 hours–doing rounds with patients.
McIntyre said of her sister:
"caty just wrapped up her fourth shift in a row. that's around 53+ hours in four days. that's not including the 1.5 hours she's in the car each day. she usually doesn't get a chance to eat lunch or even drink much water. (& she has to dress like a blueberry."
"i mean, come on). she is so good at what she does that she often forgets how to take care of herself while she's taking care of her patients."
In the picture, we see Caty reclined back in one of her sister's chairs, her hand up to her eyes, in an expression of exhaustion or holding back tears.
She holds a cup of water in her other hand, and there is a plate of food forgotten on her lap.
McIntyre reflected on the moment:

"this pic is from a night back in july where she came to my house after a particularly hard day. she delivered a stillborn. have you guys ever really thought about what a labor & delivery nurse sees?"
This is incredibly humanizing for nurses everywhere, as we're encouraged to really think about what they see and do every day. There is so much more to a nurse's job than recording our medical history and asking what we're at the office to see the doctor about, or checking vitals on a patient in the hospital.
Without working behind-the-scenes ourselves, it's hard to envision what all a nurse has to endure, but Caty's sister paints an honest picture for us.
McIntyre continued:
"they see great joy in smooth deliveries & healthy moms & babies. they see panic & anxiety when a new mom is scared. they see fear when a stat c-section is called."
"they see peace when the mom has support from her family - bc not all new moms do. they see teenagers giving birth. they see an addicted mom give birth to a baby who is withdrawing."
"they see cps come. they see funeral homes come. did you know that they have to make arrangements for the funeral home to come pick up the baby? i didn't either."
McIntyre concluded her post by shouting out to her sister and nurses everywhere, saying that nurses are special and not nearly appreciated enough for what they do for families.
Ironically, the picture McIntyre thought her sister would "kill" her for has quickly gone viral, as onlookers praise nurses for their work, and share heartwarming stories of receiving help from great nurses, or what they've seen working the floor themselves.
McIntyre shared that she had taken the photo back in July and had been holding onto it ever since, waiting for the right moment to address her sister.

McIntyre said:
"It's hard for her to accept a compliment, so I thought maybe she'd accept it through social media."
McIntyre shared how she sees her sister pouring her energy into her work and into her patients. She expressed how she wanted to share her love and admiration for her sister, and the work nurses do everywhere.
McIntyre said of her sister:
"[She has] no idea what an incredible nurse she is. She feels everything her patients feel---excitement, joy, love, fear, anxiety, heartbreak. She's with them physically, mentally and emotionally. And she has to celebrate and mourn with them."
What McIntyre never expected was for the post to go as viral as it has. The original post has been reacted to 199,000, and the post has already been shared 117,000 times on Facebook as of today.
It's not about the shares for McIntyre, though.
What she wanted was to honor and support her sister, so her favorite moments during the post's virality have been when others have done the same.
She said:
"The best comments are the ones where Caty's past patients recognize her from the photo and praise her. It's so special! I hope everyone takes away how easy it is to just simply have a heart of gratitude and truly how far a simple 'thank you' can go!"
Nurses are among some of the under-appreciated professionals, and it's heartwarming to see them receiving praise.
Hopefully others will take a page from McIntyre's handbook and pay it forward in thank you's to more nurses and others working hard in their undervalued professions!
Know a nurse? This shirt is available here in a variety of colors and sizes for men and women.
Amazon
******

Have you listened to the first season of George Takei's podcast, 'Oh Myyy Pod!'?
In season one we explored the racially charged videos that have taken the internet by storm.
We're hard at work on season two so be sure to subscribe here so you don't miss it when it goes live.
Here's one of our favorite episodes from season one. Enjoy!
Keep reading...Show less