Tag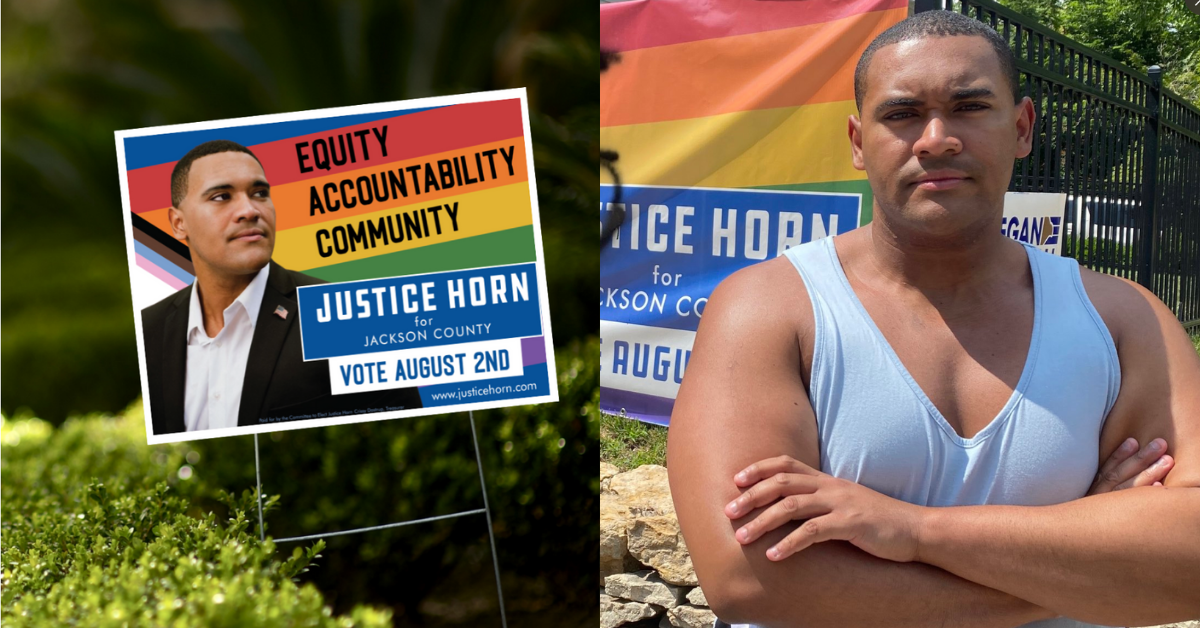 justicehorn.com/@JusticeHorn_/Twitter
Justice Horn, an LGBTQ+ activist who is currently campaigning for a seat on the Jackson County Legislature, has spoken out after one of his campaign posters was defaced with a homophobic slur.
Writing on Twitter, Horn said that he was "hurt because like so many us of [sic] who experience this, this word is used to harm us."
He was resolute, however, that the incident would not affect his ongoing campaign, adding that "I'm not going to back down and I'm going to hold my head high."
In an interview with The Kansas City Star, Horn said the incident was "blatantly" a hate crime and that it "specifically targeted at me because of my sexual orientation."
He added:

"What bothers me the most is that it happened in broad daylight. They were so emboldened to do this. It was specifically a defacing to attack me not based on my policy or my candidacy but on me personally."
"It was the same as calling me the N-word."
"It's below the belt and it's unfair."
Horn told the outlet that he would plan a press conference at the 4600 block of Campbell Street in front of the defaced campaign sign. He has not filed a police report and he has not decided to take down the sign, saying, "This stuff is hard and we're gonna face push back from folks who don't change."
The press conference went on as planned, and afterward Horn acknowledged on Twitter that many LGBTQ+ people "grow up with trauma from being bullied because of who we are and who you love."
He added that he is "not going to be bullied and our community isn't going anywhere either," stressing that "we have a chance to set the record straight here in 28 days with the August 2 election."
Horn concluded his message with a call to action for his supporters to not "sit this one out," encouraging them to "vote because we can't let hate win."
Many have praised Horn for speaking out.

The defacing of Horn's campaign sign comes amid the ongoing "groomer" hysteria among Republicans who have accused LGBTQ+ people of building relationships, trust, and emotional connections with children so they can manipulate, exploit and abuse them.

The political climate has grown more tense for LGBTQ+ people, and many public figures within the Republican party have felt emboldened to share hateful rhetoric.
This rhetoric came to a head last month in Texas, for instance, where the state's Republican Party adopted a new platform calling homosexuality an "abnormal lifestyle choice."
Texas Republicans have made clear they oppose making members of the LGBTQ+ community a protected class and they do support conversion therapy, saying that efforts should be made among the LGBTQ+ community to eliminate "unwanted same-sex attraction" as they advocate for what they termed "Reintegrative Therapy."