Tag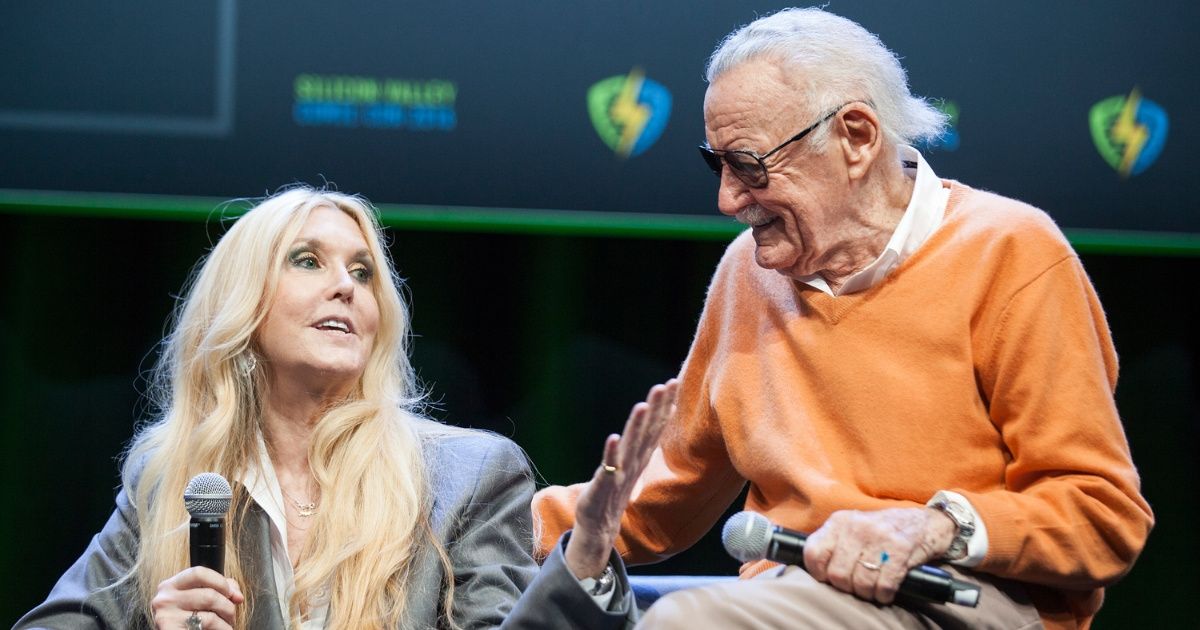 Kelly Sullivan/Getty Images
The internet has been dominated this week with talk of Sony and Disney splitting over their agreement to have Spider-man in Marvel's Cinematic Universe.
After Deadline reported that negotiations had broken down in the contract renewal, everyone has had hot takes on the situation.
Enter Joan Celia Lee (AKA: J.C.), the daughter of legendary comic creator, Stan Lee. TMZ recently asked J.C. how she felt about the disagreement between the two companies and she didn't hold back.
She reportedly said:
"Marvel and Disney seeking total control of my father's creations must be checked and balanced by others who, while still seeking to profit, have genuine respect for Stan Lee and his legacy."
That sounds pretty bad, but her views on the House of Mouse get worse.
"When my father died, no one from Marvel or Disney reached out to me. From day one, they have commoditized my father's work and never shown him or his legacy any respect or decency."
She ended her comments saying:
"In the end, no one could have treated my father worse than Marvel and Disney's executives."
When the daughter of Stan Lee says this about the company now controlling her father's legacy, what can I say but "Yikes."
Honestly it shouldn't have to come down to "the daughter of Stan Lee says X and that now gives this viewpoint legit… https://t.co/TPBdZhDSnb

— Strong Thigh Appreciator (@Strong Thigh Appreciator) 1566486006.0
I could see Disney blocking spiderman comic marketinf and promotion like they did w Xmen. It would only give validi… https://t.co/Jtb2Chjf8F

— Carlos Digital (@Carlos Digital) 1566498337.0
However, not everyone took the comments in stride. A number of people on Twitter were slow to accept J.C.'s comments about Disney's treatment of her father.

J.C. was accused of elder abuse, including not just financially shaking down her father, but physically beating him as well.
This gave people pause when her comments came out.
Just a friendly reminder that Stan Lee's daughter was heavily accused of elder abuse and taking advantage of him to… https://t.co/ISXcwn9hkv

— Dalton, the Carol Danvers Shill (@Dalton, the Carol Danvers Shill) 1566500592.0
Marvel Studios should be producing all Marvel film properties. They've shown themselves capable and I don't care w… https://t.co/YRX75dmjZd

— || 世界の影 NAMIKAZE TJ || (@|| 世界の影 NAMIKAZE TJ ||) 1566543420.0
Things shifted again when more discussion was allowed to take place.
J.C. had been accused of elder abuse by Keya Morgan, the former manager of Stan Lee. Lee's mental faculties were declining in his later years, and much was made out of who was caring for him before his death.

Morgan was arrested earlier this year and is charged with elder abuse, false imprisonment, and grand theft.
Among the claims against him, Morgan took Lee from his home and moved him to a condominium where it's accused he would have more control over the elderly comic creator. He also supposedly pocketed more than $250,000 from an autograph signing by Lee.
Many videos released by Lee where he appears to be defending Morgan were believed to have been coached by the manager.
Since his arrest, Morgan has posted bail, and has entered a "not guilty" plea.
@_ChristopherM @ManaByte By the way, anyone remember the fellow that accused Stan Lee's daughter of abuse later on… https://t.co/Puvz6fwrF8

— Nerdy Nix Nook (@Nerdy Nix Nook) 1566501226.0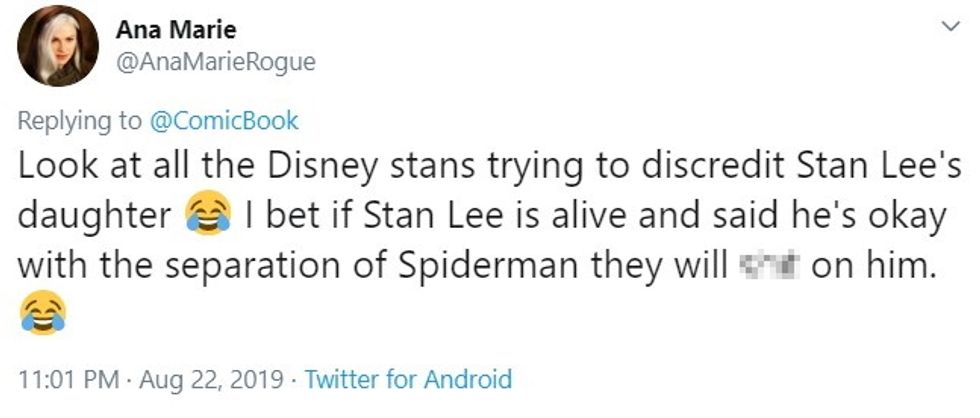 @AnaMarieRogue/Twitter
The Spider-man split between Disney and Sony has drawn lines in the sand, from fans who care about one side or the other, to the people that surrounded Stan Lee's life.

Spider-man is a beloved character and Tom Holland's interpretation is respected among fans. There isn't a clear path forward for the character at this time, but fans are hopeful a deal can be reached.
What that will look like is anyone's guess, but it hasn't stopped fans from joking about the situation.
Jeremy Renner when he reads what Stan Lee's daughter said https://t.co/9xPlIbaDXB

— You offended me (@You offended me) 1566546361.0
Breaking: Following Sony's decision to depart Spider-Man from the MCU, Marvel Studios President Kevin Feige has mys… https://t.co/CbKeHGT6WU

— QuestioningMovies (@QuestioningMovies) 1566502349.0
Goblin brain: Spider-man should be in the MCU. Hobgoblin brain: Sony should stand up to Disney controlling all IP.… https://t.co/EjZETdVbvi

— Matt Bors (@Matt Bors) 1566485335.0
Day 3 without Spider-Man in MCU: Visions blurry, haven't eaten properly. Seeing uncle Ben in my dreams. Started s… https://t.co/aPJUIoOka3

— Stephanie 🦸🏾‍♀️ (@Stephanie 🦸🏾‍♀️) 1566466521.0
Pay tribute to just some of Stan Lee's contributions to Marvel Comics with this shirt available here.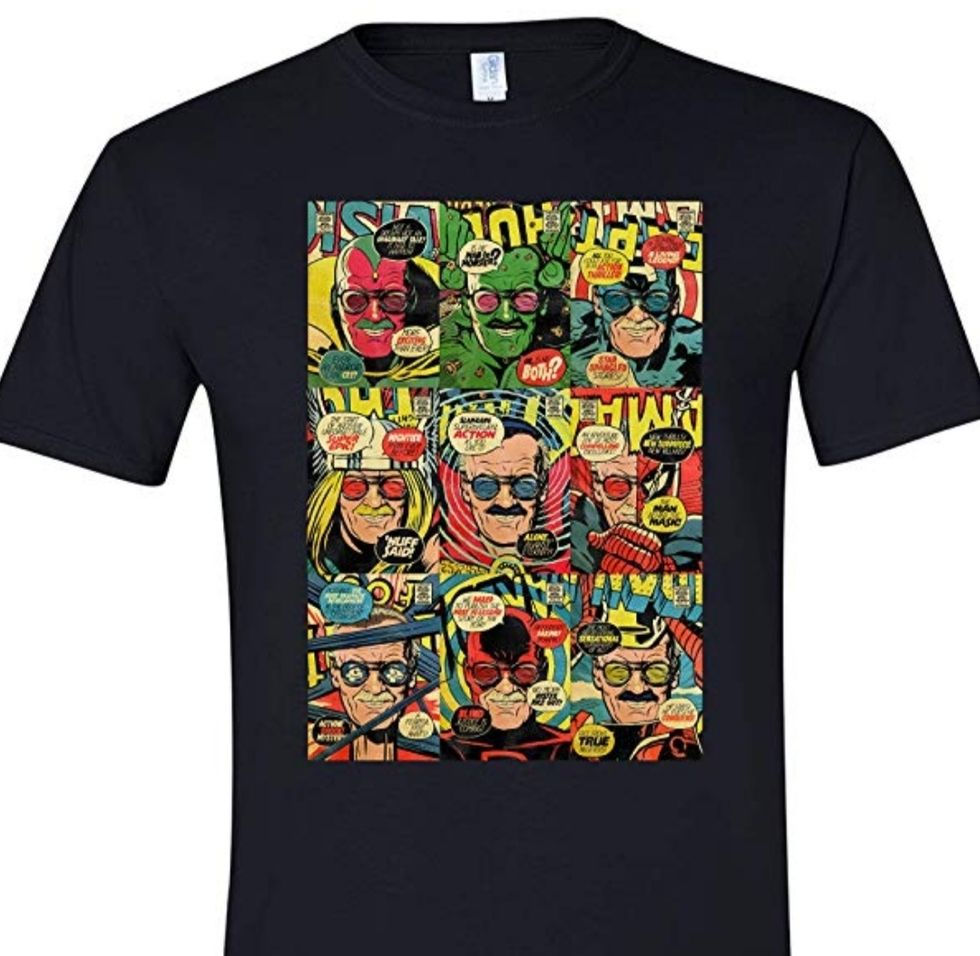 Amazon
********

Listen to the first episode of George Takei's podcast, 'Oh Myyy Pod!', where we explore the racially charged videos that have taken the internet by storm.
Be sure to subscribe here and never miss an episode.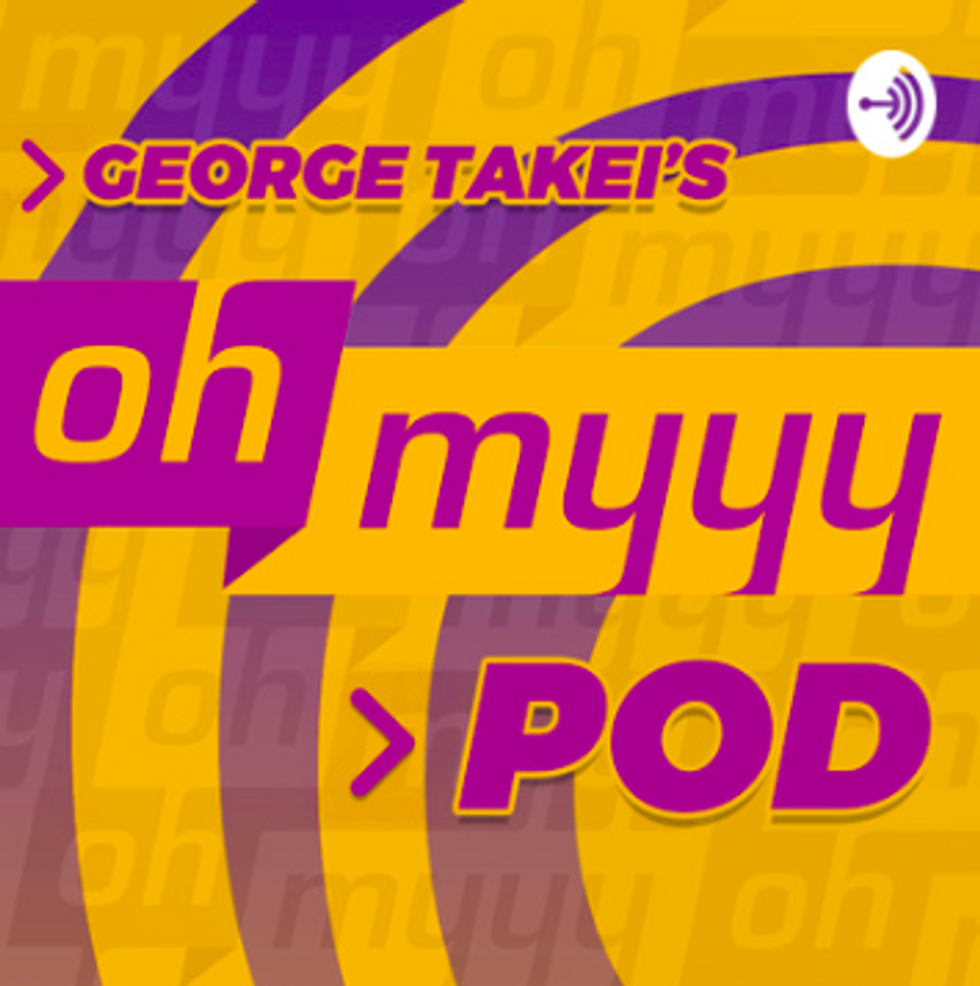 Keep reading...Show less