Tag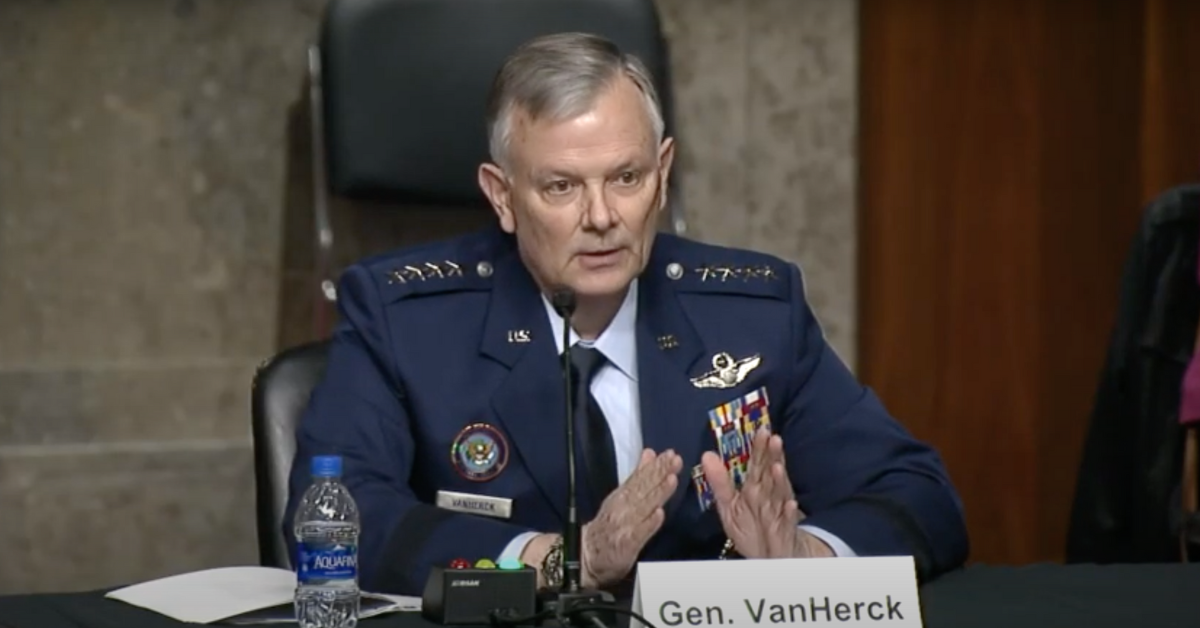 Tom Cotton/YouTube
After an American fighter jet shot down an unidentified object on Sunday, February 12—the fourth such downing in eight days—Air Force General Glen VanHerck commander of North American Aerospace Defense Command (NORAD) told reporters he hasn't ruled out the objects might be extraterrestrial in origin.
When asked about the possibility of alien activity, VanHerck said he will "let the intel community and the counterintelligence community figure that out," adding that he hasn't "ruled out anything at this point."
VanHerck said his agency "will continue to assess every threat or potential threat unknown that approaches North America with the attempt to identify it."
You can hear his remarks in the video below.
Concerns about flying objects in North American skies hit a fever pitch in the last week after a Chinese spy balloon set off a diplomatic crisis and was later shot down over the Atlantic Ocean after the Pentagon advised President Joe Biden to wait until there would be no danger to people or property.
Since then, at least three other objects have been shot down.
One, which was shot down over Alaska, was described as "cylindrical and silverish gray" and with "no identifiable propulsion system." Another, which was shot down along the U.S.-Canadian border, was described as a "small, cylindrical object," while a third, shot down over Lake Huron, was described as "an octagonal structure" with strings.
While one of these objects was initially described as a balloon, VanHerck said he is "not gonna categorize them as balloons" because his agency is "calling them 'objects' for a reason."

He added:

"Certainly the event off the South Carolina coast for the Chinese spy balloon, that was clearly a balloon. These were objects." ...
"It could be a gaseous type of balloon inside a structure, or it could be some type of a propulsion system."
While an official with the Department of Defense (DOD) said there is "no indication of aliens or extraterrestrial activity with these recent take downs," that hasn't stopped people from making memes and tweeting about the situation.
The jokes pretty much wrote themselves.
Amid all the hullabaloo over flying objects, the Chinese government has accused the United States of "illegally" flying high-altitude balloons into its airspace more than 10 times since January 2022,
The Chinese Foreign Ministry made the accusation without evidence, saying it is "common for US balloons to illegally enter other countries' airspace."
The White House has denied Beijing's accusation, noting that China "has a high-altitude surveillance balloon program for intelligence collection" that it has used to violate the sovereignty of the U.S. and over 40 countries across 5 continents."
Adrienne Watson, a spokeswoman for the National Security Council, said China is "scrambling to do damage control" after having "failed to offer any credible explanations for its intrusion into our airspace, airspace of others."