david holmes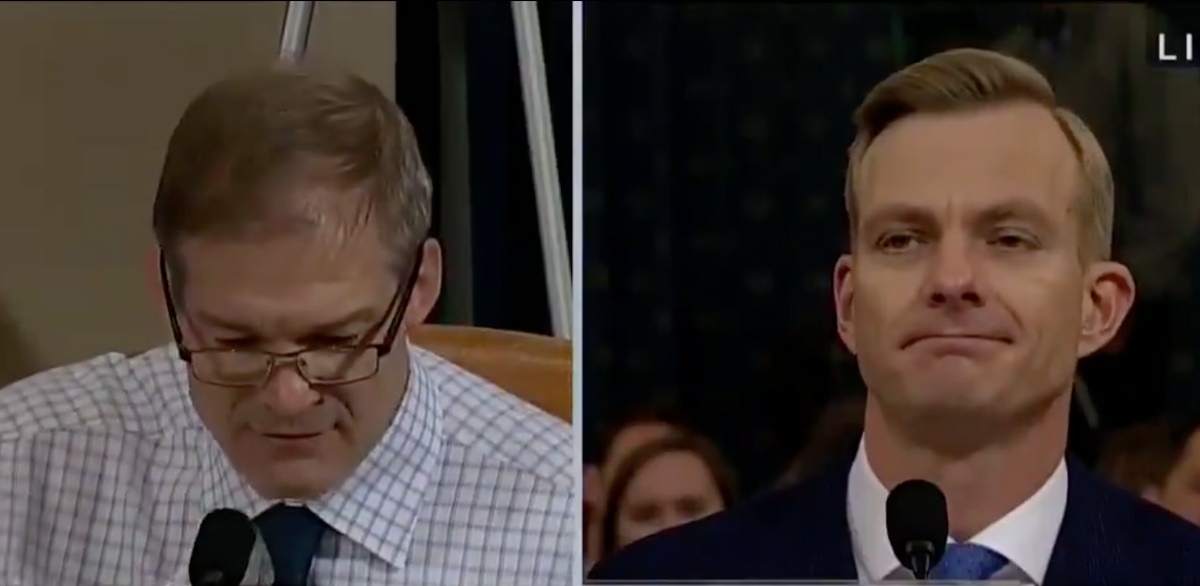 C-SPAN3
The final public impeachment hearings for the foreseeable future made just as big a splash in Washington as their predecessors.
Former National Security Director Fiona Hill and U.S. political affairs council in Ukraine David Holmes took the stand to testify before the House Intelligence Committee overseeing the impeachment inquiry against President Donald Trump.
It led to some testy exchanges.
One of the most memorable moments was during questions from Congressman Jim Jordan (R-OH), famous for sanctimoniously yelling at witnesses and often stonewalling them.
Jordan badgered Holmes as to why acting Ambassador to Ukraine, William Taylor, didn't bring up to European Union Ambassador Gordon Sondland a phone call between Trump and Sondland.
Holmes and Taylor both testified to hearing the phone call, in which Sondland told Trump that Ukrainian President Voldoymyr Zelensky "loves your ass" and Trump asked about the status of "investigations."
Jordan repeatedly interrupted as Holmes tried to answer, prompting the diplomat to deliver side-eye that spoke for a nation.

Watch below.
Jordan's frequent interruptions prompted Chairman Adam Schiff (D-CA) to bang the gavel to silence him.
Holmes was finally able to answer that Taylor likely didn't bring up the phone call because it was common knowledge by then that Sondland and Trump's personal lawyer Rudy Giuliani were working on behalf of the President to spur investigations of Trump's potential 2020 opponent.

No wonder Jordan didn't want him to answer.
Holmes' eye-roll was simply the cherry on top, and people related.
Even patriots get frustrated.
Keep reading...Show less