Tag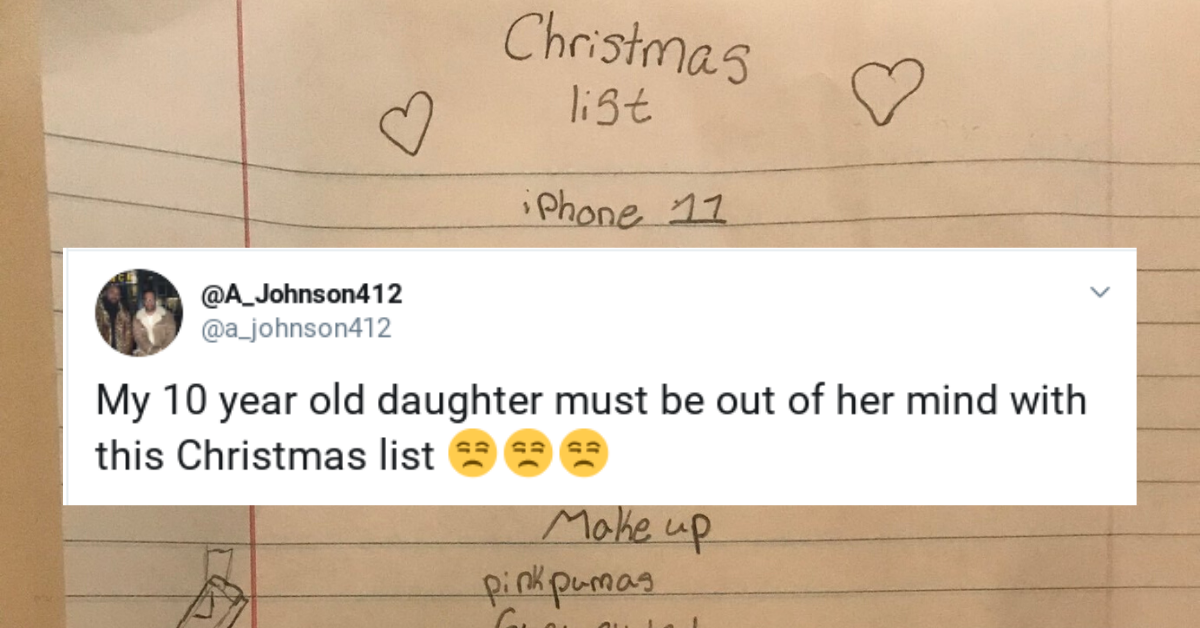 @A_Johnson412 / Twitter
Kids can say really hilarious things—but when it's time for the big guy in the red suit to show up with a bag full of presents, kids are truly in rare form.
One dad shared last week on Twitter how his daughter surprised him with a particularly plump and impressive Christmas list, and it has the internet rolling.
Though some children are thankful on Christmas morning to find any presents under the tree at all, clearly this girl is shooting for the stars (or the magic dust that makes Santa's sleigh fly?).
Her dad posted a picture of her Christmas list on Twitter, and viewers can't get over the wide variety of items, or the extravagance. Not to mention her creative, ten-year-old spelling of some of the requests.
The items range from practical items, like clothes and makeup... to gift ideas that remind us that this is a ten-year-old girl talking, like a live bunny... to the wildly expensive iPhone 11, Air Pods, and Gucci Slides... and even four-thousand dollars.
You can see the full list here:
My 10 year old daughter must be out of her mind with this Christmas list 😒😒😒 https://t.co/Qqsje79rda

— @A_Johnson412 (@@A_Johnson412) 1573671112.0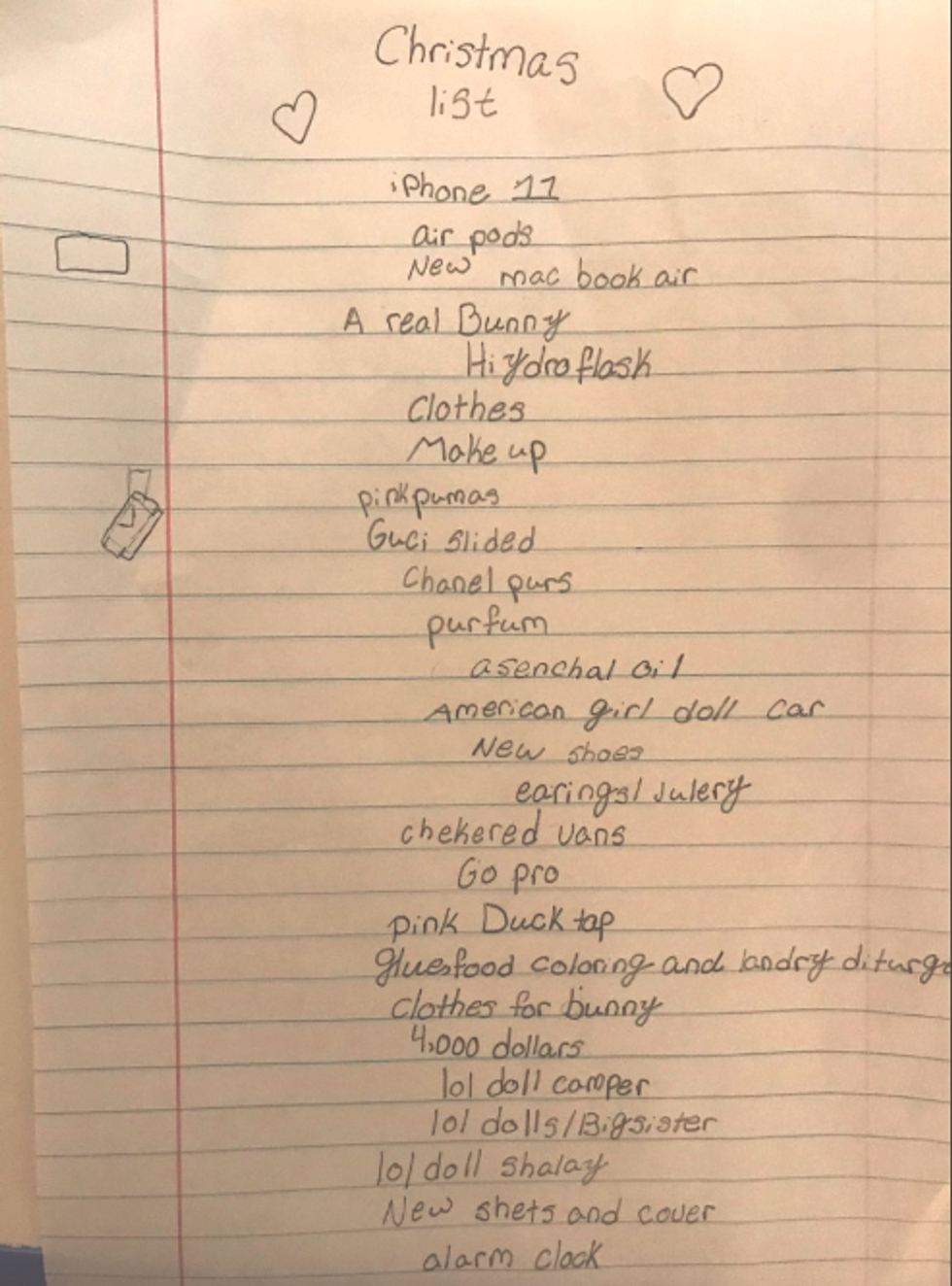 @A_Johnson412/Twitter
The resulting conversation on Twitter has all been in good fun.
Some cracked jokes about the list. Others claimed how the list, in an off-handed way, taught them something important about prioritizing themselves.

Fellow parents shared in solidarity their own children's wild ideas for a Christmas list.
@a_johnson412 Everybody knows you aim high first and then start negotiating

— Oh right, that bitch 🌈💝 (@Oh right, that bitch 🌈💝) 1574108102.0
@a_johnson412 U have over a month to get every damn thing on this list. Nursing homes can get lonely.

— Slightly crazy Aries (@Slightly crazy Aries) 1573755246.0
Some even joked with and complimented the dad, stating his daughter must have learned to want such lavish things, and she must be growing up in a supportive environment where she can (if somewhat hilariously) ask for those things.

@a_johnson412 An alarm clock, Gucci slides and some laundry detergent? Mama has range and her priorities in check!

— kam bam (@kam bam) 1573751132.0
@a_johnson412 She knows what she wants https://t.co/x7xoiXjDFp

— Not Mrs. St. Clair Drake (@Not Mrs. St. Clair Drake) 1573762779.0
@a_johnson412 Nahh she did this all wrong some of this stuff on here she could get any time (diy slime kit, sheet s… https://t.co/RlYDhSmNw2

— hp lovecraft named his cat... (@hp lovecraft named his cat...) 1573779365.0
Many have taken heart from the list, too, saying they should ask more for themselves and expect more from their own Christmas lists as adults.

@a_johnson412 I feel healed and blessed by this thread and this child is my role model.

— Stefanie Gunning (@Stefanie Gunning) 1573791046.0
@a_johnson412 "4,000 dollars" Me too. Me too.

— 🎄 Holiday Booty 🦃 (@🎄 Holiday Booty 🦃) 1573753077.0
With all the stresses that often come with the holidays, like travel plans and expenses, this is the kind of levity we need at this time of year. It's shares like this one that remind us how similar our holiday experiences actually can be.

May we all have a gifting experience as extravagant as this little girl's.
Decorate this Christmas and share your children's lists with guests with the Dear Santa Chalkboard Sign available here.
Amazon
Keep reading...Show less