Tag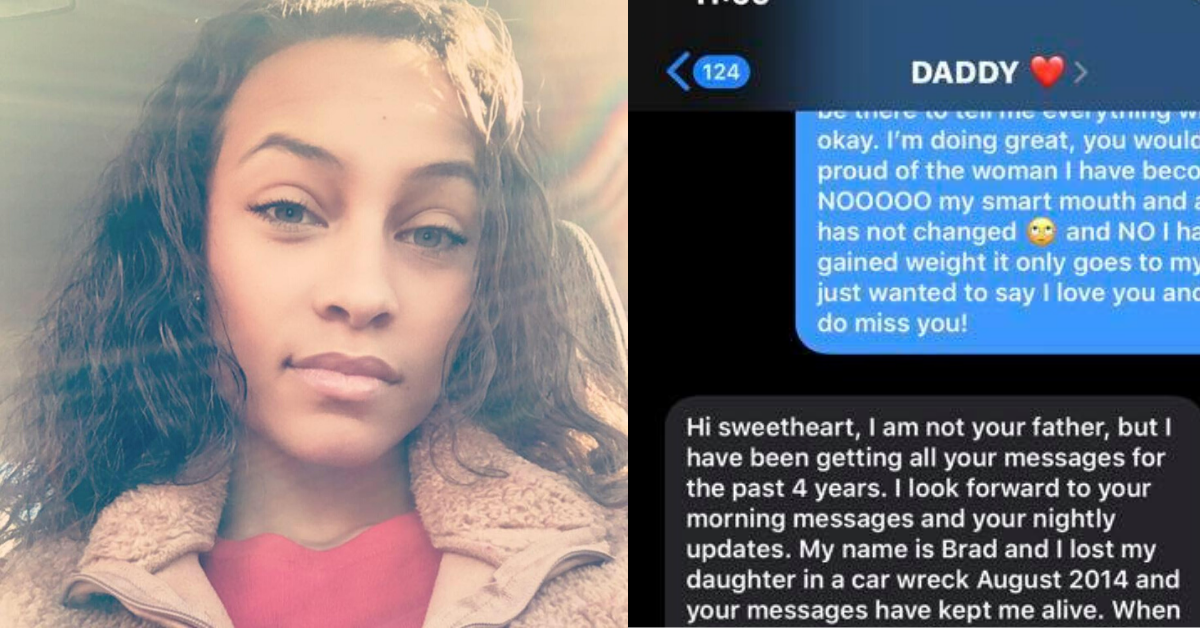 Chastity Patterson / Facebook
In times of grief, it's hard to remember there are still good things going on around us. But sometimes, someone---even a stranger---will surprise us.
Chastity Patterson, age 23, can attest to this since, after texting her father every day for four years as a way to cope after his death, she received a surprise message from a stranger.
Jason Ligons, who passed away four years ago in 2015, was a life-long close friend and father figure to Patterson. When asked about their relationship, she said blood relations wouldn't have made a difference in how close they were.
After his death, Patterson coped by sending Ligons text messages every day. She texted him every morning, and sometimes in the evening with updates.
What she didn't know was that, once a phone is disconnected, the phone number can be reassigned to someone as early as 45 days later.
So approximately 45 days of grieving later, Patterson went from sending messages to her father in the beyond… to texting a stranger named Brad.
On October 25th, the fourth year anniversary of her father's passing, Patterson sent the text that would change her relationship with Ligons' phone number forever.
In her text message, Patterson shared details about the things she'd gone through since her father's passing: broken relationships and friendships, her battle with cancer, growing up and getting a dog.
You can read her text below: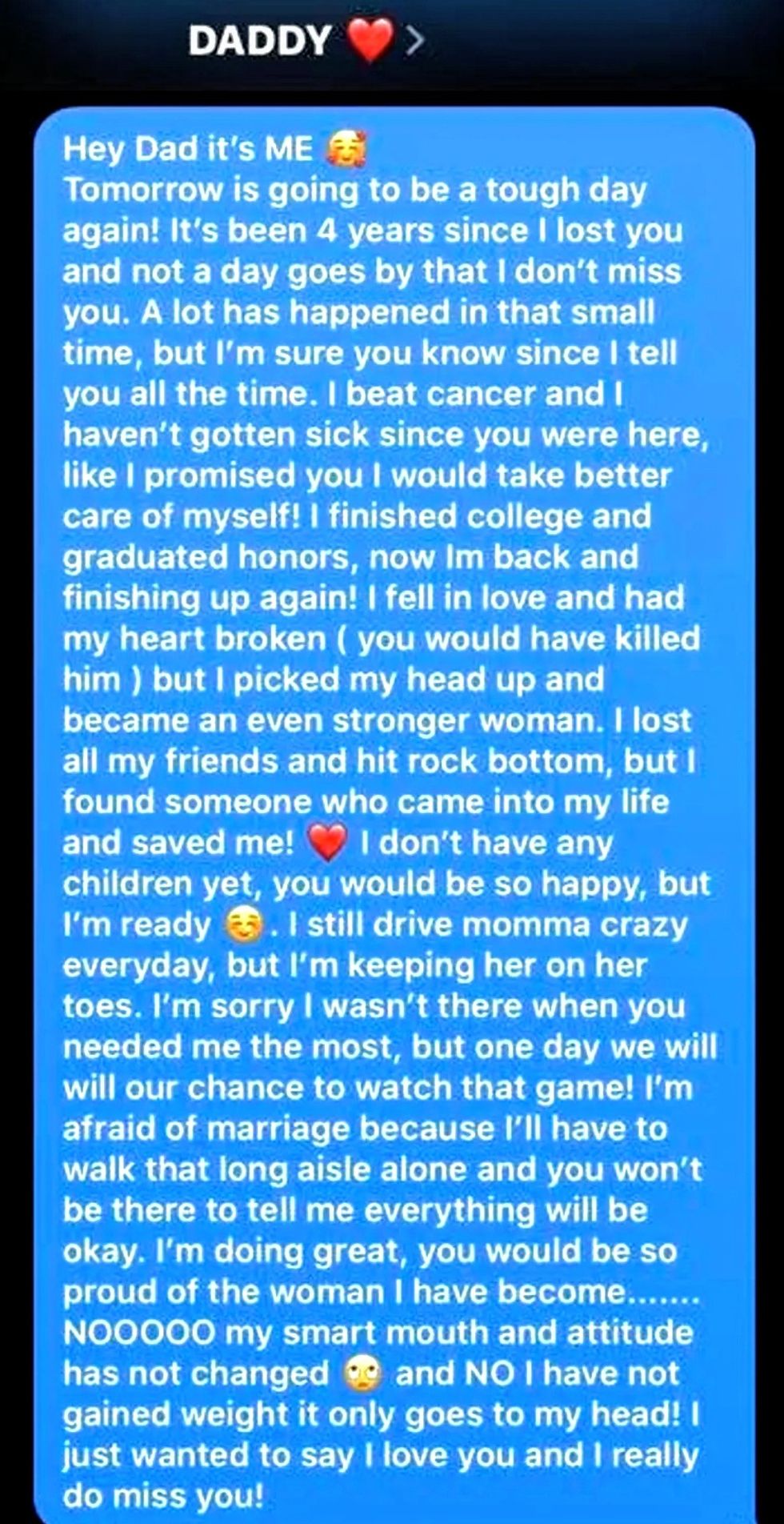 Chastity Patterson / Facebook
Almost four years from receiving her first text message, a man named Brad finally replied, much to Patterson's surprise.

In his reply, Brad shared how he had lost his daughter in 2014 in a car accident, and that receiving Patterson's messages to her father was like receiving messages from his own daughter and had helped keep him going.
You can read his reply below: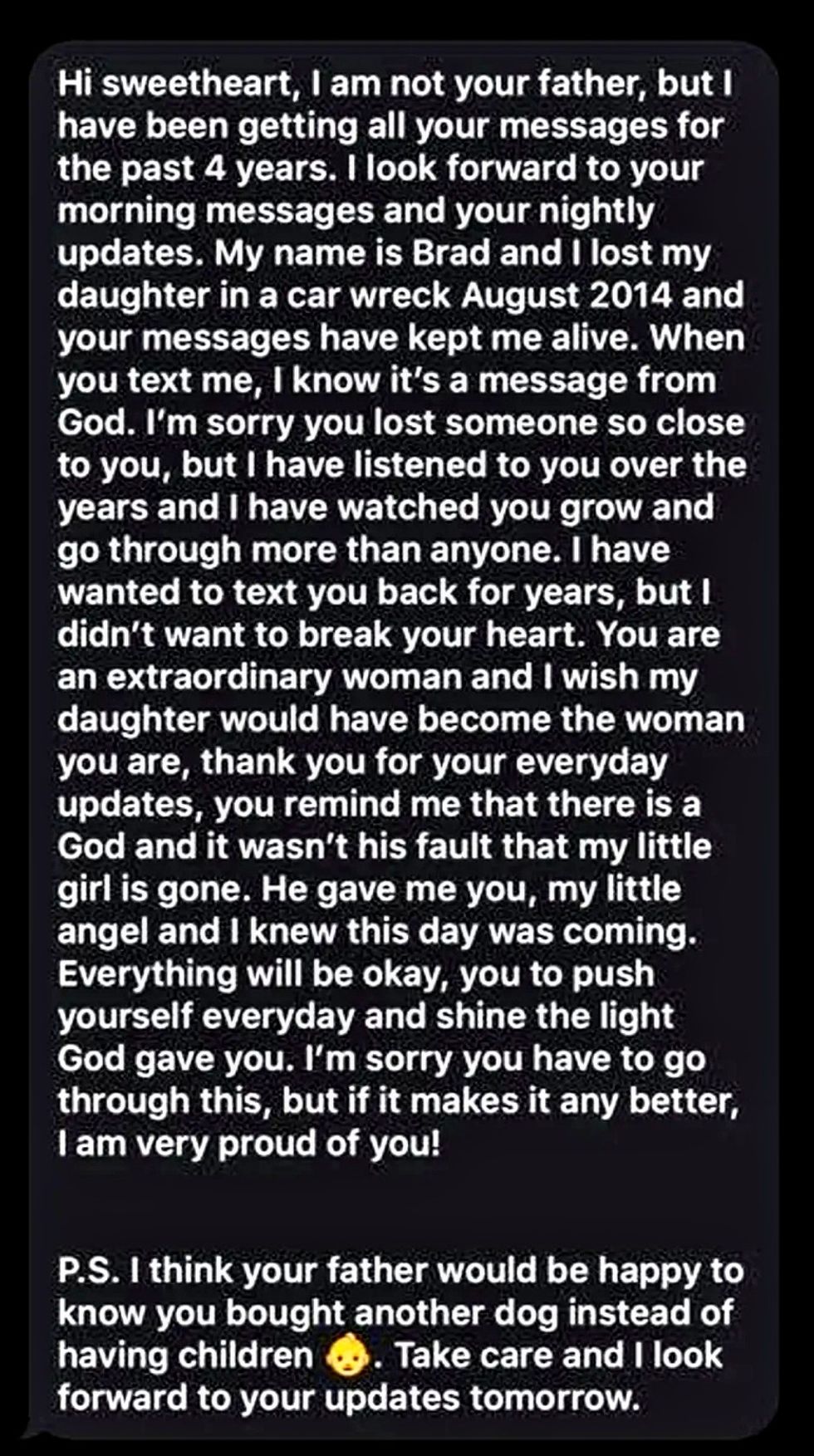 Chastity Patterson / Facebook
Patterson shared these images to Facebook and confided that receiving Brad's message was like a sign that everyone was going to be okay, and that it was time for her to live her life.

Patterson wrote:
"I text my dad everyday to let him know how my day goes, for the past Four years! Today was my sign that everything is okay and I can let him rest!"
In the days since, Patterson has been surprised and overwhelmed by the number of shares, replies, and even private messages from people who share their stories and photos about their own lost loved ones.

Many have shared their heartfelt replies on Facebook and Twitter, and others have even stated how amazing they think it would be for the two to meet---and even for Brad to walk Patterson down the aisle when the day comes.
@nypost This can't be the end!! They need to meet. This is a happy ending for both of them ❤️

— Lauren Kahn Torre (@Lauren Kahn Torre) 1572284157.0
@nypost I'm not crying. YOU're crying.

— Dave - Amazon FC Ambassador 📦 (@Dave - Amazon FC Ambassador 📦) 1572284094.0

Chastity Patterson / Facebook

Chastity Patterson / Facebook

Chastity Patterson / Facebook
Whatever the two ultimately decide to do, meet or not, it clearly meant a lot to both of them to make the connection at the time they needed it most.
The book Random Acts of Kindness is available here.
Keep reading...Show less