bowel cancer baby pregnant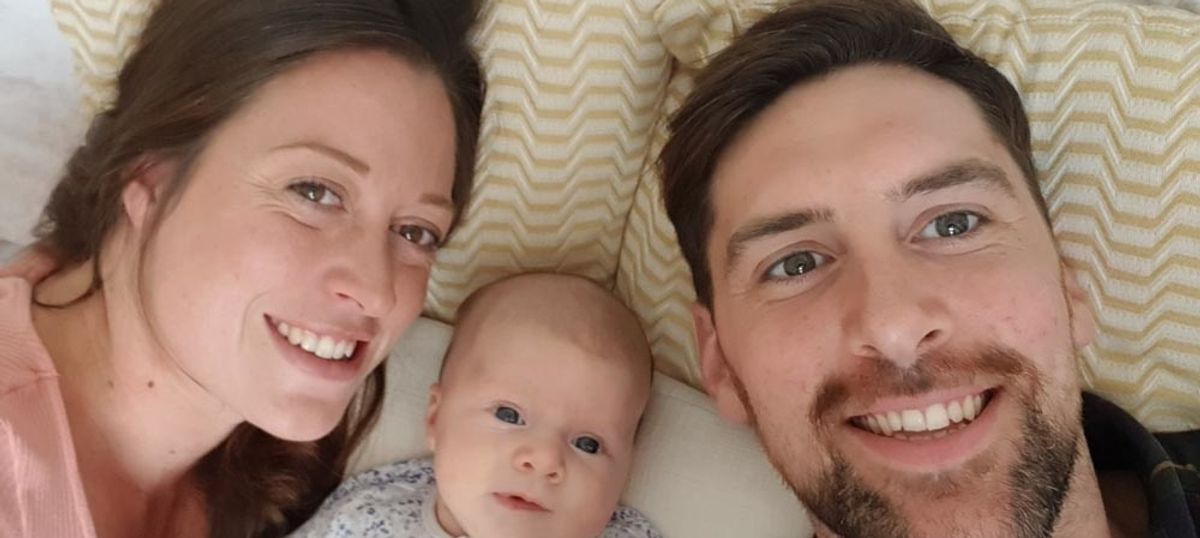 PA REAL LIFE/GO FUND ME
A new dad has relived the emotional rollercoaster of being told his girlfriend was pregnant against all odds – only for him to be diagnosed with bowel cancer just 48 hours later.
Falling head over heels when they met in January 2018, Reece Payne, 32, and Carlie Crouch, 33, were keen to start a family.
But, having been diagnosed with polycystic ovary syndrome (PCOS) – a hormone condition affecting how the ovaries work, meaning they do not release eggs regularly – aged 24, pediatric intensive care nurse Carlie had been warned by doctors she would struggle to conceive naturally.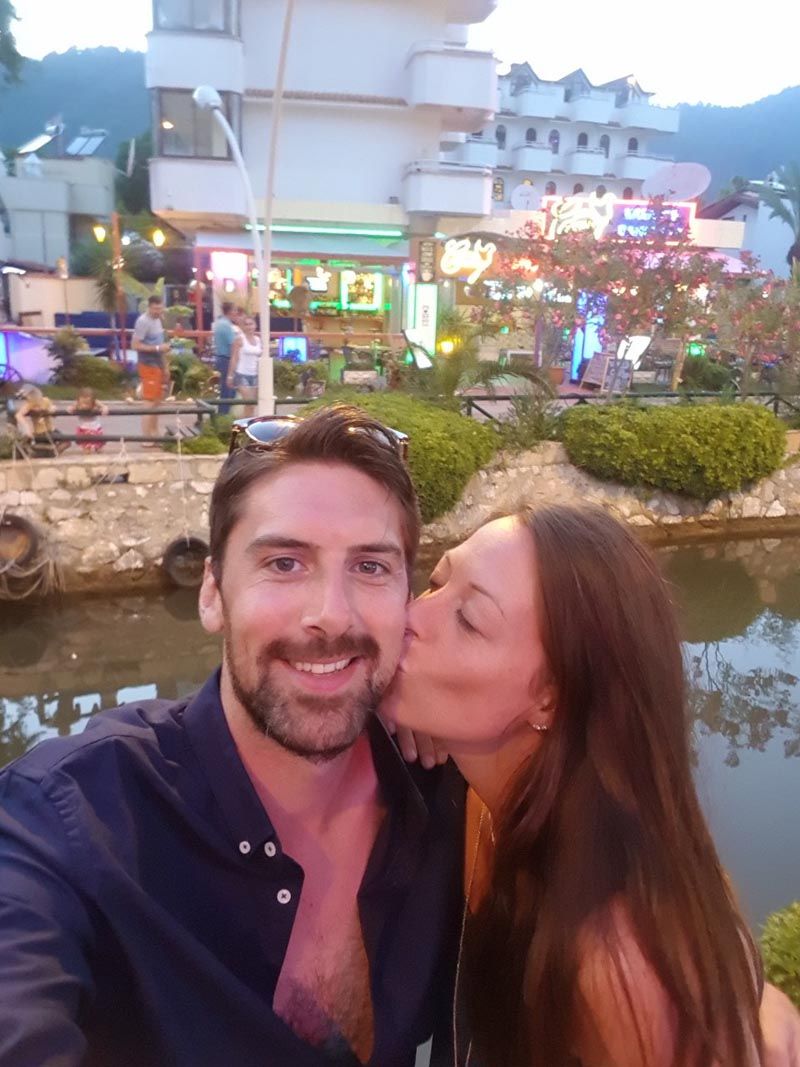 Carlie and Reece (PA REAL LIFE/GO FUND ME)
The couple of Portsmouth, Hampshire, were expecting the road to parenthood to be fraught with difficulties, and so were delighted when she fell pregnant in November last year after just a month of trying.
Shockingly, their hopes were dashed just two days later when Reece, a seemingly fit and healthy rugby player, was diagnosed with bowel cancer.
He said:
"It was a rollercoaster of emotions. We were ecstatic finding out Carlie was pregnant – but then two days later, I had to break the news to her that I've got cancer."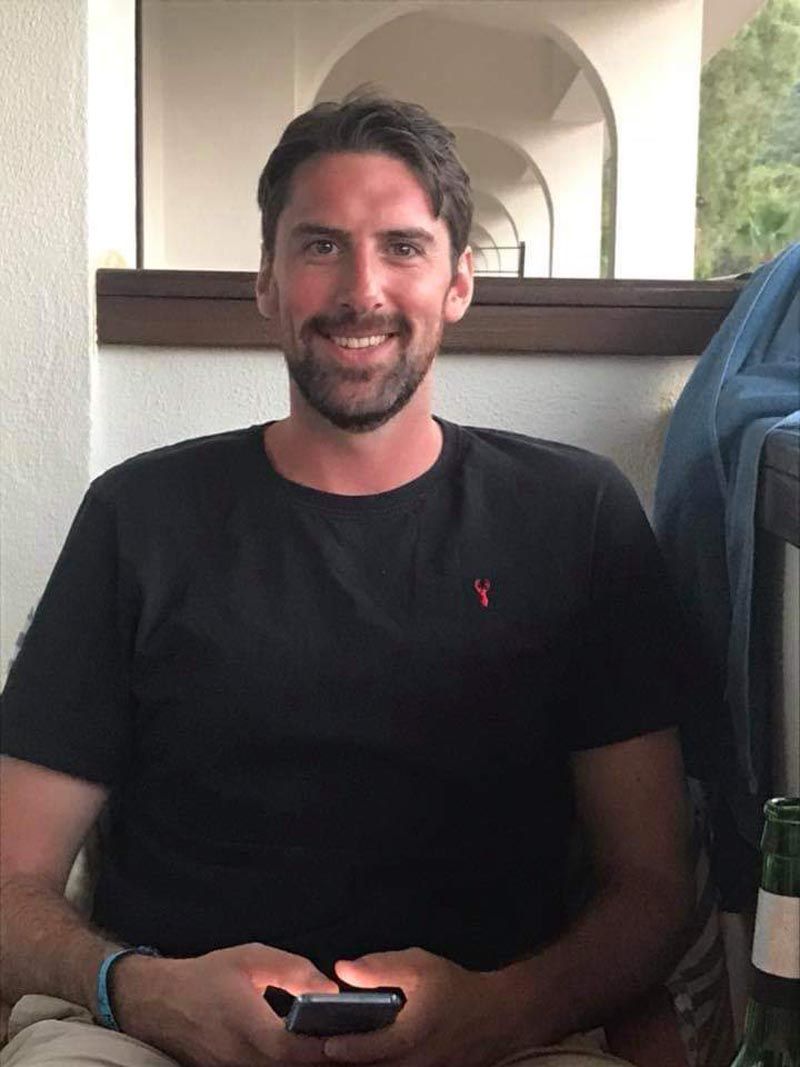 Reece (PA REAL LIFE/COLLECT)
Reece continued:
"It completely turned our lives upside down. The happy news about the pregnancy had been swallowed up."
"My first thought was, 'Am I going to make it? Am I going to be able to be there for Carlie and meet my baby?'"
Determined to survive for the sake of his unborn child, Reece, a mechanic, underwent grueling chemotherapy and had 65 per cent of his liver removed when it was discovered the disease had spread there.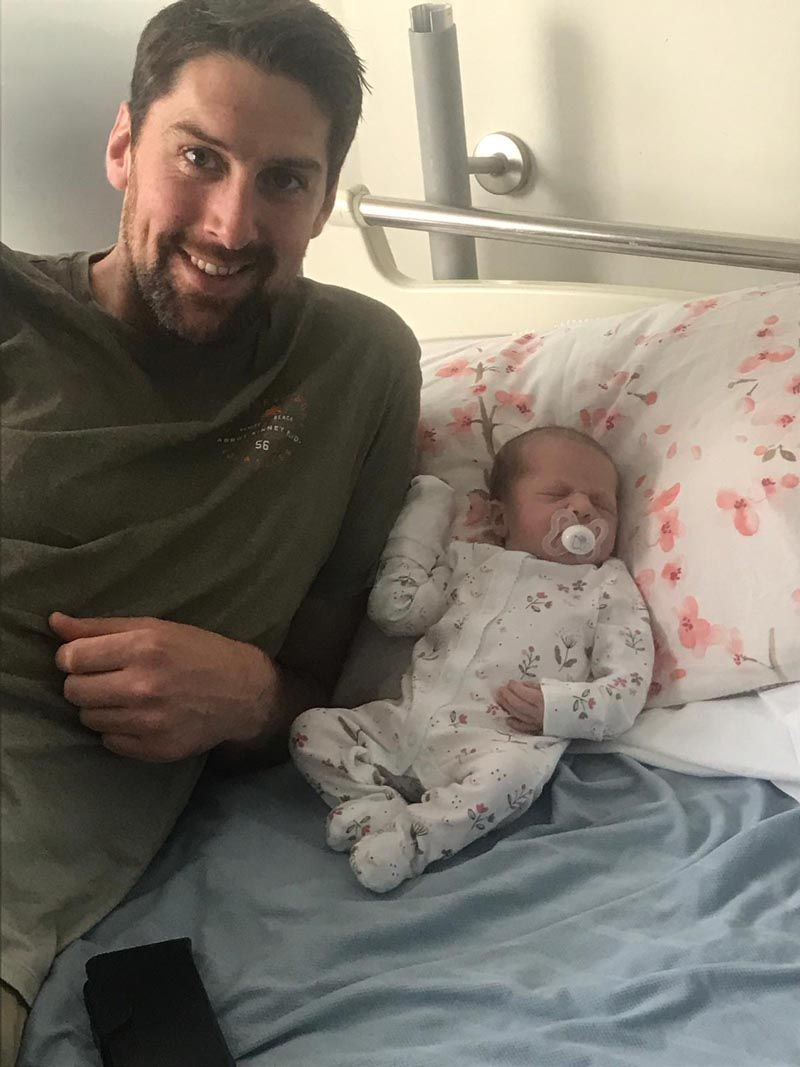 Reece and Olivia (PA REAL LIFE/COLLECT)
Happily, he was able to be by Carlie's side when baby Olivia arrived into the world on August 1 weighing a healthy 7lb 14oz.
He added:
"I know I'm not out of the woods yet, but I'm feeling positive about the future now, and spending lots of lovely time with my family."
Previously completely healthy, Reece's nightmare began toward the beginning of November 2018, when he noticed blood in his stools.
Visiting his GP, he was convinced he simply had piles – lumps around the bottom that often get better on their own after a few days.

But instead, he was referred for a colonoscopy, which examines the inside of the bowels using a thin, flexible tube holding a small camera, to take place at the end of that month at Portsmouth's St Mary's Hospital.
He said:
"It did not occur to me that it could be cancer. I thought it would be piles. At that point I didn't tell Carlie as I didn't want to panic her about something I thought was trivial."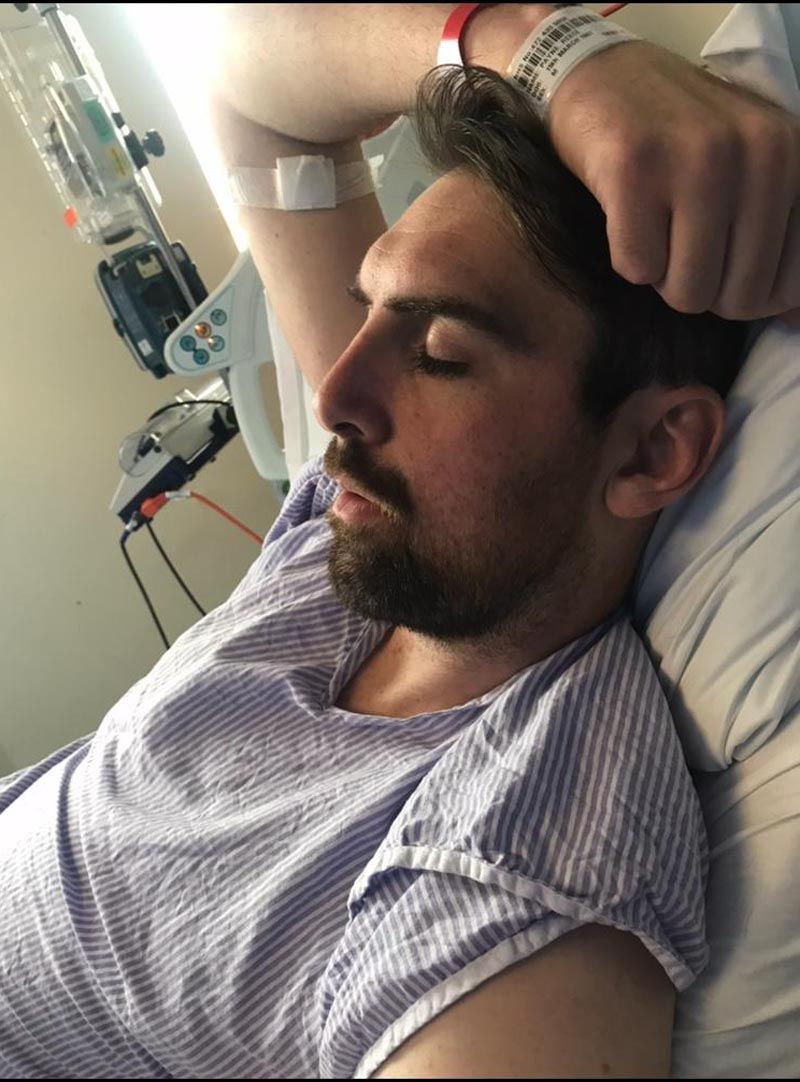 Reece in hospital (PA REAL LIFE/COLLECT)
Meanwhile, toward the end of November, the couple discovered Carlie was pregnant, having conceived against the odds.
The pair had started trying just a month before assuming it would take them a while, so were delighted when it happened so quickly.
Reece added:
"She did a pregnancy test while I was there and then came down and showed me. We were first of all quite shocked then really elated and happy."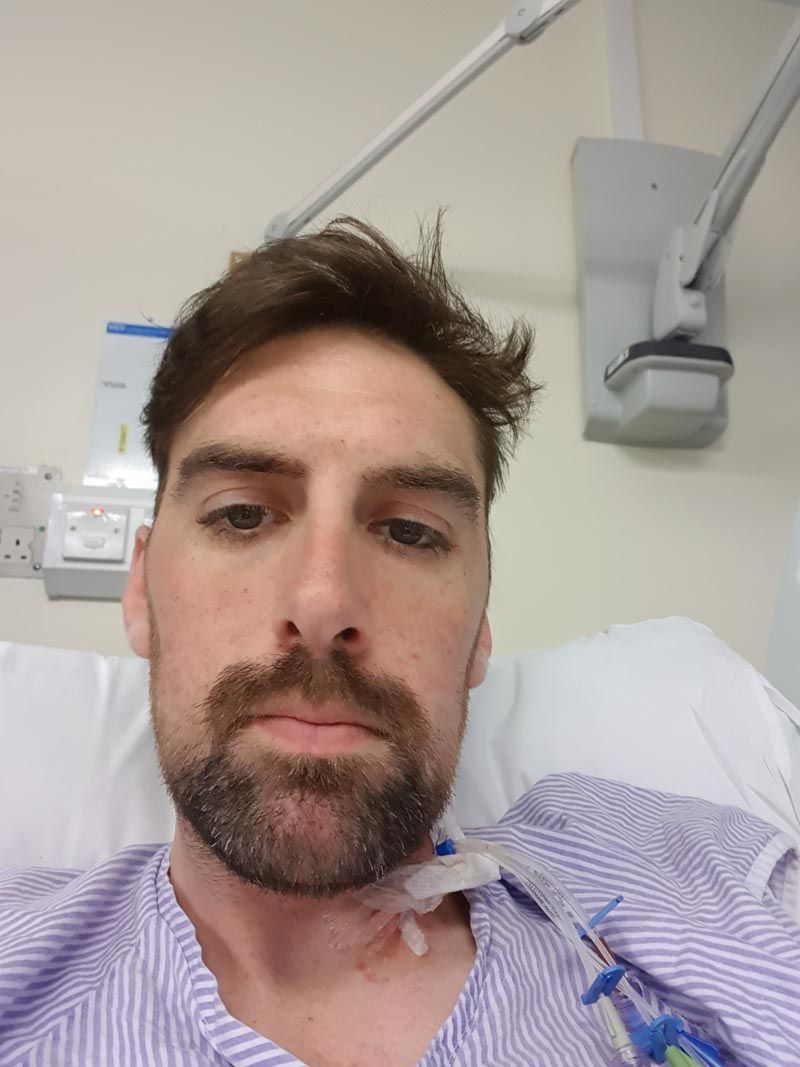 Reece in hospital (PA REAL LIFE/COLLECT)
He added:
"We were so excited about the future, starting a family and making plans for what we were going to do together."
But, just two days later, the parents-to-be were dealt a cruel blow when Reece had his colonoscopy, which showed a 9cm tumor in his bowel, with the doctor telling him he was 90 per cent sure it was cancer.
A biopsy two weeks later confirmed the tumor was cancerous, while an MRI at the same time showed the disease had spread to his liver.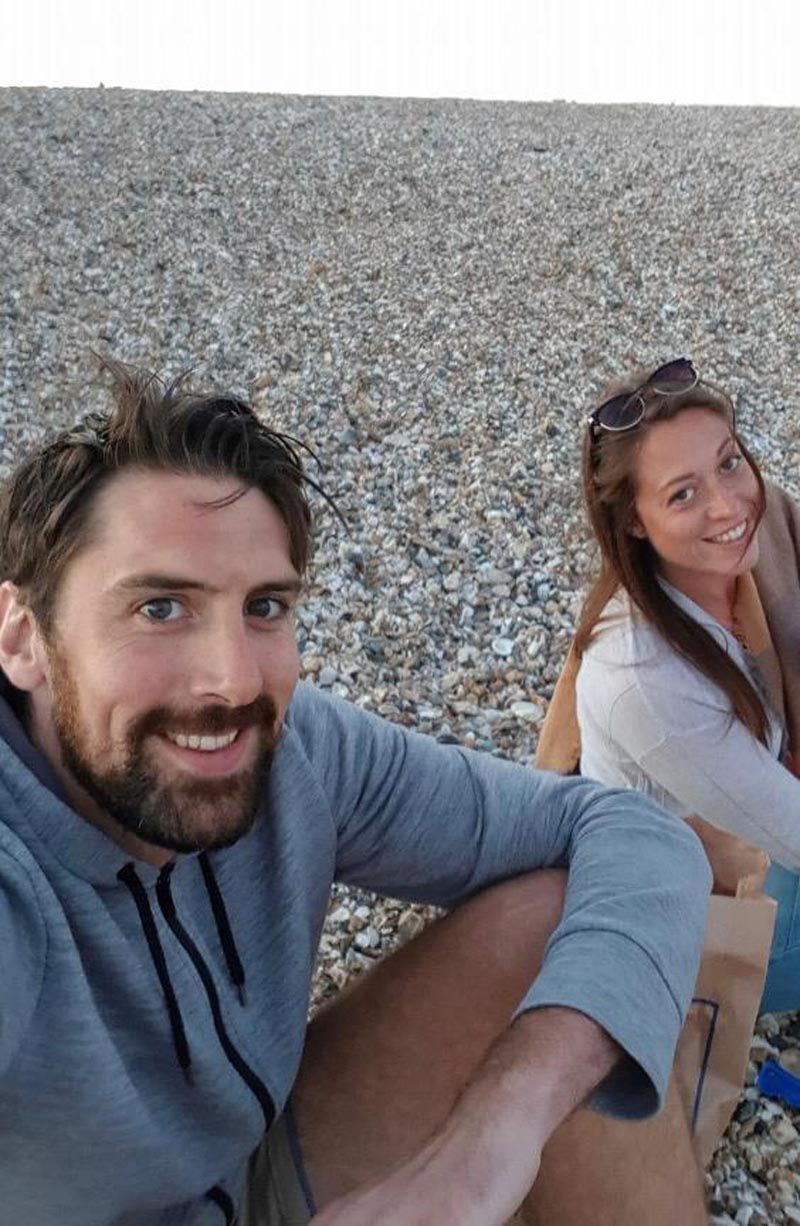 Carlie and Reece (PA REAL LIFE/COLLECT)
They did not stage the cancer at that point, but described it as 'advanced'.
"It was a massive shock. I'm a fit and healthy guy, I've always played rugby – it was unthinkable."
"You start thinking about the worst-case scenario. I was 31 at the time and I never expected to have bowel cancer. It's the kind of disease you associate with people over the age of 60."
"But since having it, I've realized it can affect people of all ages. I know of people in their thirties and even twenties who've been diagnosed with it."
A month after his initial diagnosis, Reece was told that, where the cancer had spread to his liver, it was stage four.
Initially, it seemed that the tumors in his liver were inoperable, and doctors explained that he would need to undergo chemotherapy to see if they shrank – in which case, surgery could be possible.
In January, he started five rounds of chemotherapy over three months, meaning he had to give up work while Carlie progressed with the pregnancy, doing her best to keep calm and not get stressed.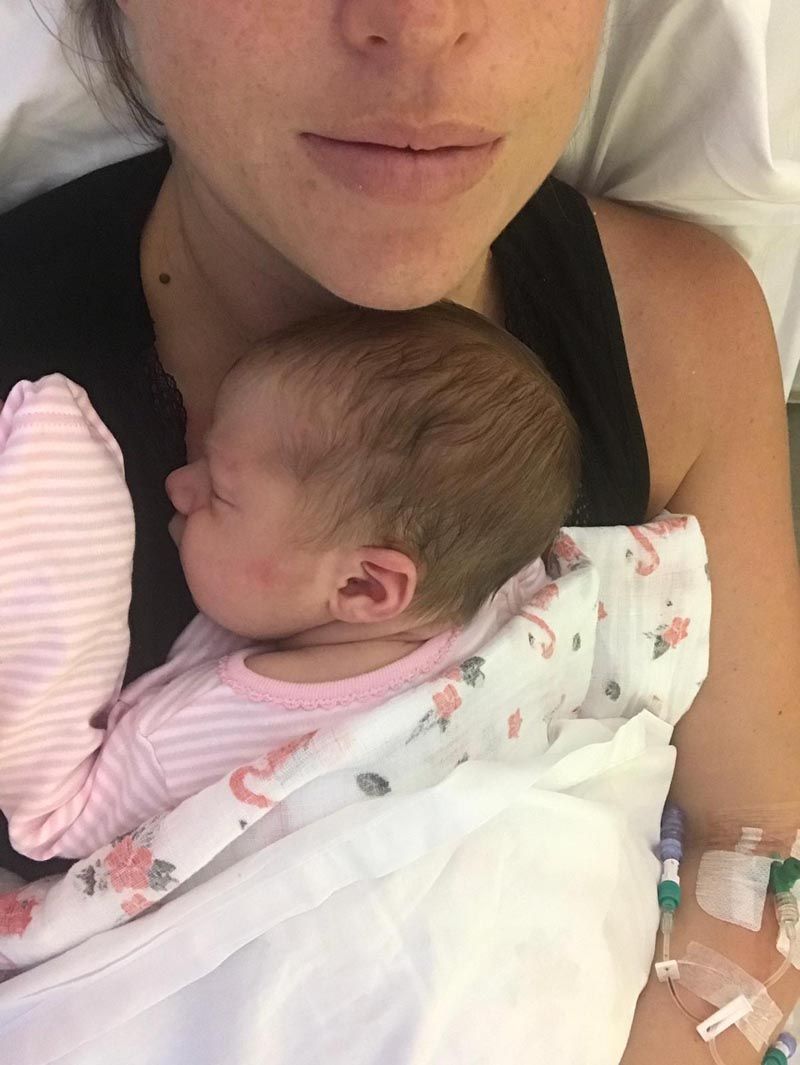 Carlie and Olivia (PA REAL LIFE/COLLECT)
"Chemo completely wiped me out. But, at the end of the three months, I was rescanned and it had done its job."
"The tumors in my liver had reduced enough for doctors to be able to operate."
Four weeks later, on May 15, Reece had 65 per cent of his liver removed in a five hour long operation with a specialist surgeon at Basingstoke and North Hampshire Hospital.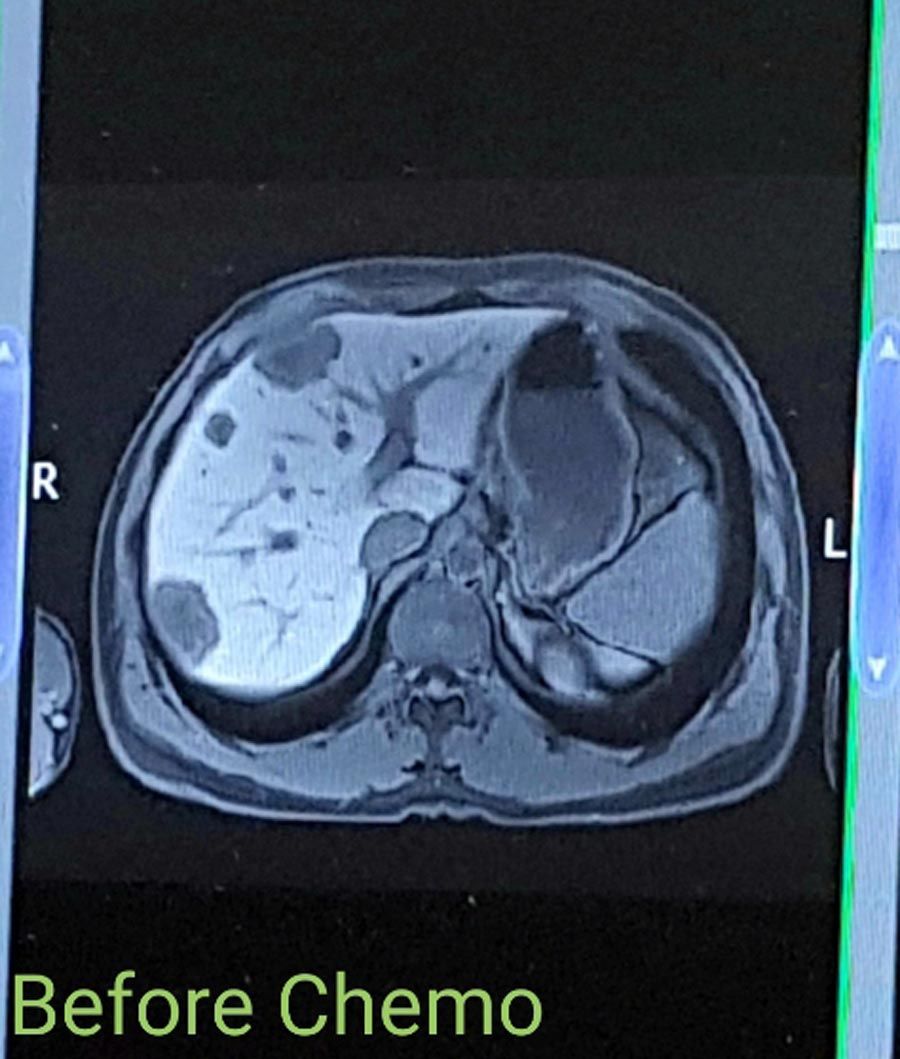 Reece's liver after chemo (PA REAL LIFE/COLLECT)
By this stage, Carlie was six months pregnant with a bump and went to the hospital to support Reece every day.
"I was really concerned about her getting stressed."
"Carlie was obviously really worried about me, but she was so focused and calm. She knew stress was bad for the pregnancy."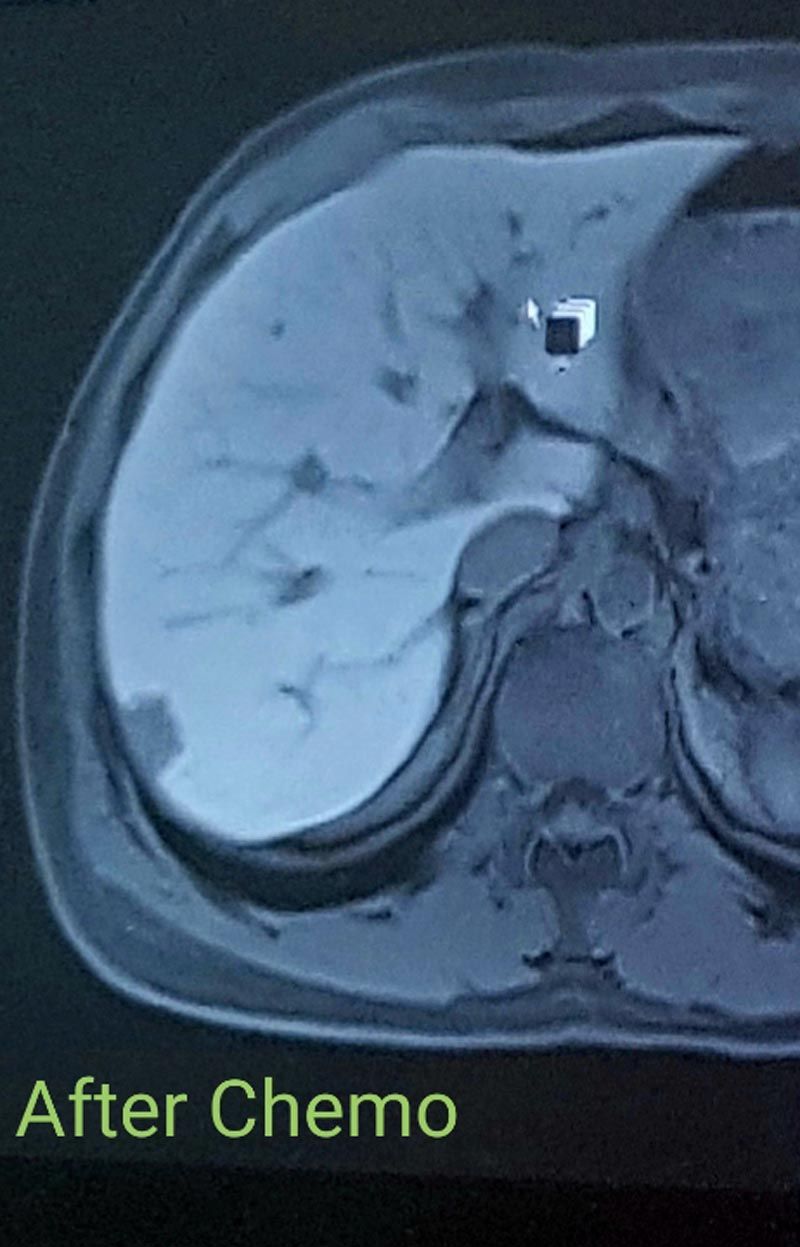 Reece's liver after chemo (PA REAL LIFE/COLLECT)
"I was in hospital for five days and they were really happy with the result. I recovered really quickly."
Then, on July 31 Carlie was admitted to Queen Alexandra Hospital in Portsmouth when she went into labor.
But even that was traumatic as Olivia was facing the wrong way, and so doctors rushed Carlie to theatre for a forceps delivery.
During the delivery, Carlie lost a lot of blood and began hemorrhaging, and meanwhile, her newborn daughter was rushed off to neonatal intensive care, where she was pumped full of antibiotics to fight potential sepsis.
Medics were concerned Carlie had picked up an infection during labour and were worried it could have passed to Olivia.
Reece recalled:
"It got serious because she was losing a lot of blood. She lost 1.5 liters altogether and her blood pressure was dropping. She was in an out of consciousness, I didn't know what was going on and there was a point where it was touch and go but the doctors were amazing and managed to stop the bleeding within five minutes."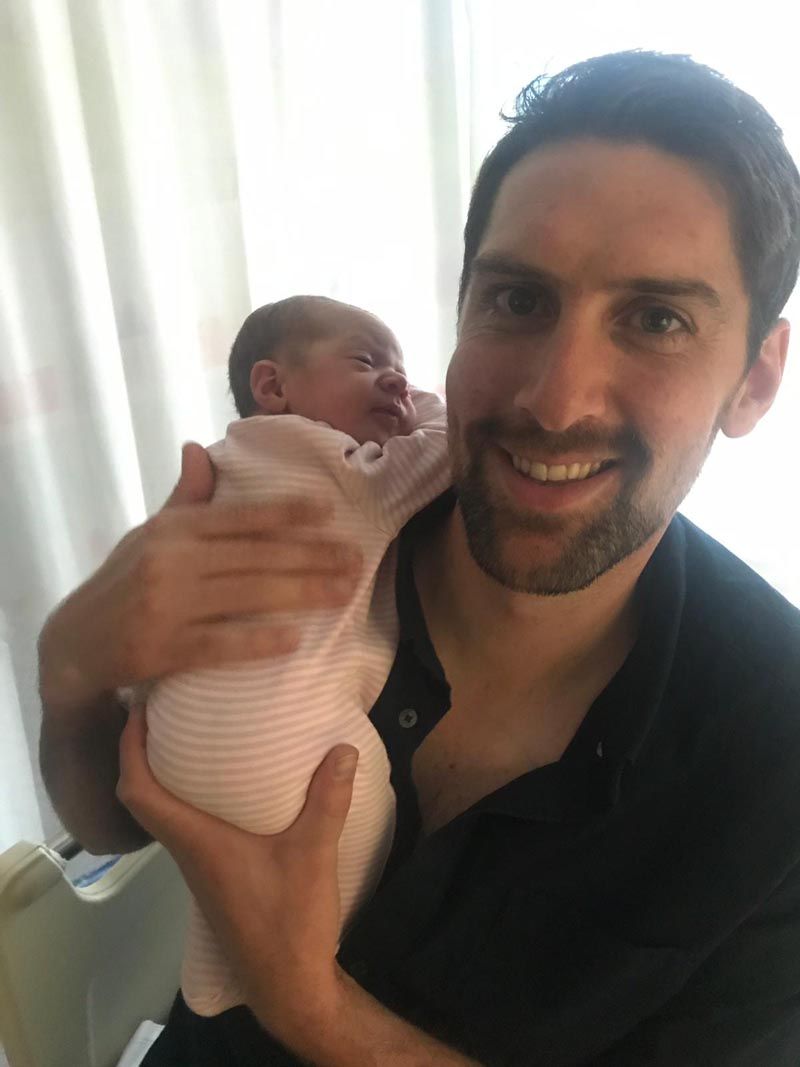 Reece and Olivia (PA REAL LIFE/COLLECT)
For 48 hours, Olivia was with Carlie in the high dependency ward before they were transferred to the maternity ward.
Five days after the dramatic birth, the pair were allowed home.
"We didn't get that lovely moment we expected to have after Olivia was first born, so we were desperate to get home and have that time together. When we came home, it was brilliant."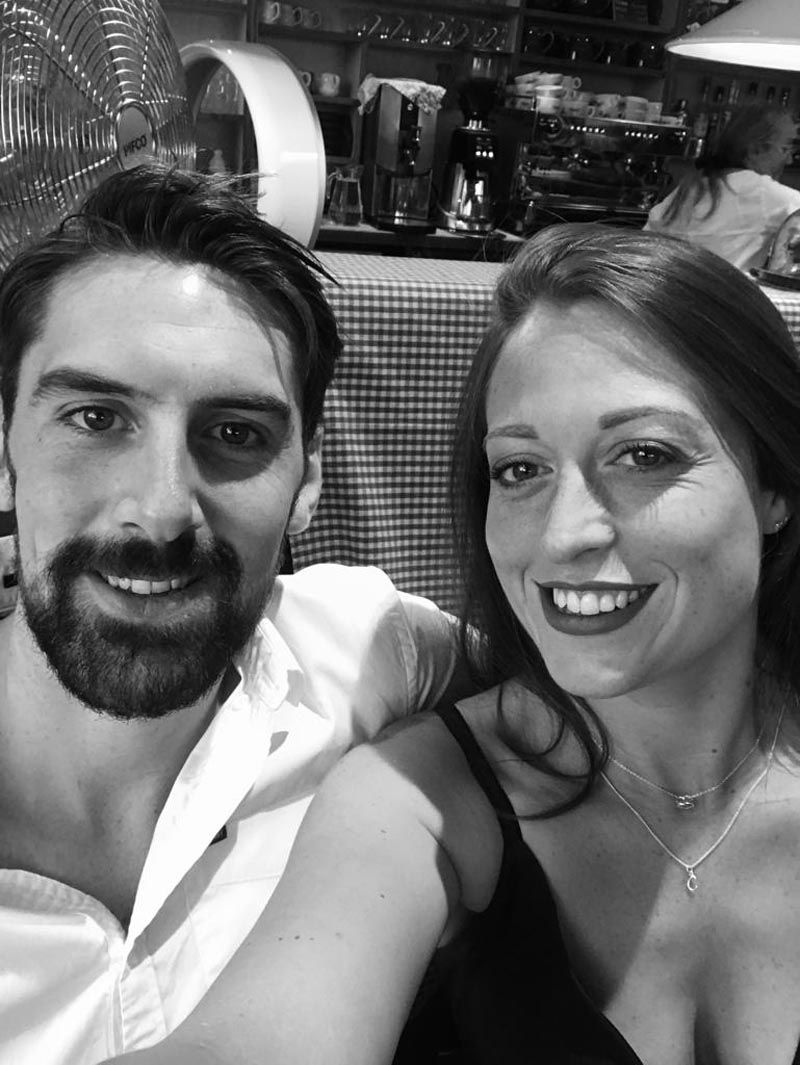 Carlie and Reece (PA REAL LIFE/COLLECT)
Now, Reece and Carlie are loving being parents to their happy, healthy little girl.
After radiotherapy in April targeting his bowel, and an MRI scan six weeks after his liver surgery showed the tumor in his bowel had gone, Reece had his final operation on September 12 to ensure there are no traces of it left.
Surgeons at Queen Alexander Hospital removed 25cm of his bowel, leaving him with a stoma and colostomy bag, which will hopefully be reversed after three months.
By sharing his story, he wants to raise awareness of bowel cancer, particularly among young people, urging them to go to their GP if they notice anything unusual, such as blood in the stools, or have a family history of the disease.
The couple also want to thank their family and friends, who have provided a lot of support emotionally and financially, including setting up a GoFundMe page to raise money for them while they are both off work.
Reflecting on his journey, Reece said:
"We're really enjoying being new parents. It's hard work, but really fulfilling."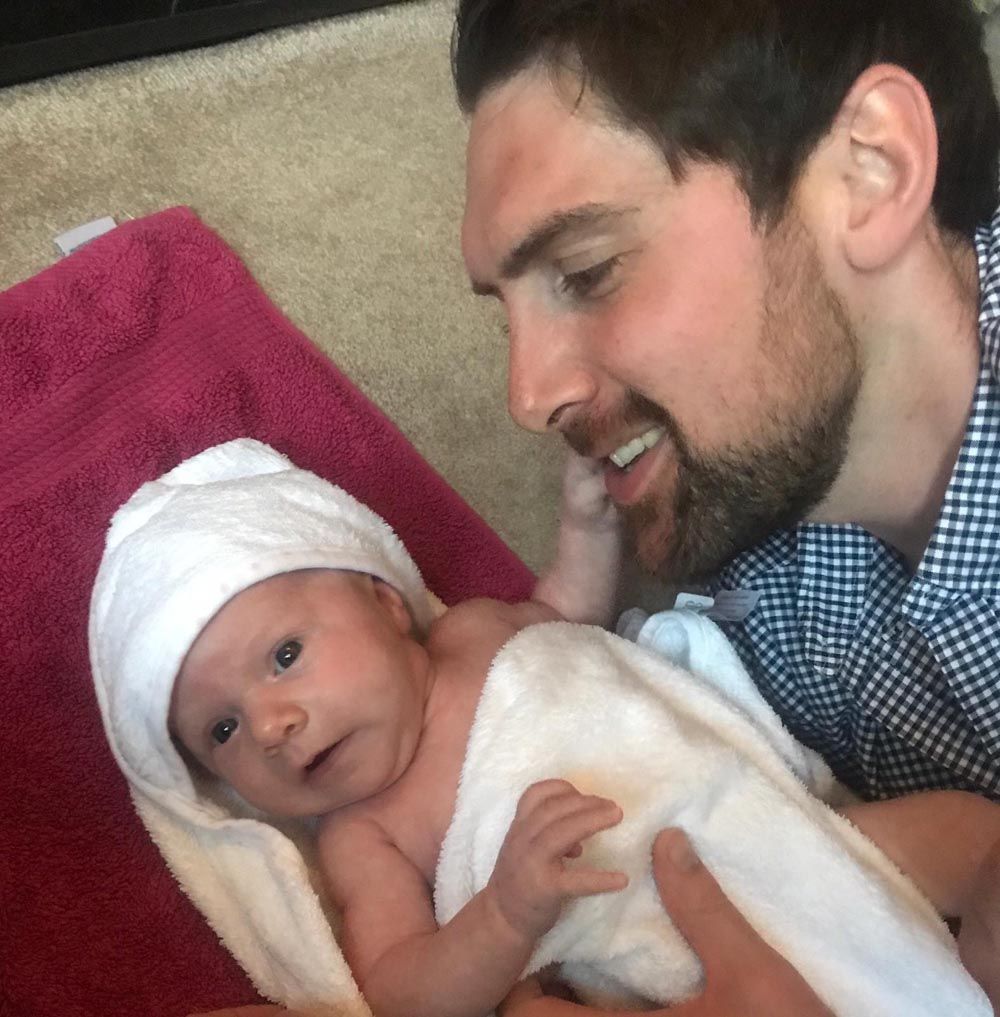 Reece and Olivia (PA REAL LIFE/COLLECT)
Reece continued:
"Olivia is five weeks old now and her personality is starting to come through – we're starting to get little smiles."
"It's been a hell of a journey from being told you have stage four cancer, to being told MRI scans are showing it has now gone, but Carlie and I are feeling positive about the future."
Carlie added:
"I always wanted children and was so emotional to find out I was pregnant. It happened within a month of trying so it was a real surprise."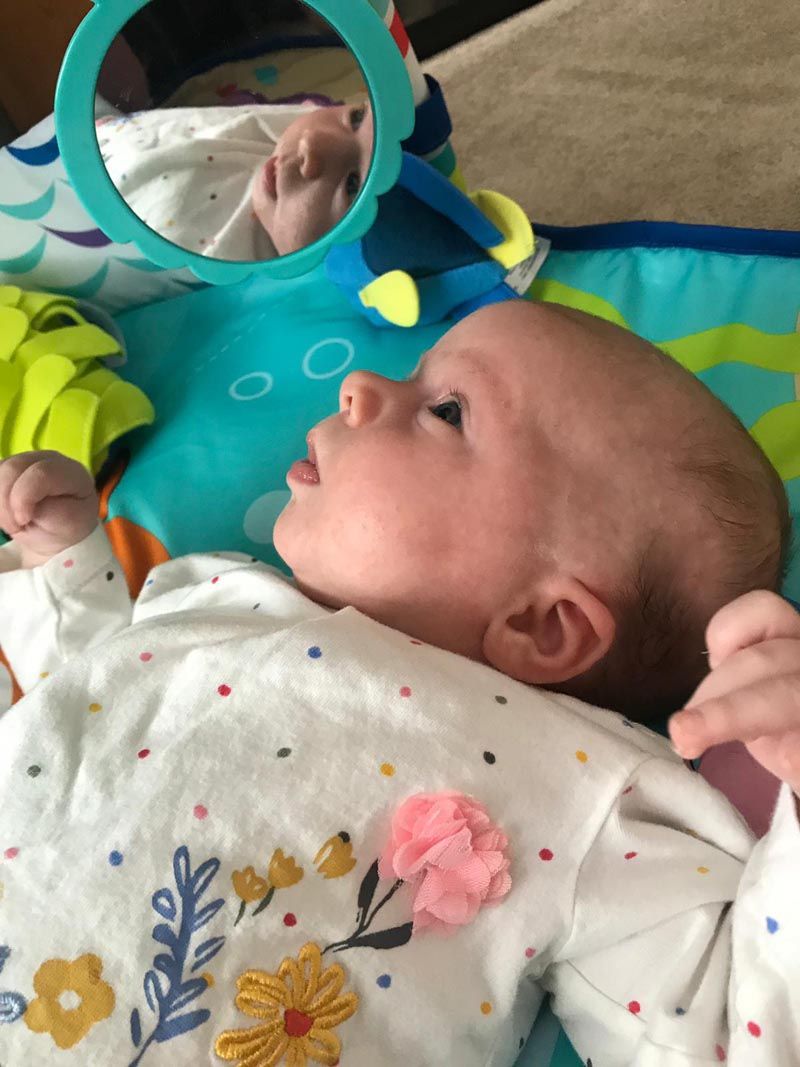 Baby Olivia (PA REAL LIFE/COLLECT)
She concluded:
"But then Reece's news came just two days later. I cried my eyes out when he told me he had been for the colonoscopy, and when I heard it had gone to his liver it was devastating."
"I look after children with cancer and even though you try and stay positive, having that background knowledge meant it was really hard to."
"Throughout the pregnancy, I just had to stay positive and try and keep us all healthy, as well as keep working as much as I could as we were struggling to stay afloat financially."
To donate visit https://www.gofundme.com/f/first-baby-now-chemo
Keep reading...Show less