Tag

PA REAL LIFE/COLLECT
A courageous National Health Service (NHS) nurse who lost her legs and fingers after deadly sepsis ravaged her body, turning her healthy pink tissue and bones black, described her stumps as "beautiful," because the amputations saved her life.
Struck down with flu-like symptoms in July 2018, Karen Allen-Ross, 54, spent five days in an induced coma after contracting sepsis – a life-threatening reaction to an infection – prompting her organs to start shutting down and leading doctors to warn her family she might not make it.
Remarkably, Karen, of Plymouth, Devon, pulled through, but was told she needed to have her legs – which had died because of the sepsis causing the immune system to turn on her body – amputated below the knee, or she would be vulnerable to a further attack which could kill her in the future.
Later forced to have her fingers removed, too, as they completely hardened and turned black, Karen, a surgical nurse, who has worked for the NHS for 33 years – 16 of them in the colorectal surgical department at Plymouth's Derriford Hospital, where they saved her life – had her last operation only this week.
But remembering the first time she saw her stumps, the day after her below the knee amputations on August 28, 2018, she said: "My first thought was that my stumps looked beautiful. The shape was beautiful."
Speaking candidly about her ordeal, Karen, who has received unerring support from her lorry driver partner, Lyndon Paget, 56, and her daughters, receptionist Gaby, 23, and healthcare assistant Rebecca, 24, is determined not to wallow and is already talking to her employer about her return to work.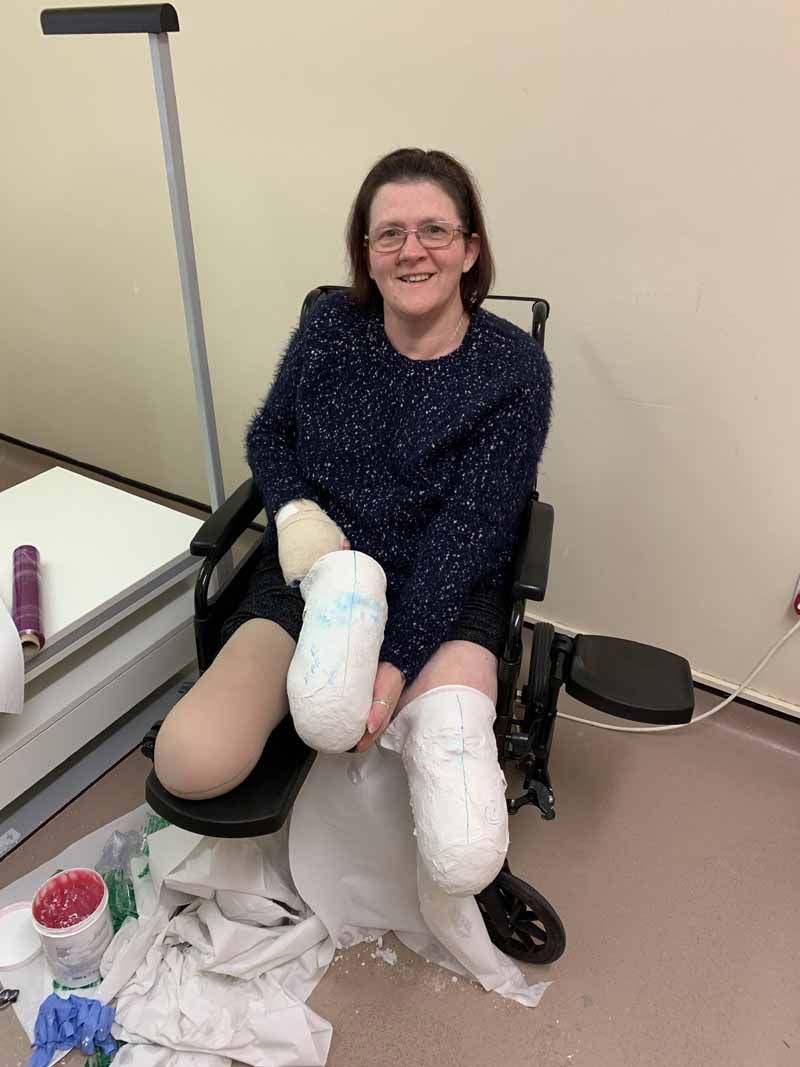 Karen having casts made for her prosthetics (PA REAL LIFE/COLLECT)
Also keen to raise awareness of sepsis, she recalled how her nightmare began in July 2018, after a zipwire holiday in Wales, when she returned to work but felt like she was starting to develop flu.
After vomiting, she spent the next three days in bed feeling achy and shivery, with a high temperature.
But her anxiety mounted when she woke up at 2am on the Sunday morning feeling too hot to sleep upstairs, so went downstairs, hoping it might be cooler if she lay on the leather sofa.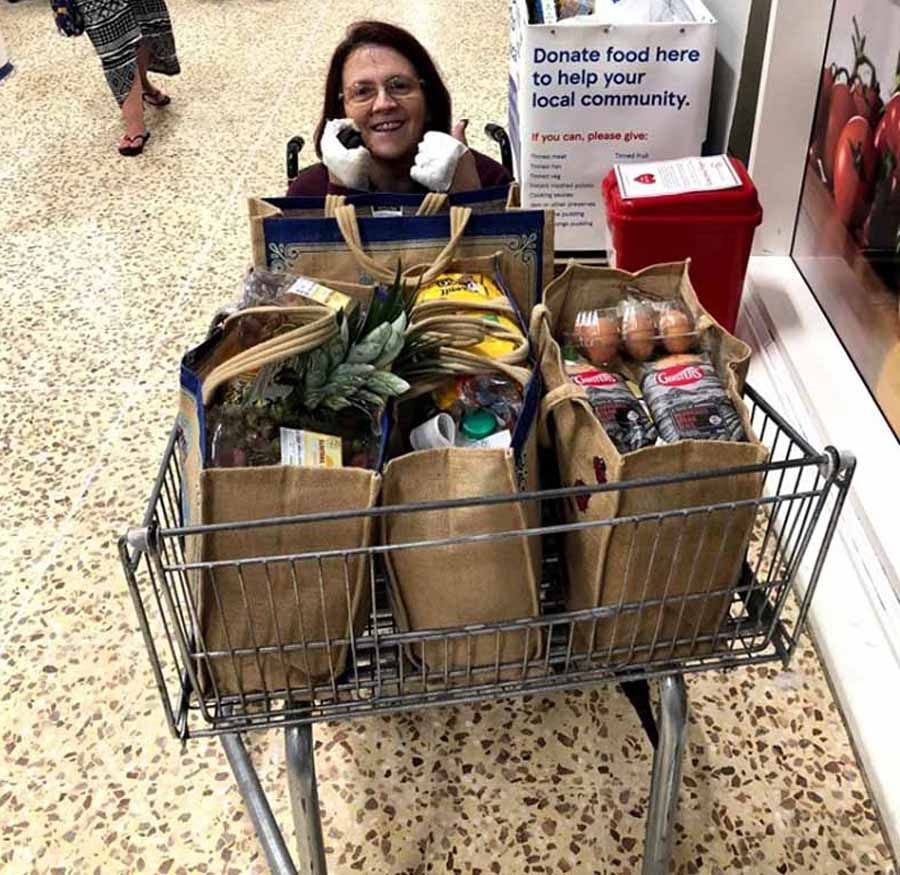 Karen's first trip after leaving hospital (PA REAL LIFE/COLLECT)
She said: "I got up to use the loo and noticed my feet were really aching, it was very painful to walk. I was quite breathless and became really frightened. I was banging on the banister to let Lyndon know I couldn't get upstairs.
"I said to him, 'I think I'm going to die.'"
Lyndon swiftly drove her to A&E at Derriford Hospital, where she worked, by which time she was still having aches and pains, but was alert and talking.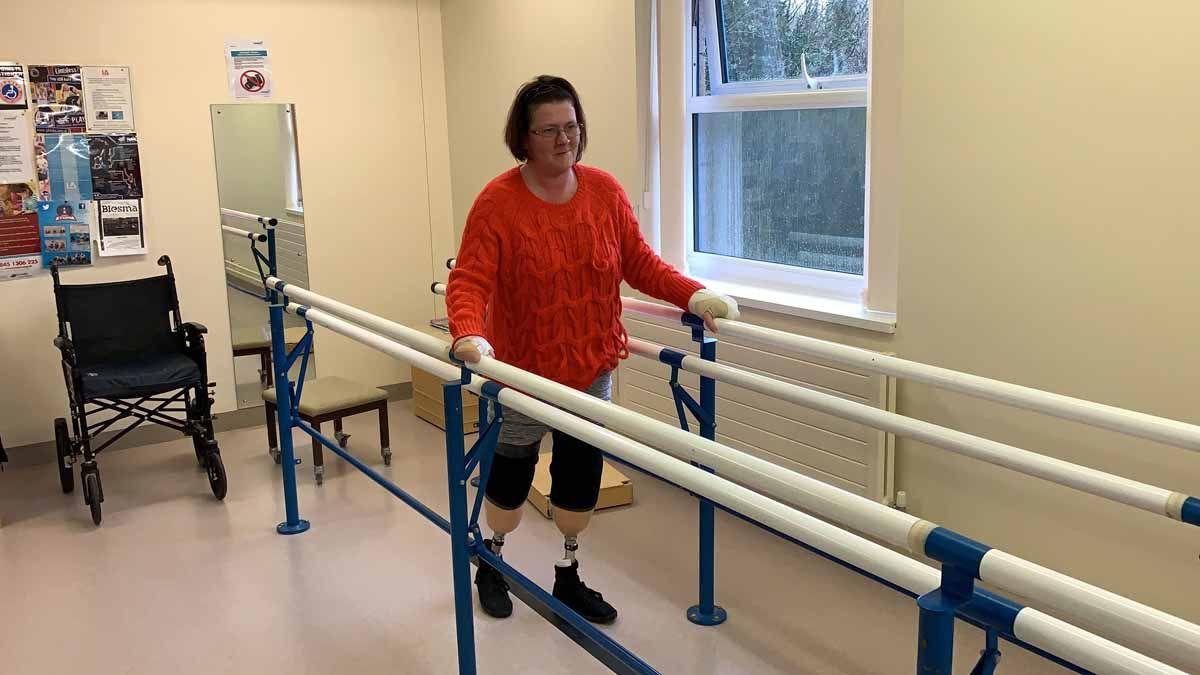 Karen walking for the first time after having prosthetics fitted (PA REAL LIFE/COLLECT)
Her blood pressure was tested and, when it was found to be very low, she was taken to the resuscitation ward, although she recalls remaining alert and texting her friends.
"I was scared, especially knowing that low blood pressure is not a good sign because it affects the blood going to your organs, but I knew I was in the best place and that they knew what they were doing," she said.
"I was then seen by an intensive care unit doctor who I had known for a very long time and he told me that I had sepsis and they were going to transfer me to the intensive care unit."
My family had been warned I might not make it, so my parents had arrived along with my daughters and Lyndon
Karen Allen-Ross
Karen continued: "I had a catheter in and was put on an IV drip, pumping antibiotics into my body.
"I was passing hardly any urine – only 29 ml in 24 hours when you should pass 30 ml every hour.
"The doctors told me I was tender in my abdomen and that they would take me to theatre, because I could have an infection in my bowel."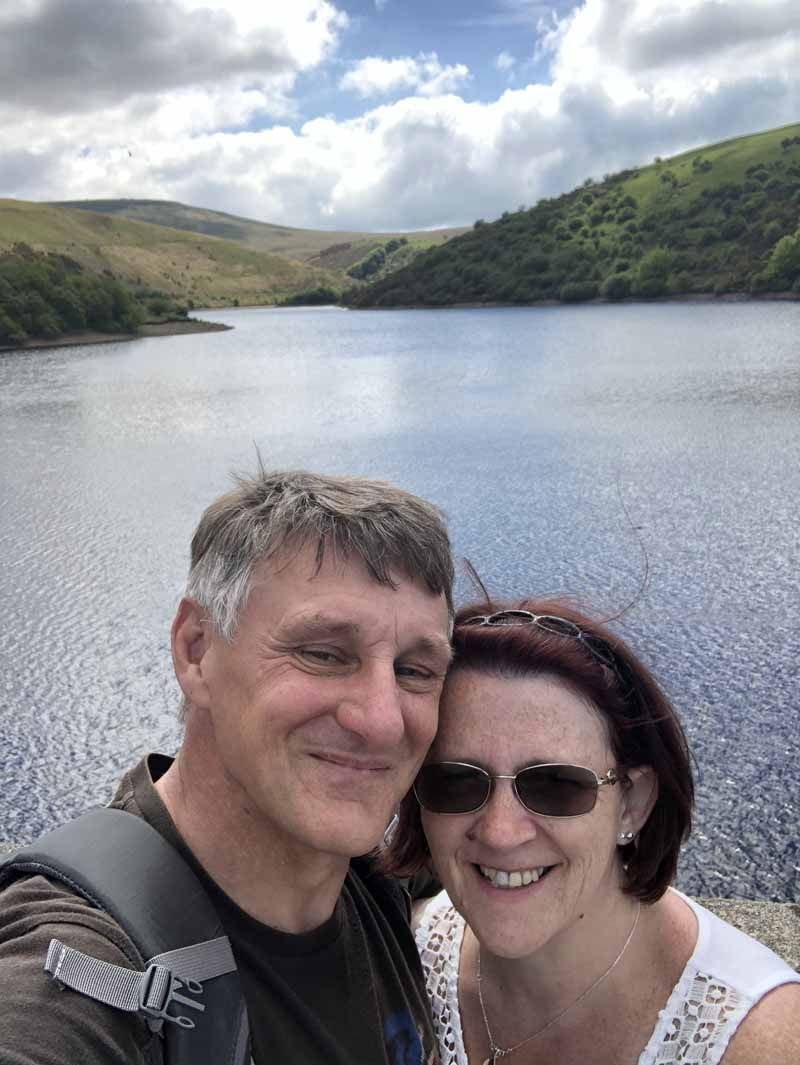 Karen and Lyndon (PA REAL LIFE/COLLECT)
"I knew the consultant and that I was in the best hands," she explained.
At 8pm that evening, on July 29, Karen was taken into theatre for a six hour operation, during which surgeons removed part of her bowel and spleen and formed a colostomy.
She said: "My family had been warned I might not make it, so my parents had arrived along with my daughters and Lyndon."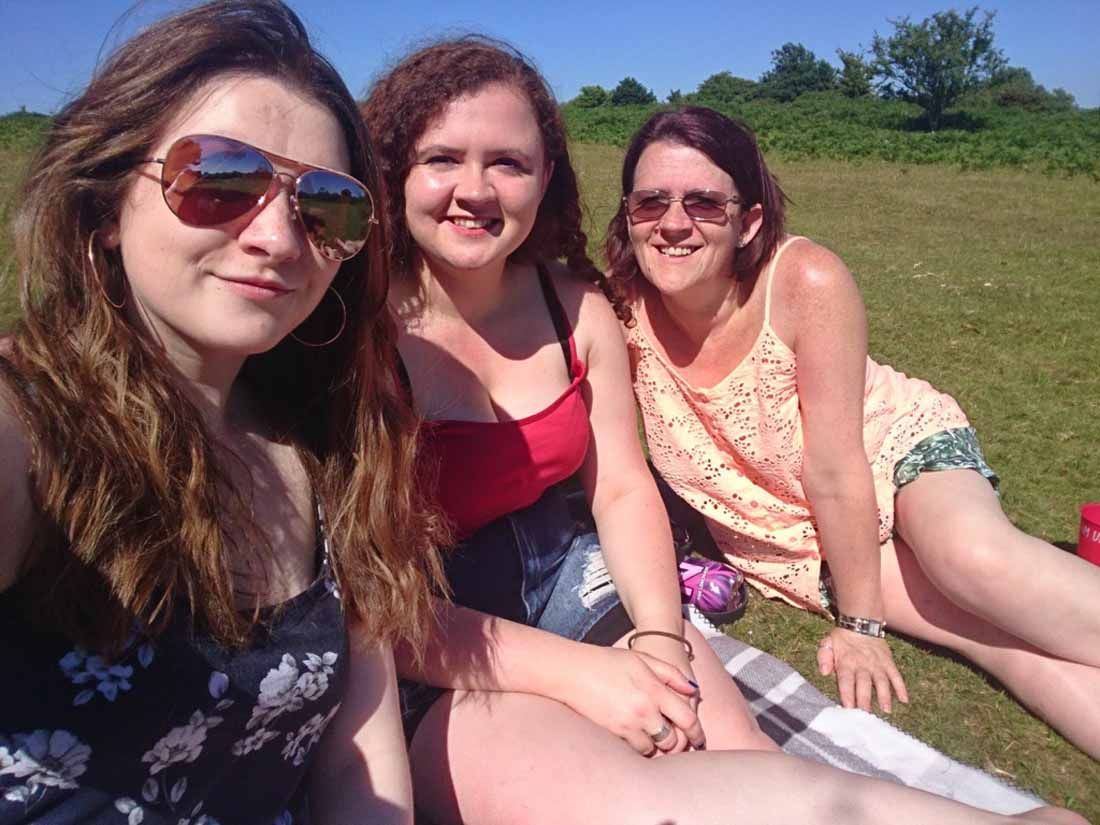 Karen with her daughters Rebecca and Gaby (PA REAL LIFE/COLLECT)
Karen explained: "Although the medical team hadn't said anything to provoke it, I had this impending doom feeling, like I was going to die.
"I was telling my friend Gary Hallett, 40, who is also a nurse, 'I'm going to die'. I felt so awful."
Karen – who is still unsure of the underlying cause of the sepsis, although she has been advised it could have been related to the inflammatory bowel condition Crohn's disease, which she had not previously had a diagnosis of – said surgeons put her into an induced coma after theatre, to help her body fight the infection.
Coming to after five days, her kidneys were failing, so she was also put on dialysis to clean her blood and transferred to the renal ward.
"When I came round after surgery, my feet and fingers were black. My legs were all mushy," she recalled.
"I knew the surgeon who was coming to see me and I knew that he wouldn't hold back in telling me the truth and, as I expected, he said it didn't look good."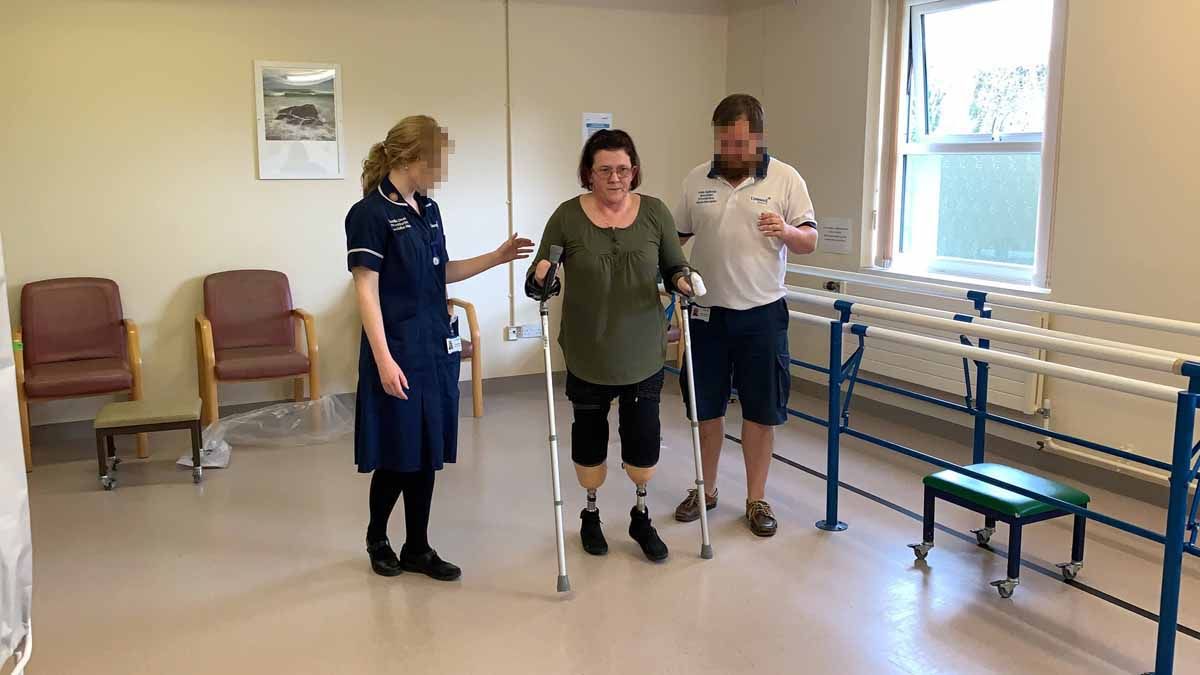 Karen learning to walk (PA REAL LIFE/COLLECT)
Karen recalled: "The medical team had to work out where the healthy tissue was compared to the dead tissue, so they were asking me to walk. It was the most horrific time I can remember. The pain was like a red hot poker going up through my heel and up the back of my leg.
"My fingers were really hard. If you rapped them on the table it was like banging a piece of wood on them. There was absolutely no feeling.
"One of the legs was dead and there was a risk of the sepsis coming back in the other. I was told if it did not have them amputated I wouldn't survive and I knew it was best just to have both my legs off. They told me they would do it the next day."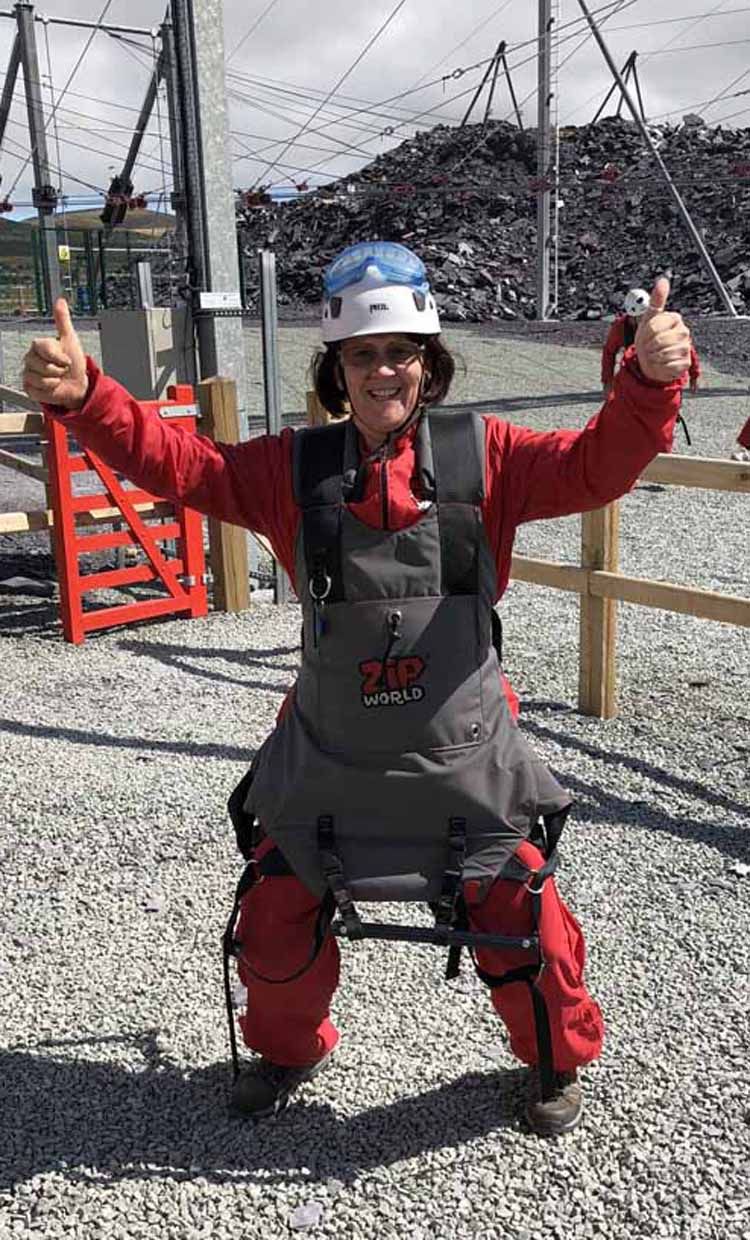 Karen on the zip wire holiday before she contracted sepsis (PA REAL LIFE/COLLECT)
She continued: "I wanted them to explain to me exactly what was going on. As a surgical nurse it's not an area I had a lot of knowledge about, so I wanted to know everything.
"I think it was better that they were able to do it so soon and I didn't have time to dwell on it, but there were a lot of tears that day. When I heard what they had to do it felt like a kick in the guts.
"I did have bad days during that period and I still have bad days, but at that point I was so thankful to be alive that I just thought, 'I've got to get on with this'. I knew it would do me no good to dwell on it."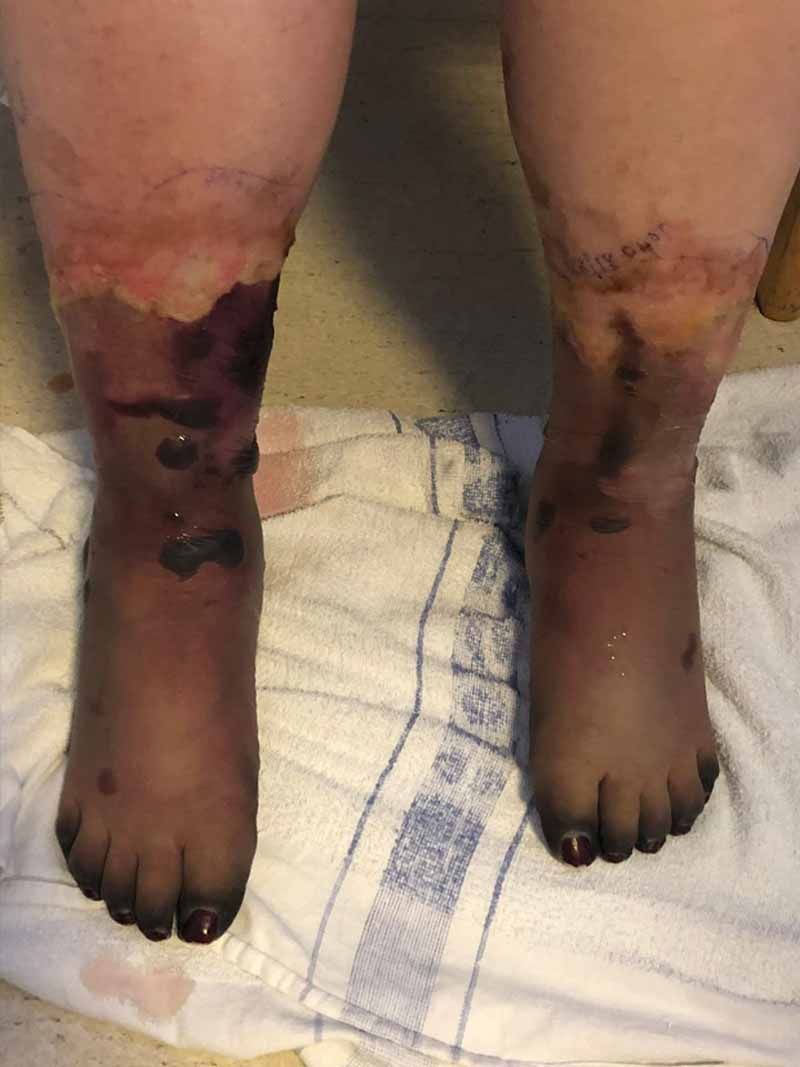 GRAPHIC CONTENT Karen's legs before she had them amputated (PA REAL LIFE/COLLECT)
"I have great support from my family and friends and I had so many visitors in the hospital, it was things like that that kept me going. It really helped me to talk about what happened."
On August 28, Karen had both legs amputated below the knee during a four hour operation.
Just a day later, she found the courage to look at her stumps for the first time.
Karen's fingers after the sepsis took hold (PA REAL LIFE/COLLECT)
She recalled: "I thought 'I'm just going to do it.'
"Those 10 days after my first operation were so awful for my family. To me, they were a blur, but I know Lyndon was really struggling."
Showing incredible fortitude, Karen, who has now had further surgery to remove all her fingers, remains pragmatic about her devastating experience.
I learned that I'm stronger than I ever thought I was. If this happened to anyone else in my family I know I would be an emotional wreck
Karen Allen-Ross
She said: "It has been challenging and it's been an emotional journey, but I feel like I've come out the other side and I've coped with it quite well.
"I feel like this has happened for a reason and I don't know why, but I'm still alive and I will find my way.
"I learned that I'm stronger than I ever thought I was. If this happened to anyone else in my family I know I would be an emotional wreck."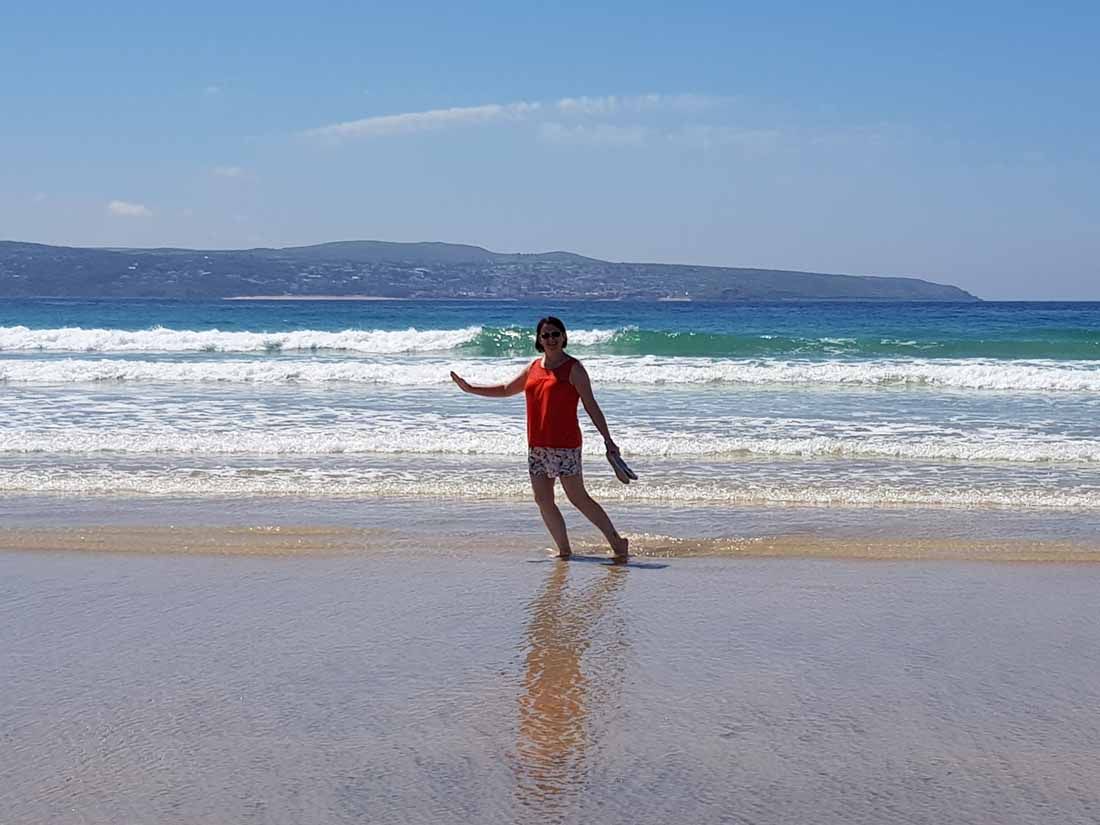 Karen before the sepsis (PA REAL LIFE/COLLECT)
She continued: "Nothing will stop me. I'm alive and I have got to live my life. I've got a lot of years left. I'm going to be here to see my daughters get married, and to become a grandparent. I've learned to live for each day and live life to the full."
After spending two months in hospital, following her ordeal, Karen was finally allowed home in September last year, having had intensive rehabilitation to make sure she could cope without her legs.
"When I first came home, I would have to just sit on the sofa and needed help to do everything. I'd have to ask people to help take me to the toilet which was horrendous, but I got over it," she explained.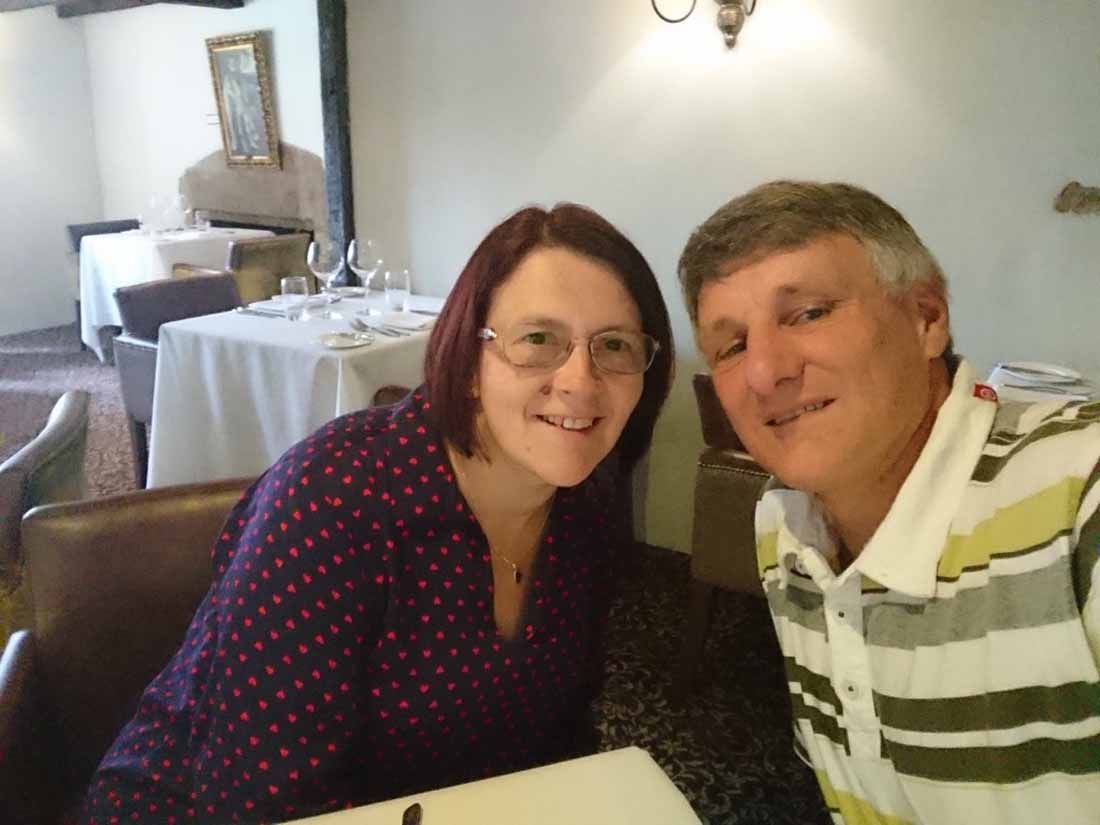 Karen and Lyndon (PA REAL LIFE/COLLECT)
Since October 2018, she has had five operations on her hands – two on the right and three on the left – removing her fingers. The surgery has also entailed grafting skin from her abdomen onto her hands, where there was no surplus and the blood supply was poor.
Her final procedure on her abdomen to remove the pedicle flap, which had been left to provide a blood supply during the graft, was on Tuesday, October 1.
"In some ways, I found losing dexterity in my hands harder than losing my legs, especially now I have NHS prosthetics, which I was fitted with in February," said Karen, who has been left with two thumbs and half of her forefinger on her left hand.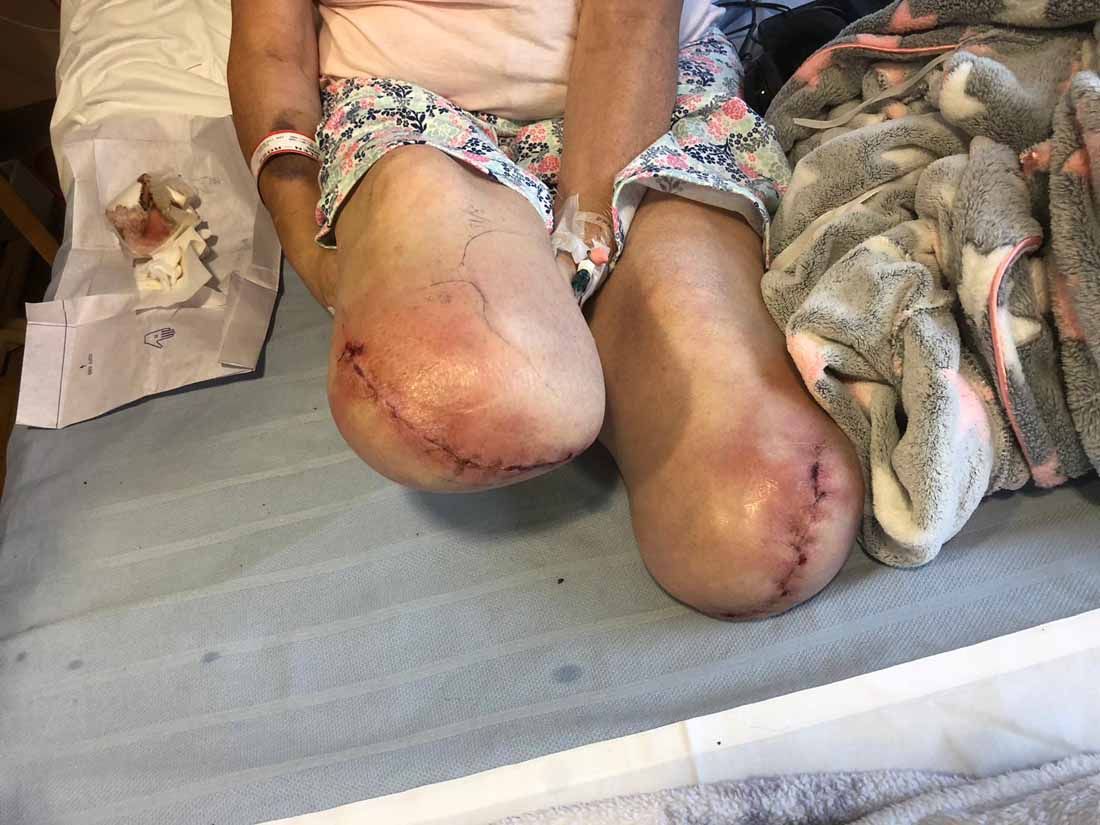 Karen's legs after the amputation (PA REAL LIFE/COLLECT)
"You do everything with your hands and you take your fingers for granted until they are not there anymore.
"I've had to teach myself how to write again. I couldn't hold a knife but I've taught myself to do it.
"I've started wrapping presents for people's birthdays. It's working out how to do things differently. I can do things, I just do them slower and in a different way."
Signs of sepsis
Slurred speech
Extreme shivering or muscle pain
Passing no urine (in a day)
Severe breathlessness
'I feel like I might die'
Skin mottled or discoloured
She added: "I used to love making chutney, so I'm figuring out a way of being able to do that again."
Determined Karen learned to walk with her prosthetic limbs, with the help of parallel bars, on the same day she had them fitted in February at the Thornbury Centre in Plymouth.
She said: "It was amazing, a very emotional moment. I was very lucky as I had a great physiotherapist and assistant who pushed me."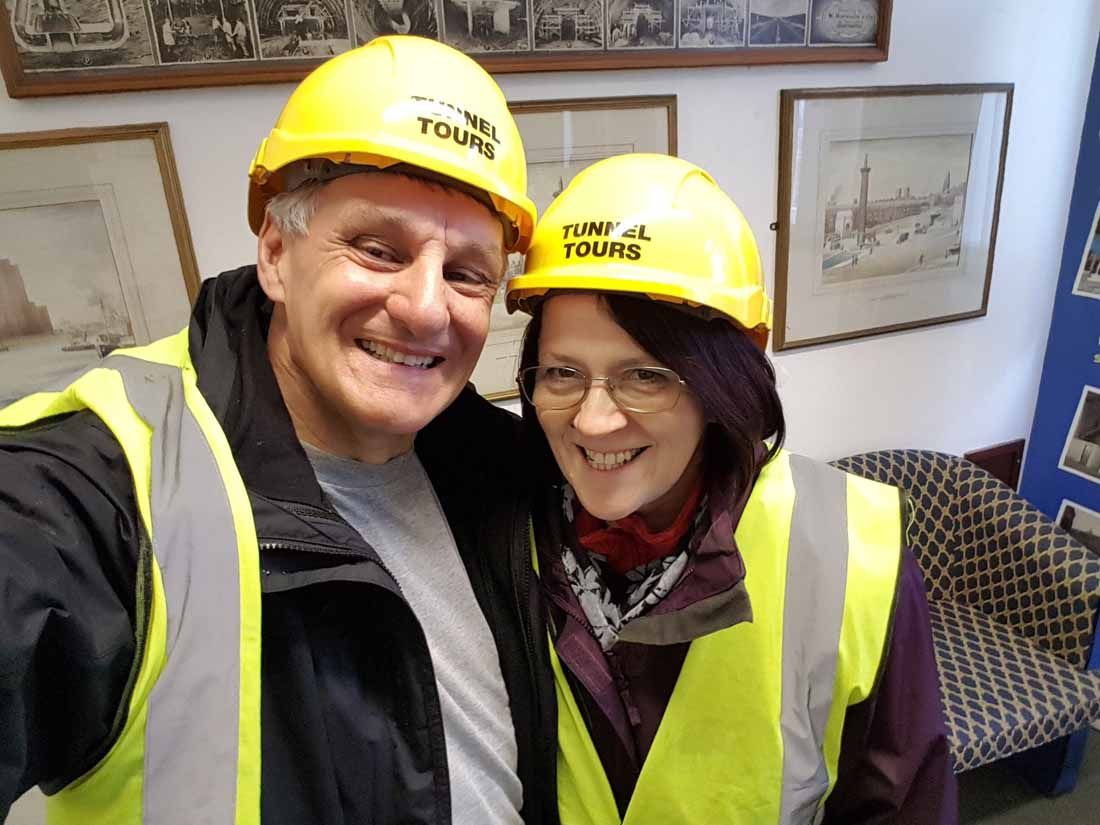 Karen and Lyndon (PA REAL LIFE/COLLECT)
"By July I was able to walk on my own just using sticks to help with steps. It has been a gradual process, but I'm one of those people who needs to run before they can walk. Now I feel like that is it for that disability," Karen continued.
Living an active life with Lyndon before she contracted sepsis and enjoying long walks together along the coast, Karen is now determined to get back to doing what she loves.
And with the help of friends, who have raised almost £14,000 using JustGiving, she will soon be fitted with better, more lightweight prosthetics.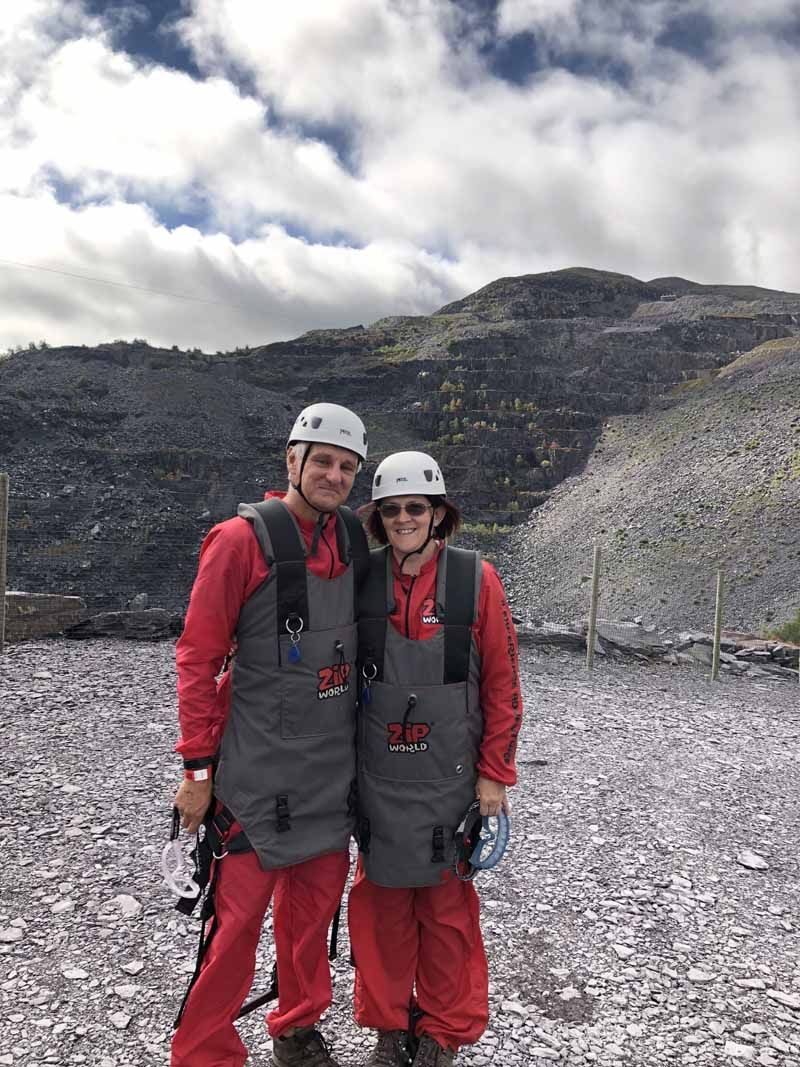 Karen and Lyndon on the zip wire before the holiday (PA REAL LIFE/COLLECT)
"The new prosthetics cost around £7,500 each, but I will have to wait for about two years for my stumps to shrink for them to settle down and get to down the size they will stay," she said.
"I'm not planning to have any kind of prosthetic for my fingers. I can manage without them. It's difficult, but there is always a way around things.
"My next step, now I've had my final surgery, is to get a car, so I can have my independence and get back to work. I know I won't be able to do what I was doing before, but my boss has been very supportive and is finding something for me to do."
People are still dying from sepsis. It's such a dangerous thing and it has such a huge impact on people and their families,
Karen Allen-Ross
Meanwhile, Karen is working hard to make people aware of the signs of sepsis, including slurred speech, extreme shivering and muscle pain, not passing urine, severe breathlessness and mottled skin, all signs that she had herself.
She is even giving talks about it with her friend Gary who holds seminars for the medical profession.
"People are still dying from sepsis. It's such a dangerous thing and it has such a huge impact on people and their families," she said.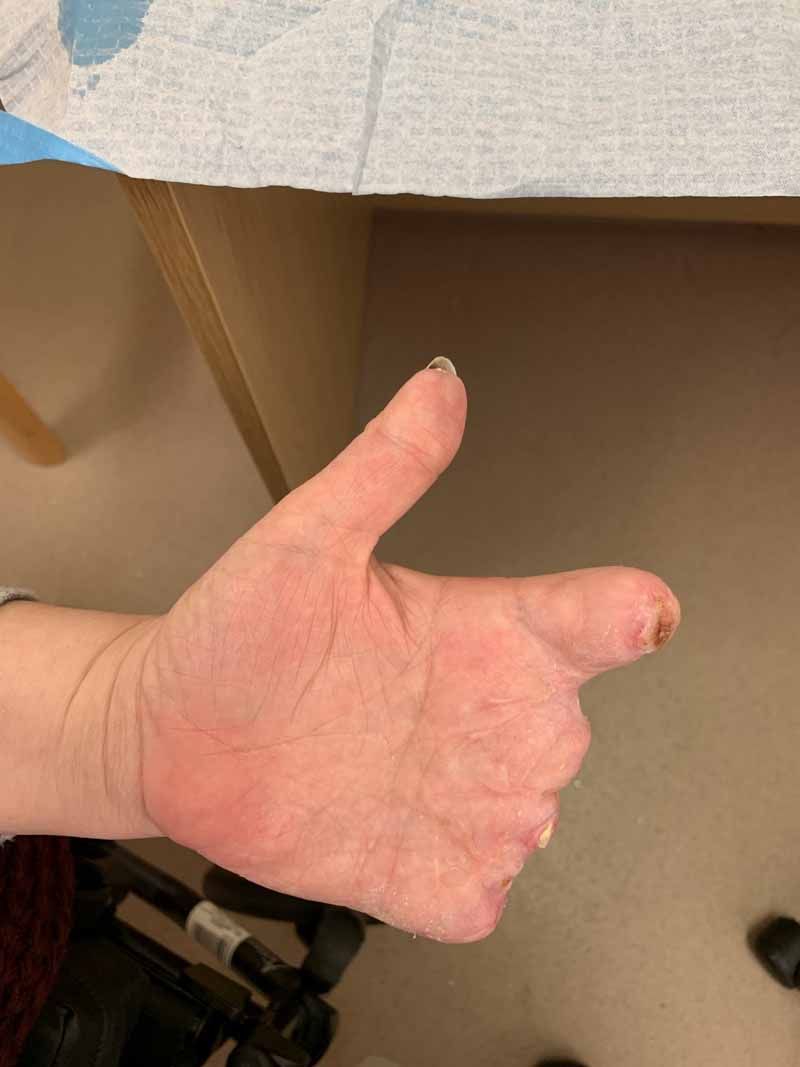 Karen's hand after her fingers were amputated (PA REAL LIFE/COLLECT)
She continued: "I think it's really important for people within the medical profession to speak up if they see the signs. If you're a nurse and think it might be sepsis let the doctor know.
"I find it helps me to talk about it. The whole point of telling my story is to let people know it can be okay. If I can help one person by letting them know what happened that will be enough."
For more information on sepsis visit https://sepsistrust.org/ and to donate to Karen's fund visit www.justgiving.com/crowdfunding/thesepsissurvivor
Keep reading...Show less