We aren't sure if this is an example of the worst type of human on the planet or simply an outrageous prank. Either way, it's hysterical.
---
A bride-to-be known only as "Susan" apparently posted a ridiculous melt-down over her recently canceled wedding in a private Facebook group. The post is so extreme in its entitlement and privilege that people are wondering if such a person can truly exist. A Twitter user picked up the post and tweeted it. It has now gone viral both for its hilarity and potential horror.
Susan claims, in part, that her fairytale wedding was ruined by selfish guests who refused to cough up $1,500 to cover the costs of a $60,000 wedding.
Now it seems those same loathsome friends are also to blame for the demise of her relationship.
You have to read it for yourself. It's too outrageous to believe. From trashing her maid of honor to emasculating her fiance, this bridezilla covers all the bases
This is the best thing I've ever read. https://t.co/tLQ4HEmpYA

— I write for ClickHole (@I write for ClickHole)1535166329.0
Twitter users are having a hard time wrapping their heads around this.
@JennyBlackhurst @based_celeste @0lspicykeychain @AneFrankSinatra I'm so cynical I kind of think that this is going… https://t.co/OgoYK8WknJ

— Tracy ( Mrs C) (@Tracy ( Mrs C))1535351469.0
@0lspicykeychain I call bullshit.

— Zachary Elwood (@Zachary Elwood)1535310517.0
@0lspicykeychain At first I was all, okay, I know people who've asked for money instead of gifts, but then the "if… https://t.co/k6kwhUI5Nu

— Erika with a K (@Erika with a K)1535243733.0
But apparently Susan has a cousin who confirms she's a bit of a tool.
Background info from Susan's cousin https://t.co/v6xcJdk4kW

— I write for ClickHole (@I write for ClickHole)1535228285.0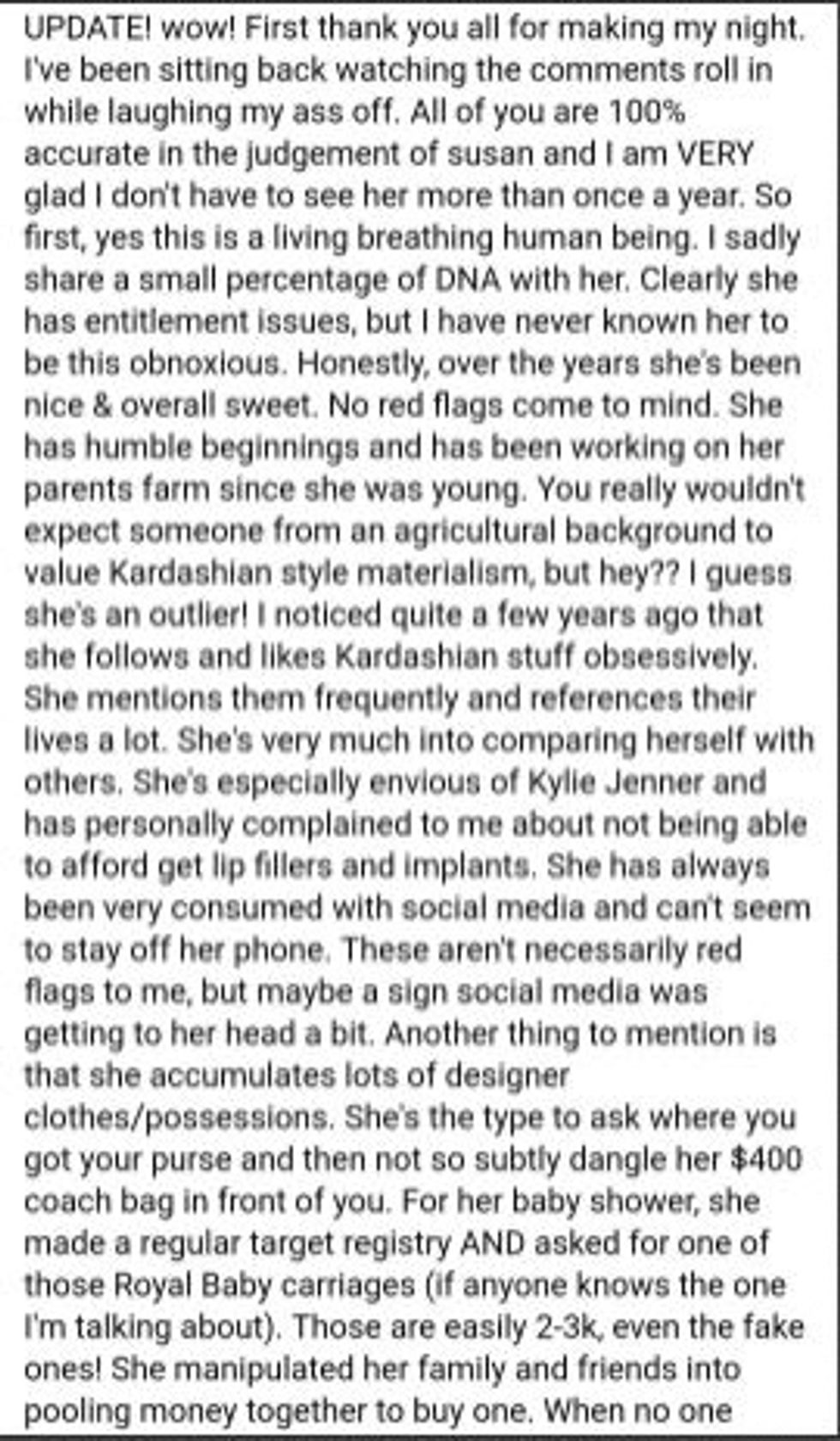 @grumpstorm/Twitter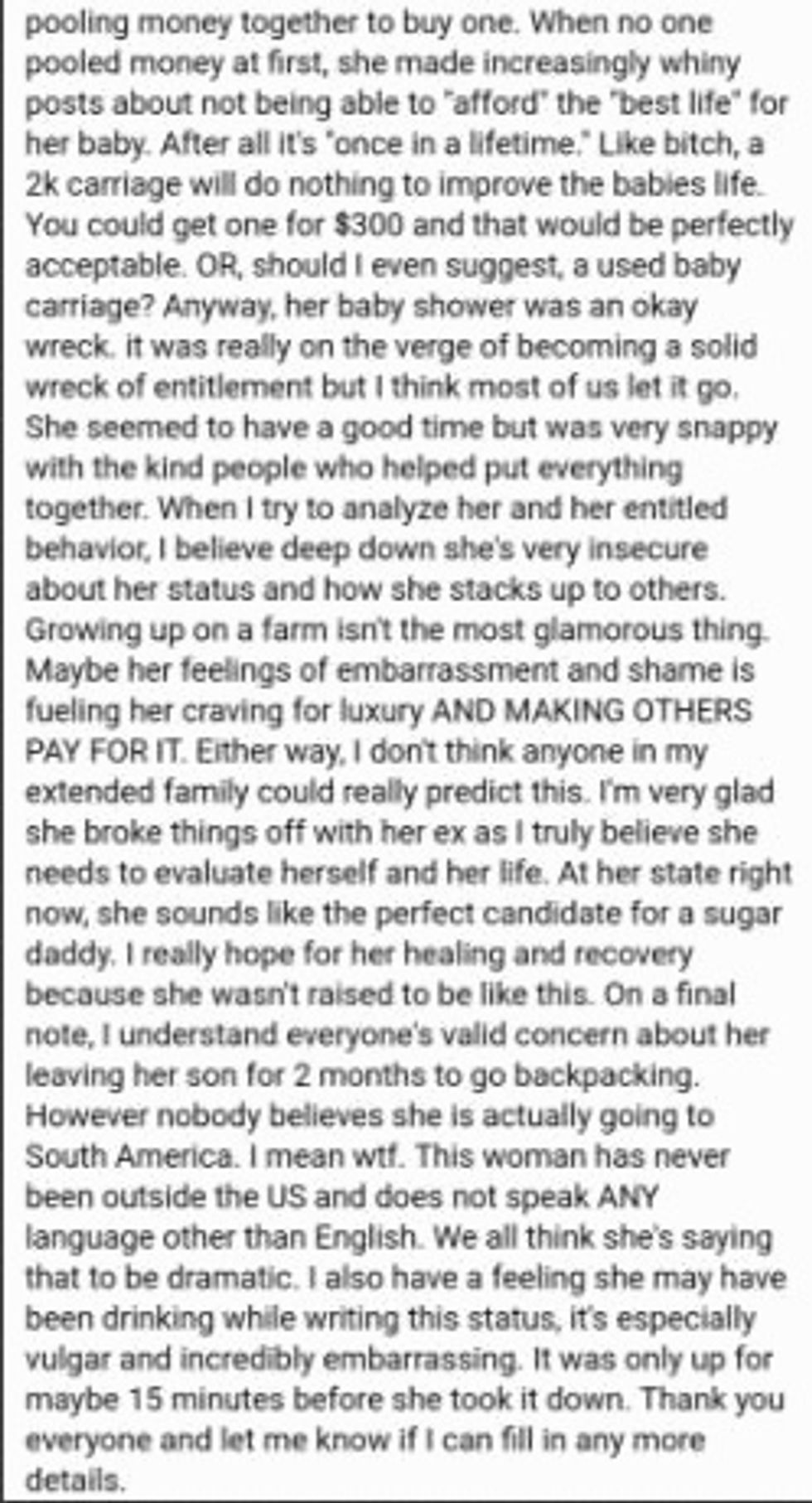 @grumpstorm/Twitter
There seems to be some confusion on where Canadian Susan is from, however.
@BrianLiely @grumpstorm I said the exact same thing... https://t.co/JkAnDbvv3W

— smartarsegooner (@smartarsegooner)1535387549.0
@grumpstorm this story can't be real. it just can't.

— (((shilla))) (@(((shilla))))1535347736.0
Still people enjoyed the laugh.
@grumpstorm I'm living for this

— *insert sassy name* (@*insert sassy name*)1535288295.0
@grumpstorm Susan and her cousins account sound like they were written by the same person. Calling bullshit but still very enjoyable!

— 🚧 FUZZ FUZZ NO FUZZ 🚧 (@🚧 FUZZ FUZZ NO FUZZ 🚧)1535238369.0
@grumpstorm Oh my god this is so good! I want to start every work email with "Friendly reminder to all you cunts" 😂

— Ladyface (@Ladyface)1535248548.0
We have to give credit to I Write For ClickHole. They have a wonderful imagination!