Parties are a time when loved ones gather to celebrate and cheer life at it's best. They can also be dangerous bacchanals that leave you scarred, physically and mentally for life. Don't invite just anyone and when the booze runs out, so does the hospitality. Remember when musical chairs and a nice sheet cake was the thing of legends? Simpler times I suppose.
---
Redditor u/Arios1923 wanted people to tell a few tales about party shenanigans by asking... What is the most ridiculous thing you have seen at a party?
***DO NOT TRY THIS AT HOME!!***
Who let the dogs out?!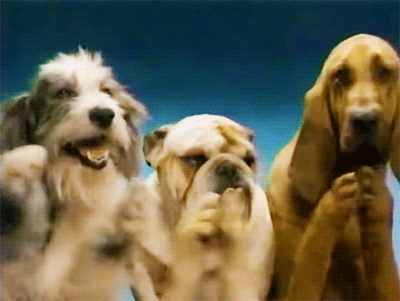 Giphy
We threw a party that got way out of hand and too many people showed up. I go in my living room and a girl is in the couch petting a dog. I ask "Who's dog is this?" She says "The people who live here." I reply "I live here, this isn't our dog." A stray dog had been walking by and noticed a party happening and just walked inside and got on the couch and was being pet all night by drunk people. tonyjefferson
I love Velma! 
A friend of mine did a Scooby-Doo themed party where he dm'd people their costumes that they should wear. I got Shaggy. Simple enough, just a green shirt and brown pants. I walk in the door to the party, and am welcomed by the sight of 40 people, all dressed as Shaggy. It was glorious.
Edit: Zoinks! (Proof). People had left by the time we took this but it's still my favorite picture of all time
Live and Learn! We hope!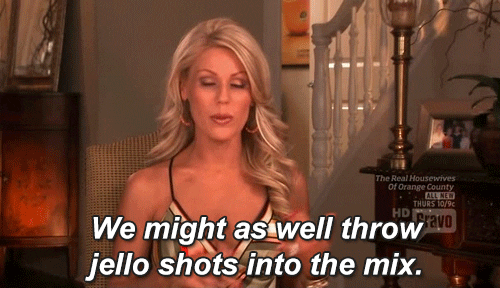 Giphy
Some jacka** did 14 jello shots in the span of an hour thinking they weren't all that strong. Then that jacka** decided to puke in the kitchen sink and all over the front porch. The vomit was this nasty, congealed mix of vodka, jello, and beer. Then that jackass left the party and walked home with only one shoe, no phone, and missing his driver's license.
That jacka** was me. FitzyTitzy2
I prefer Cesar...
Big house party many years ago and we notice a guy going through the fridge. As we're watching him from across the room he grabbed a full bottle of Italian dressing and chugged the whole thing. He walked out like it was completely normal behavior.... drugs are bad. Cuzimjesus
He peeled away... 
A drunk guy in a full gorilla costume sitting on a couch outside sees a drunk guy in a full banana costume riding by on rollerblades. They both immediately stop and turn towards each other, and without a single word spoken, charge full speed at each other and begin wrestling. About a minute later, both get up, winded, and the banana guy rolls off into the sunset, never to be seen again. kmoneyrecords
The 90's... end of an era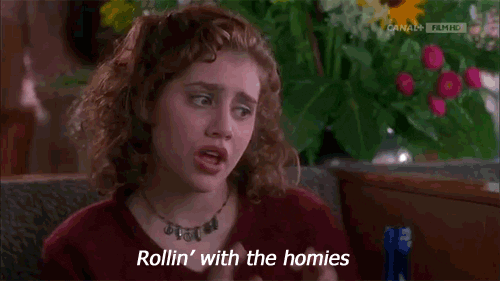 Giphy
Arrived late to a HS party. Walk up the driveway, to a chair being thrown out an upper floor window. Walk in to a split entry, dudes are upstairs holding potted plants, dropping them onto the heads of anyone going downstairs.
Girl whose parents owned the house is passed out. I go up, friend hands me a beer. Don't even get a sip before cops are everywhere. Ran out back, buddy hid the beer in a pile of firewood.
Walk around front, cop checks me out, but I am sober and had no booze on me. I drove my buddy's car, we went for pancakes. After we ate, we went back to get the beer. Someone had taken an axe and cut the deck off of the house. We found our beer and hauled out.
Monday morning, there was a huge investigation into who was at the party, trying to figure out who did the damage. 1990 was a simpler time. AMMJ
That's an 'A' for shop! 
I've seen someone uninstall the sink of a bathroom at a house party back in high school. They brought their own tools and took the time doing so. I know a video of the party exists, if I find it I'll post it for you fine people.STEALSOMEBREAD
The day the Music died... 
Shortly after arriving at a party, the "sensitive guy with the acoustic guitar" shows up. 15 minutes later someone took the guitar and smashed him over the head with it, creating a large gash that bled profusely. The attacker then proceeded to run off into the night with the guitar and was never apprehended. It wasn't a good night for the musician. mc_squared_03
How about just taking memories with you? Geesh...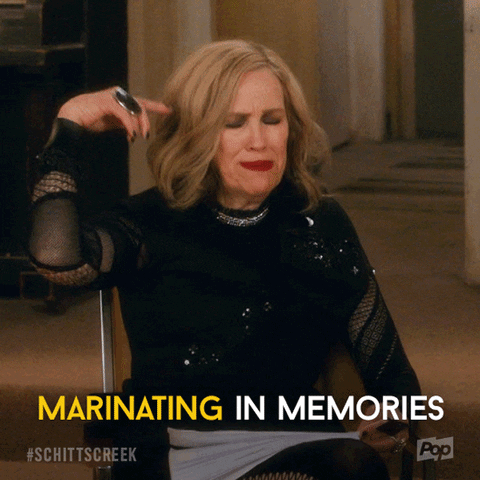 Giphy
Half the partygoers gathered on the roof ceremonially destroying a 4 ft tall statue/chandelier thing. They threw it off the roof and then everyone in the back yard either took a piece to commemorate the event or further destroyed the pieces of the statue. At another party some guy set off a firework in an empty beer bottle and held it while it went off. Blood and glass everywhere, from what I heard the guy was found an hour later passed out in the front yard clutching his hand.
There was another time at a house show where ~50 people ended up huddling in the basement in silence for 20 minutes because a neighbor had called in a noise complaint and the cops showed up. Half the partygoers left after but the band went back on, all in all it was a fun time. mossattacks
Michael Myers is that you?
Someone I know spent 2 hours trying to put a pumpkin in someones mailbox. He wasn't just pushing it in, he started punching it. Couldn't believe the stamina on that person.
It sounds boring compared to the stories here but it was one of the funniest things I've ever watched.
Of course everyone spent the first 25 minutes trying to get him to stop, but after we gave up and just watched it became hilarious. nocontroll