What would you do if you were served cold fries at McDonald's?
If you're Lillian Tarver from Garden City, Georgia, your answer takes things just a couple steps too far.
---
Reportedly, Tarver approached the counter, VERY unhappy about how cold her fries were. The store's manager went to go get her some new ones.
@Newsweek In fairness...have you ever had cold McDonalds fries?

— Diego McCloud (@Diego McCloud)1564033191.0
Before the manager could grab new fries, however, Tarver followed the staff into the kitchen, started a brawl, then fired a gunshot into the floor.
@Newsweek See what fast food does to the brain? 😉

— Clive Simpkins 🕉️ ✡️ ✝️ ☪️ ☸️ (@Clive Simpkins 🕉️ ✡️ ✝️ ☪️ ☸️)1564032204.0
@Newsweek I hate when my fries are cold too

— Jimmy T (@Jimmy T)1564034423.0
Detective Roberto Rodriquez from Garden City Police Department thought there might be more to the incident than met the eye:

"Upon officers arriving on the scene they observed the suspect fleeing the scene in a black Nissan Altima. Officers then engaged in a vehicle pursuit since the vehicle refused to stop."
"The suspect surrendered in the area of Fitzgerald Street, Savannah, Georgia. The suspect Lillian Tarver was apprehended. It was revealed through an investigation that the incident at McDonald's was an armed robbery."
@nypost The poison served at McNasty's isn't worth going postal over. @PalaceQuandary @UrBetsyJean @Bane_Rises

— 2ShortGuy45acp (@2ShortGuy45acp)1564024216.0
Though the gunshot grabbed most of the attention from headlines, Lynn Watson, an employee at the McDonald's, said there was a physical altercation that lead up to the shot being fired.

@nypost Cold Fries are bad, but geesh... I would just ask them to reheat them or buy another large fry bro!

— Marco Montana 🇺🇸 🇨🇺 (@Marco Montana 🇺🇸 🇨🇺)1564025405.0
As Tarver drew her gun, she allegedly said:

"This is serious, and I need to find a way to get out of it. Like, I need to find a way to get out and be alive."
@nypost Bet those fries will be hot the next time they see her coming.

— snottypotty (@snottypotty)1564023483.0
Some outlets are reporting that Tarver then took money from the register before leaving.
There were no injuries.
@nypost What's wrong with her?? Not like they forgot the ketchup

— WRTA's The 11th Hour with Doug Herendeen (@WRTA's The 11th Hour with Doug Herendeen)1564023286.0
Tarver was later arrested and charged with 12 crimes, including "aggravated assault, battery, armed robbery and reckless conduct."
@nypost Is she originally from Florida?

— Adam Moreira (@Adam Moreira)1564027759.0
Twitter provided some other ways Tarver could have handled the situation.
@nypost Um walking to the counter and explaining rationally that they were cold was the 2nd option?

— Joemama's Free Press (@Joemama's Free Press)1564023862.0
@nypost Order your fries with no salt...they come hot every time because they have to make a separate batch..

— Donald Tavares (@Donald Tavares)1564069367.0
But on the other hand...
@nypost https://t.co/WNOXmhnPNN

— Journalist Jill (@Journalist Jill)1564023610.0
Whether or not you think Tarver's actions were justified, McDonald's employees will probably be thinking twice before serving up cold fries.
So, an upside I guess?
Kids can play with this 26 piece wooden fast food meal play set, available here. Toy gun not included.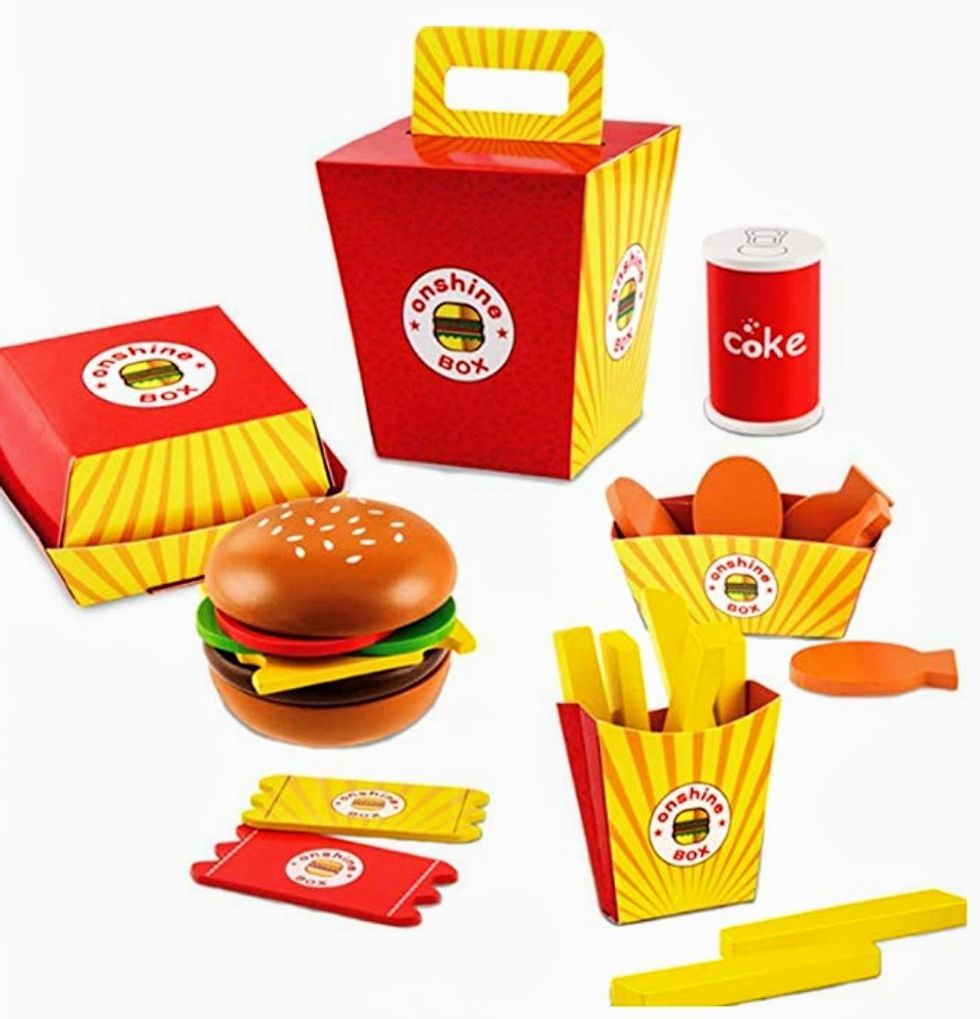 Amazon